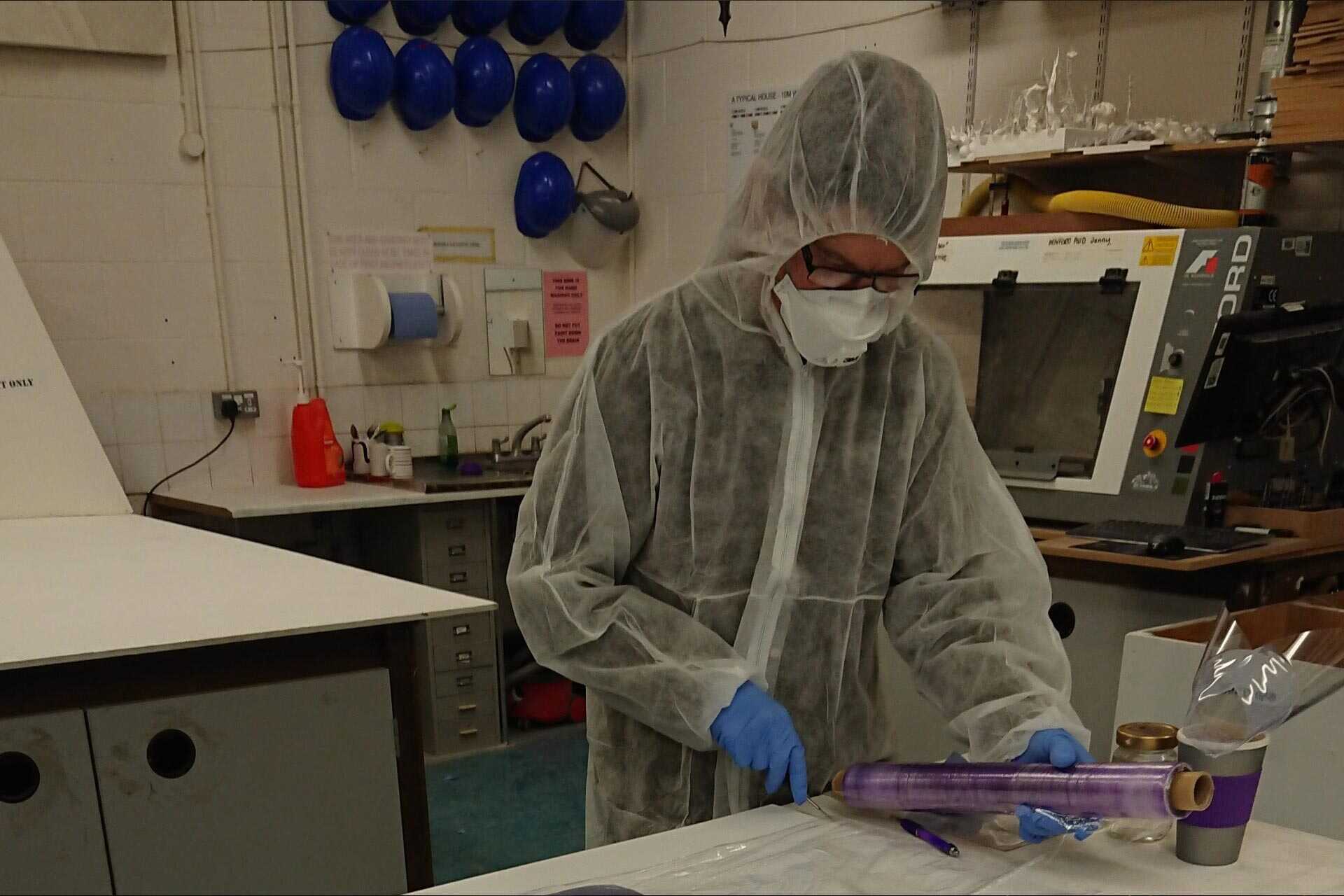 Kent has supported Pilgrims Hospices by creating 3D printed face shields to protect staff during the COVID-19 pandemic.
Colleagues from Kent's School of Computing, School of Architecture and Planning, and the School of Engineering and Digital Arts (EDA) collaborated to design and supply 300 sets of personal protective equipment (PPE) for East Kent's largest hospice charity.
Paul Sinnock, Director of IT for EDA and the Technical Lead of the project, said: 'The response from everyone involved in this project has been truly remarkable. Technical staff from across the University, supported by our Kent Innovation and Enterprise team, have been working around the clock to design, test and manufacture these face shields and get them to the front line staff most in need of protection. From the original concept through to the creation of a dedicated manufacturing centre, it has been a truly collaborative effort, driven by a real passion to support our local community. I am extremely proud of everyone involved for giving their time and skills for such an important project.'
Sarah Martins, Senior Ward Sister of Pilgrims Hospice Canterbury, said: 'The University of Kent's support was in direct response to our urgent request for PPE, due to the COVID-19 pandemic. The team were very responsive and helpful and it was great to see who was behind the project. The team responded to feedback from prototype testing immediately – within 24 hours we had approved changes and the team started production. With a total turnaround time of seven working days, I took delivery of 300 face shields and distributed them across our three sites so we were all well prepared for the bank holiday. Thank you to everyone involved in making this happen, it makes a huge difference to the patients and staff here at the Hospice and enables us to continue caring without compromising safety.'
Carole Barron, Director of Kent Innovation & Enterprise, said: 'Universities across the UK are joining forces with frontline healthcare providers to find solutions to fight COVID-19. I am simply lost for words at the speed with which the team at Kent have picked up the challenge of producing vital 3D printed face shields. We are in unprecedented times and this requires us all to support our amazing NHS and Hospice staff. At a time when everyone is thinking how they can help in this crisis, the University of Kent is well placed to help, in having the right equipment, skills and expertise to respond.'
The materials for Pilgrims Hospices' 3D shields were donated by Ashford Lions Club, with funding they received from Santander Universities and Kent County Council.
Colleagues from the School of Physical Sciences and School of Biosciences have since joined the project team, to cater to future orders from the NHS and other healthcare and hospice providers.