Forensic Science at Kent is ranked 7th overall in the Guardian University Guide 2022.

90% of Final Year Forensic Science students were satisfied with the quality of their course according to The Guardian University Guide 2022.
Chemistry at Kent is ranked 6th for Graduate Prospects in the Complete University Guide 2022.

Our vision
In Chemistry and Forensic Science we invest in our staff and facilities to provide our students with high-quality degrees and a wealth of opportunities. Based in the refurbished Ingram building, the subjects have benefited from over £8.5m in investment over the past few years.
We aim to develop international collaborative research links, as well as nurturing our enterprise activity, giving our students and staff access to excellent industry links. Through our outreach programme we are making science accessible to the wider community and inspiring the next generation.
Employability
We are committed to helping you to make the best possible start in your career. All our programmes now offer you the opportunity to spend a year on a work placement – a great way to boost your employability prospects by putting your learning into practice and making contacts in industry.
The department also has links with: the Home Office, the Forensic Explosives Laboratory, forensic science services, local health authorities, biotechnology, chemical and pharmaceutical companies in the UK and Europe and Interpol.
Employers told me that the work experience on my CV gave me an advantage in the application process.
Inspirational teaching
Our world-leading research feeds directly into our teaching; our courses provide cutting-edge content and you learn about the latest breakthroughs in scientific research. We use a range of teaching methods, from traditional lectures and laboratory classes to hands-on work in our new Crime Scene House and Beacon Observatory. The School has achieved national and international recognition for providing high-quality teaching and all our degrees are accredited by the relevant professional bodies, ensuring you have excellent job prospects.
Supportive student environment
In 2018, Kent won the Outstanding Support for Students category in the Times Higher Education (THE) Awards – for the second year running. Here in the Division of Natural Sciences we have our own student support team who are here to help you realise your potential, by offering advice on any pastoral, personal health and welfare concerns. You also have access to mentors and a personal academic adviser, and we can offer extra individual support by working closely with the central Student Support and Wellbeing team.
When you start at Kent, we hold 'meet and mingle' events within the School, which give you a chance to settle into life here and meet your new fellow students. You can also join – or even set up – a student-run society, which provides a great opportunity to meet up with those who share your passion for science.
We have a careers adviser in the School and she's always there if you need help with your CV or interview tips.
Professional accreditation
Research excellence
Chemistry at Kent research has been judged to be of 'international quality' in the most recent Research Excellence Framework (REF). We're proud to link our research - across Forensic Science and Chemistry - to our high-quality teaching, giving you the opportunity to learn about advances in the field, and be part of them through our undergraduate and postgraduate Master's courses.
State-of-the-art facilities
Having access to high-quality equipment is crucial, and the School has recently invested almost £2 million on a wide range of modern facilities including wet and dry labs, an observatory and our new crime scene house. Our students use industry-standard equipment and work in state-of-the-art surroundings from the very beginning of their studies.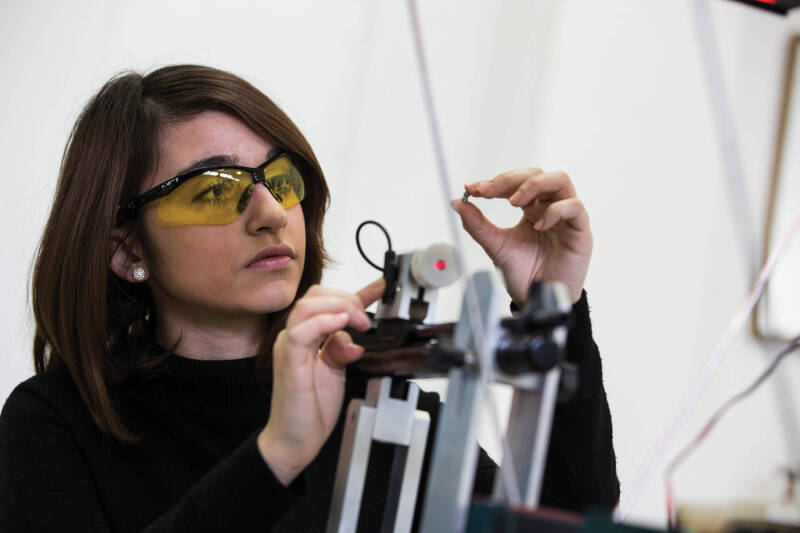 Support for equality and diversity
In Chemistry and Forensic Science, we are working hard to create a welcoming, supportive and diverse community for all our staff and students. We are committed to supporting all staff and students to develop their skills and realise their potential more effectively, to the benefit of everyone.
You can find more information on the University Equality, Diversity and Inclusivity homepage.
Great location
Chemistry and Forensic Science are based on our Canterbury campus with its first-class academic and leisure facilities. We are equipped with the latest resources and our beautiful setting offers plenty of tranquil spaces to study and relax.
Everything you need on campus is within walking distance, including a general store, a bookshop, bank, cinema, theatre, a medical centre and a pharmacy. You can go off campus to explore the city's medieval buildings, historic pubs and an array of shops; visit the seaside towns of Whitstable, Margate or Broadstairs with their beautiful beaches, or head to London, just an hour away by high-speed train.