How we can help you
High-quality research undertaken in the School of Sport and Exercise Sciences feeds into the work of the Sports Ready Clinic, which means our advice and support reflects the latest developments in the field.

Whether you are a professional sportsperson, a weekend athlete, or a complete beginner, our affordable clinic can help you to reach your best potential.
Here at the Sports Ready Clinic, we can treat more than just sports injuries, whether you have a general ache or pain we can also provide pre and post op treatment.
After an in-depth assessment, this provides us with all the information to be able to provide a personalised treatment and rehabilitation plan. We offer sports massage and prehabilitation services along with sport-specific rehabilitation programmes, taking you from initial injury or post-surgery right through to return to sport. Following this comprehensive and personalised programme, you can increase your chance of returning to activity quicker and can also potentially reduce the risk of re-injury.
The clinic is staffed by final-year undergraduate Sports Therapy and Rehabilitation students under the supervision of vastly experienced therapists.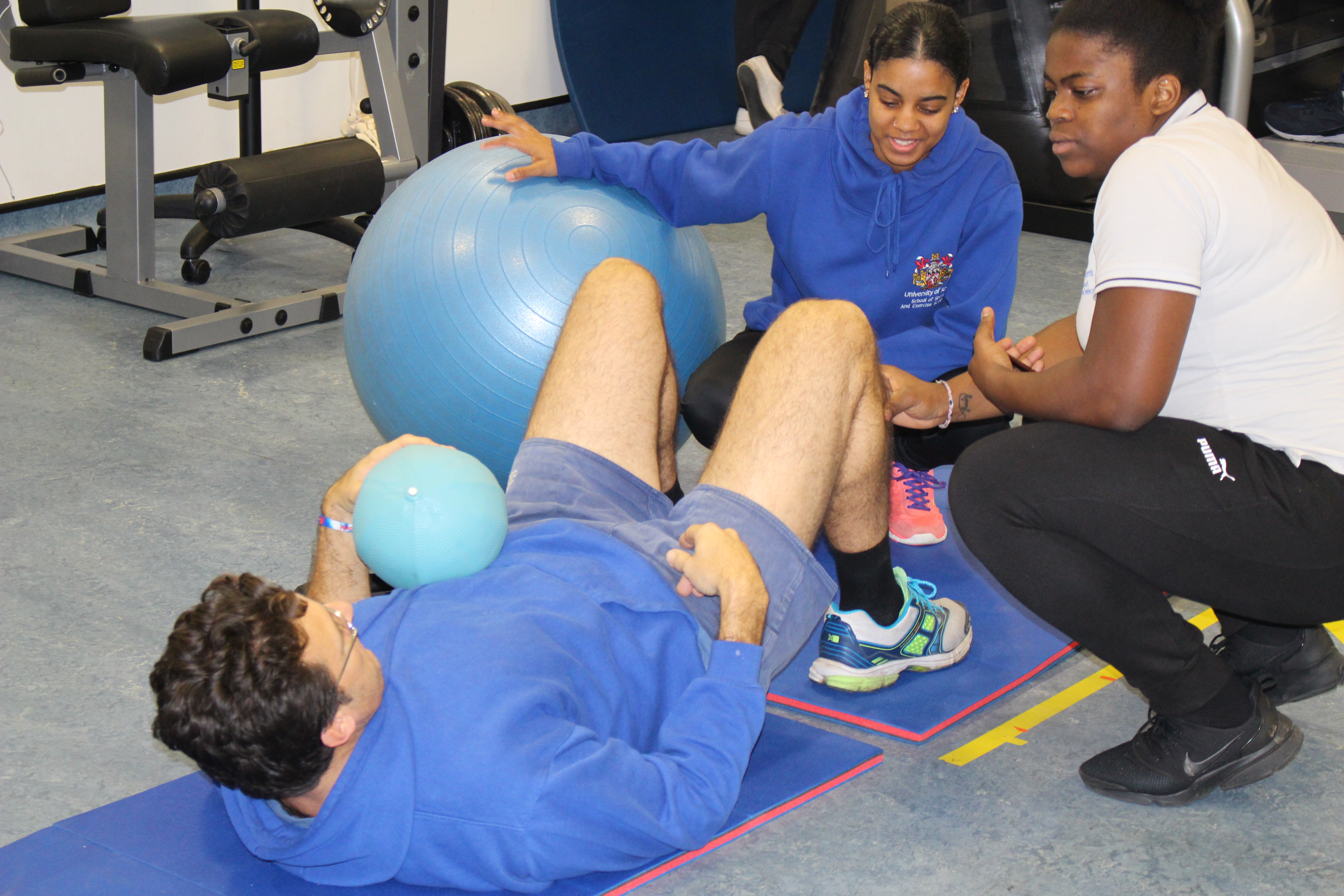 Our clients
We work with individuals and also support several clubs to get the best out of their elite performers. Our clients include Gillingham FC, Ebbsfleet United FC, Canterbury RFC, Kent Crusaders Basketball and gymnasts from the Jumpers Rebound Centre.
You may not want to run across America, as our former client Mimi Anderson did, but whatever your ambition, our first-class practitioners and extensive facilities will help you to achieve it.
I am grateful for the support of staff and the great facilities; using the AlterG has allowed me to walk and exercise.
Services
When attending the clinic, you receive an initial assessment where we discuss your medical history in detail and identify any current injuries. This is followed by a physical assessment and, if needed, an assessment of your training regime. We then develop a bespoke treatment/rehabilitation/injury prevention plan, ensuring your programme is right for you.

Service
30 minutes
60 minutes
Sports Therapy and Rehabilitation
£15
£20
Sports Massage
£15
£20
Injury Prevention
£15
£20
Discounts
Free Sports Therapy and Rehabilitation/Injury Prevention appointments for SSES University of Kent staff and students.
Partner Organisation discount on Sports Therapy and Rehabilitation appointments [£7 (30 minutes) and £10 (60 minutes)] available for:
Staff/students at University of Kent (non SSES)
Brompton Academy staff & students
FANS Members

25% discount on Sports Massage appointments for all University of Kent staff & students only.
Concession discount on Sports Therapy and Rehabilitation appointments [£10 (30 minutes) and £15 (60 minutes)] available for:
Senior citizens; students; disabled people; Medway Park members; Medway Park
Judo club; University of Kent graduates;
NHS staff; Police; Fire services and the Military; University of Greenwich and
Canterbury Christ Church University staff and students.
Please ask for more details when you book.
NOTE: If a student brings an injured athlete from their placement to the Clinic, the athlete does not have to pay for their treatment if the student takes their session. If they are treated by someone else, they have to pay the 50% discounted fee.
Supervised by leading experts
Book an appointment
If you would like to book an appointment or have any questions about our services, please get in touch:

Call us on 01634 888137 or email sportinjury@kent.ac.uk
Book online
Clinic hours
Address

Monday: 17:30 - 20:30
Tuesday: 10:30 - 13:30
Wednesday: 17:30 - 20:30
Thursday: 7:30-11:30
Friday: 12:00 - 16:00

All treatments and assessments are by appointment only.

Sports Ready Clinic
Medway Park
Mill Road
Gillingham
Medway
ME7 1HF