Book an appointment
If you would like to book an appointment or have any questions about our services, please get in touch:

Call us on 01634 888137 or email sportinjury@kent.ac.uk
Book online
With our 10 years of experience as a clinic within Medway, we treat a wide range of injuries and conditions. Whether you are suffering from daily aches and pains, common injuries or sports injuries. Our affordable clinic can help you to reach your best potential.
Equipment and facilities
Our 7-room clinic hosts a variety of equipment and an additional purpose built rehabilitation gym. Our ground floor clinic enables disabled access and lift access to the first floor rehabilitation gym.
Additional equipment available:
- Alter-G, our anti-gravity treadmill is ideal for conditions requiring reduced weight bearing during rehabilitation.
- Delfi Blood Flow Restriction Rehabilitation
- Electrotherapy
- Gait Analysis using the RS Scan and Gwalk
- Resistance training equipment
- Kinesiology Taping and Strapping
Find out more about our extensive facilities in the university.
High-quality teaching within the School of Sport and Exercise Sciences enhances the quality of practice of our placement students from the University. The clinic is staffed by final-year undergraduate Sports Therapy and Rehabilitation students under the supervision of vastly experienced therapists.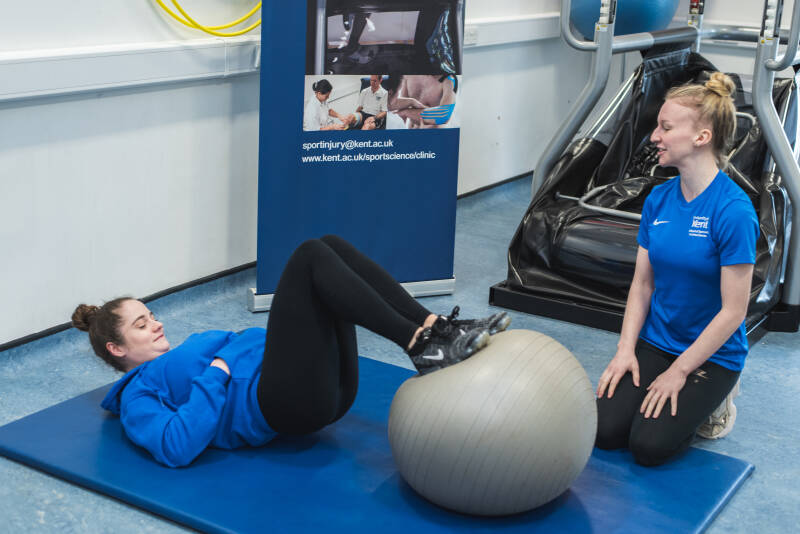 Our clients
Along with many individuals, we support several clubs to get the best out of their elite performers. Including Gillingham FC, Ebbsfleet United FC, Canterbury RFC, Kent Crusaders Basketball and gymnasts from the Jumpers Rebound Centre.
I am grateful for the support of staff and the great facilities; using the AlterG has allowed me to walk and exercise.
Services
What can we treat?
We can help with a range of common problems that people suffer with, including:

Lower back pain
Neck and shoulder pain or restrictions
Hip, knee and ankle pain or restrictions
Muscle strains and ligament sprains
Posture analysis and improvement
Pre and post-surgery rehabilitation
Service
30 minutes
60 minutes
Sports Therapy and Rehabilitation
£15
£20
Sports Massage
£15
£20
Injury Prevention
£15
£20
On your first visit, you receive an initial assessment where we discuss your medical history and identify any current injuries or limitations. This is followed by a physical assessment. From this information we can develop a bespoke personalised treatment and rehabilitation plan.
During an injury prevention appointment we analyse any factors that can increase your risk of injury, this includes muscles imbalances, muscle weakness, mobility restrictions and functional movements.
Additionally, we offer group exercise classes. Currently, we run a class for the Medway based charity, Open Road, who assist individuals recovering from alcohol and drug addiction.
Discounts
Who
Type of Appointments
Offer
SSES University of Kent Staff & Students
All (excluding sports massage)
Free
University of Kent Staff & Students
Sports Massage
25% off
Concessions*
Sports Therapy & Rehabilitation

£10 (30 minutes)



£15 (60 minutes)

Partner Organisations**
Sports Therapy & Rehabilitation

£5 (30 minutes)


£10 (60 minutes)
*Senior (>65 years old); Students; Disabled people; Medway Park members; NHS staff; Police; Fire services; Military; University of Kent alumni; University of Greenwich and Canterbury Christ Church University staff and students
**Staff and students at University of Kent (non SSES); Brompton Academy staff and students; FANS members
Supervised by leading experts
Clinic hours
Address

Monday: 17:30 - 20:30
Tuesday: 10:30 - 13:30
Wednesday: 17:30 - 20:30
Thursday: 7:30-11:30
Friday: 12:00 - 16:00

All treatments and assessments are by appointment only.

Sports Ready Clinic
Medway Park
Mill Road
Gillingham
Medway
ME7 1HF