Who are we?
One of the top 100 Psychology departments in the world in the QS World University Rankings (14th in UK) and the Times Higher Education World University Rankings (8th in UK).
Our academics are internationally renowned experts and committed practitioners whose passion for their areas of research will inspire you to develop your own ideas and take your studies further.
Our vision
Our School vision is to offer the best education and student experience in the UK, to undertake psychological research and innovation that is of the highest international standard, and to be a leading civic institution within the region.
Our students help us to fulfil this vision by:
acquiring advanced discipline-specific knowledge and broader intellectual and motivational skills that serve them beyond university
actively advancing the discipline and helping to translate psychological research findings into non-academic practice
advocating the discipline to non-psychologists through public engagement activity.
Outstanding facilities
Our state-of-the-art research facilities include:
eye-tracker equipment
electroencephalography (EEG) equipment for monitoring brain function
brain stimulation and physiology laboratories
child-friendly testing spaces
a virtual reality laboratory
group dynamics laboratories
observation suites
two computer rooms with over 100 networked PCs.
Read more about our extensive research facilities.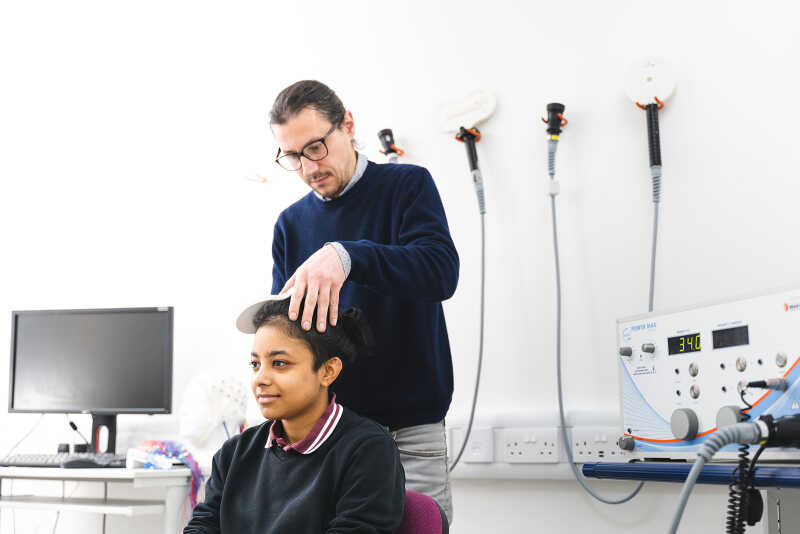 Inspirational teaching
All our academic staff are active in research and their passion for their subject will inspire you. They challenge you to develop your own opinions and ideas, and to become an independent thinker.
As a psychology student, you belong to a diverse and cosmopolitan School. Our staff and students are from a wide range of countries and undertake fieldwork abroad.
Supporting You
You're supported in your studies throughout your time at Kent. Your Academic Adviser is there to help you reach your full potential and our final-year undergraduates support new students through the Academic Peer Mentoring Scheme.
We have specialist and dedicated student support team if you encounter personal and wellbeing.
Research excellence
The School of Psychology has built a strong international research reputation in the areas of:
cognitive psychology
developmental psychology
forensic psychology
social psychology.
This is complemented by strengths in:
organisational psychology
political psychology.
We have two research centres:
Professional recognition
We have 25 years' continuous accreditation by The British Psychological Society.
Graduates of our BPS-accredited BSc programmes are eligible for Graduate Membership of The British Psychological Society with Graduate Basis for Chartered Membership. This is the first step towards becoming a Chartered Psychologist.
Kent's MSc in Forensic Psychology is accredited by The British Psychological Society as providing the first (academic) year of professional training for students wanting to qualify as Chartered Forensic Psychologists.
Our Business Psychology BSc degree and our Organisational and Business Psychology MSc are accredited by the Association for Business Psychology.
Careers and Employability
Kent equips you with essential skills to give you a competitive advantage when it comes to getting a job.
Our graduates currently have excellent graduate employment prospects, working in clinical, forensic and occupational psychology or in allied fields related to therapy, teaching, or social work. Many work in communication-focused roles in marketing, public relations and publishing.
If you choose an undergraduate programme with a placement year you can spend a year working with professional psychologists in, for example, the NHS, the Prison Service or another government agency or in a business setting and gain experience that will enhance your employability.
Additionally, our experience schemes allow students to either gain practical experience of ongoing research projects or to gain an insight into the workplace and the local community.
Location
Our campus is set in a beautiful location on a hill with a view of Canterbury Cathedral and the city. Everything you need is within walking distance, including a general store, a bookshop, a medical centre and a pharmacy. The campus has its own cinema, theatre, music venue, concert hall and student nightclub. There are restaurants, cafés and bars, as well as a sports centre and gym. We are based in Keynes College.