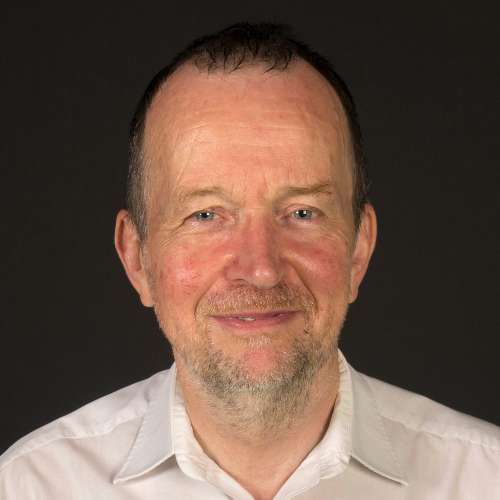 Dr Matthew Pepper
About
Senior Lecturer in Electronics and a Consultant Clinical Scientist, Medical Physics Dept, Kent and Canterbury Hospital. His research interests are mainly in the area of Medical Instrumentation, in particular, in the fields of: Neonatology, Gait Analysis, Cardiology and Rehabilitation Engineering. Current projects include: Measurement of the development of neonatal lung function; Development of an in-shoe triaxial shear transducer utilising piezoelectric copolymer film; Development of a portable force vector visualisation system with a single camera and a matrix of triax1al transducers for use in Gait clinics; Analysis of foot pressure data using neural networks, Analysis of in-shoe step-to-step vertical force patterns; Integration of Electronic Assistive Technology for independent mobilty, communication and environmental control.
Professional
Corporate Member of the Institute of Physics and Engineering in Medicine
Previous
Member and Chairman of IPSM Rehabilitation Engineering Topic Group (1989-1992)

Member IPSM Scientific Committee (1991-1992)

Member IPSM Scientific Steering Group (1991-1992)

Publications
Article
Gillham, M.

et al.

(2017).

Stakeholder views addressing the development and uptake of powered wheelchair assistive technology

.

Disability and Rehabilitation: Assistive Technology

[Online]

.

Available at

:

http://dx.doi.org/10.1080/17483107.2017.1416186

.

Purpose: The objective of this research is to identify stakeholder views with regard to the development of effective powered wheelchair assistive technologies more suited to the user and carer needs, whilst also meeting the requirements for other stakeholders, such that developers can be better guided towards producing solutions which have a better chance of getting to the market place and hence to the end user.
Method: A questionnaire was designed to collect the views of all stakeholders and circulated to a statistically representative number of them. The question rating data was then checked for correlation between groups, and within groups, to establish validity.
Results: The 74 stakeholders across the eight classes who responded had a good correlation between each other, with a cross class 'Pearson's correlation' ranging between 0.7 and 0.95, and the 'Fleiss's Kappa reliability of agreement' within each class ranging between 0.07 and 0.36.
Conclusions: This research has identified that all stakeholders should be involved in the development of the technology and that some may benefit in 'role-reversal' to help understand user problems and stakeholder concerns more clearly. Cost was a significant barrier to the uptake of appropriate technology, and training of users and carers was a major issue. Furthermore development should not increase user isolation and the impact on the user must be monitored for 'quality of life'. Technical support and training should be given to the user and their carers and equipment must be adaptive to meet the changing needs of the user.

Gillham, M.

et al.

(2017).

Feature determination from powered wheelchair user joystick input characteristics for adapting driving assistance

.

Wellcome Open Research

[Online]

2

:93

.

Available at

:

https://doi.org/10.12688/wellcomeopenres.12280.2

.

Background: Many powered wheelchair users find their medical condition and
their ability to drive the wheelchair will change over time. In order to maintain
their independent mobility, the powered chair will require adjustment over time
to suit the user's needs, thus regular input from healthcare professionals is
required. These limited resources can result in the user having to wait weeks
for appointments, resulting in the user losing independent mobility,
consequently affecting their quality of life and that of their family and carers. In
order to provide an adaptive assistive driving system, a range of features need
to be identified which are suitable for initial system setup and can automatically
provide data for re-calibration over the long term.
Methods: A questionnaire was designed to collect information from powered
wheelchair users with regard to their symptoms and how they changed over
time. Another group of volunteer participants were asked to drive a test platform
and complete a course which represented manoeuvring in a very confined
space as quickly as possible. Two of those participants were also monitored
over a longer period in their normal home daily environment. Features, thought
to be suitable, were examined using pattern recognition classifiers to determine
their suitability for identifying the changing user input over time.
Results: The results are not designed to provide absolute insight into the
individual user behaviour, as no ground truth of their ability has been
determined, they do nevertheless demonstrate the utility of the measured
features to provide evidence of the users' changing ability over time whilst
driving a powered wheelchair.
Conclusions: Determining the driving features and adjustable elements
provides the initial step towards developing an adaptable assistive technology
for the user when the ground truths of the individual and their machine have
been learned by a smart pattern recognition system

Bai, L.

et al.

(2015).

Quantitative Assessment of Upper Limb Motion in Neurorehabilitation Utilizing Inertial Sensors

.

IEEE Transactions on Neural Systems and Rehabilitation Engineering

[Online]

:232-243

.

Available at

:

http://dx.doi.org/10.1109/TNSRE.2014.2369740

.

Two inertial sensor systems were developed for 3-D tracking of upper limb movement. One utilizes four sensors and a kinematic model to track the positions of all four upper limb segments/joints and the other uses one sensor and a dead reckoning algorithm to track a single upper limb segment/joint. Initial evaluation indicates that the system using the kinematic model is able to track orientation to 1 degree and position to within 0.1 cm over a distance of 10 cm. The dead reckoning system combined with the "zero velocity update" correction can reduce errors introduced through double integration of errors in the estimate in offsets of the acceleration from several meters to 0.8% of the total movement distance. Preliminary evaluation of the systems has been carried out on ten healthy volunteers and the kinematic system has also been evaluated on one patient undergoing neurorehabilitation over a period of ten weeks. The initial evaluation of the two systems also shows that they can monitor dynamic information of joint rotation and position and assess rehabilitation process in an objective way, providing additional clinical insight into the rehabilitation process.

Bai, L.

et al.

(2014).

Quantitative Assessment of Limb Motion by Inertial Sensors Before and After Botulinum Toxin for Spasticity

.

Archives of Physical Medicine and Rehabilitation

[Online]

95

.

Available at

:

http://dx.doi.org/10.1016/j.apmr.2014.07.205

.

To develop an assessment tool utilising inertial sensors to investigate an objective measure of the efficacy of upper limb rehabilitation before and after Botulinum toxin (BTX) in clinical setting.

Ang, C.

et al.

(2011).

Use of Brain Computer Interfaces in Neurological Rehabilitation

.

British Journal of Neuroscience Nursing

7

:523-528

.

Brain computer interfaces (BCI) enable users to transform their thoughts into actions without involving voluntary motor movement. This relatively new user interface technology not only offers those with severe neuromotor disabilities a new means to interact with the environment, but can also provides effective and engaging rehabilitation to restore motor or cognitive functions that have been impaired due to disease or trauma. This article summarizes the use of BCI in neurorehabilitation settings based on a review of relevant literature. It also identifies the challenges of BCI and provides recommendations for practical use and future directions for research. BCI could be a promising tool to assist patients undergoing neurological rehabilitation by providing access to environmental control and communication, as well as neurofeedback rehabilitation.

Razian, M. and Pepper, M. (2003).

Design, Development and Characteristics of an In-Shoe Triaxial Pressure Measurement Transducer Utilizing a Single Element of Piezoelectric Copolymer Film

.

IEEE Transactions on Neural Systems and Rehabilitation Engineering

11

:288-293

.

In gait analysis, there is growing awareness of the
need to simultaneously measure shear and vertical forces for the
diagnosis and treatment assessment of pathological foot disorders.
This is especially the case in the measurement of the forces
between the plantar surface of the foot and the shoe. Although
clinical awareness of the need to simultaneously measure shear
and vertical forces under the foot has increased little has been done
to provide the technology. This is mainly due to the difficulty in
constructing devices capable of carrying out this task in the in-shoe
environment. The aim of this paper is to describe the development
and characteristics of a miniature triaxial transducer measuring
10 10 2.7 mm and a weight of only 2 g. This transducer
is capable of simultaneously measuring three orthogonal forces
under any location of the plantar surface of the foot utilizing a
single element piezoelectric copolymer P(VDF-TrFE). Transducer
sensitivity, linearity, hysteresis, cross-talk and temperature dependence
is presented. As well as in-shoe force measurement, this
triaxial transducer could have other biomedical and general engineering
applications, e.g., prosthetic interface forces, handgrip
forces, sport, robotics, etc.

Akhlaghi, F. and Pepper, M. (1996).

In-shoe biaxial shear force measurement: The Kent shear system

.

Medical and Biological Engineering and Computing

[Online]

34

:315-317

.

Available at

:

http://dx.doi.org/10.1007/BF02511246

.

The Kent shear system is introduced and preliminary clinical results are presented. A technique utilising copolymer piezoelectric film has allowed the manufacture of biaxial in-shoe transducers capable of simultaneously measuring two orthogonal shear forces. Bipedal measurements are carried out inside everyday footwear over multiple footsteps.

Pang, P., Pepper, M. and Ducker, D. (1995).

Monitoring respiratory activity in neonates using diaphragmatic electromyograph

.

Medical and Biological Engineering and Computing

[Online]

33

:385-390

.

Available at

:

http://dx.doi.org/10.1007/BF02510520

.

The monitoring of the development of respiratory function in low-birth-weight or sick neonates is important in its overall treatment. The most direct approach to obtaining information on respiratory function is to monitor the activity of the diaphragmatic muscular system rather than measure the resultant change in lung volume or ventilator output, which cannot be guaranteed to be directly related to the neonate's own respiratory activity. The system was designed to assess the feasibility of monitoring respiratory activity in such neonates by measuring the diaphragmatic synchronisation and control of ventilator assistance. To monitor the EMG, the dominant effect of the ECG was removed using a digital processor. Initial clinical measurements indicate that neonatal respiratory activity can be monitored by measuring the diaphragmatic EMG. Comparative measurements show the EMG method is faster in detecting the inspiratory phase of a breath. Measurements on ventilated neonates showed the presence of intermittent respiratory activity. It also is proposed that clinically relevant information may be deduced from the analysis of the morphology of the detected EMG waveform.

Nevill, A., Pepper, M. and Whiting, M. (1995).

In-shoe foot pressure measurement system utilizing piezoelectric film transducers

.

Medical and Biological Engineering and Computing

[Online]

33

:76-81

.

Available at

:

http://dx.doi.org/10.1007/BF02522950

.
Conference or workshop item
Gillham, M.

et al.

(2016). Developing Effective Intelligent Assistance for the Powered Wheelchair User.

in:

Technology for Independence Conference (T4i)

.

.

Available at

:

https://dx.doi.org/10.15131/shef.data.4256522

.

This research is working towards developing a pre-production prototype system which can provide a low-cost real-time adjustable and adaptable driving assistance system for powered wheelchair users. Currently we are seeking to obtain information from user joystick input and their driving quality to identify symptoms and make adjustments to the driving assistance system.

Henderson, M.

et al.

(2014). Powered Wheelchair Platform for Assistive Technology Development.

in:

2014 Fifth International Conference on Emerging Security Technologies (EST),

.

IEEE

,

pp.

52-56

.

Available at

:

http://dx.doi.org/10.1109/EST.2014.20

.

Literature shows that numerous wheelchair platforms, of various complexities, have been developed and evaluated for Assistive Technology purposes. However there has been little consideration to providing researchers with an embedded system which is fully compatible, and communicates seamlessly with current manufacturer's wheelchair systems. We present our powered wheelchair platform which allows researchers to mount various inertial and environment sensors, and run guidance and navigation algorithms which can modify the human desired joystick trajectory, so as to assist users with negotiating obstacles, and moving from room to room. We are also able to directly access other currently manufactured human input devices and integrate new and novel input devices into the powered wheelchair platform for clinical and research assessment.

Ferrer, S.

et al.

(2014). Système universel à bas coût d'aide à la conduite d'un fauteuil roulant électrique.

in:

Handicap 2014

.

Ragot, N.

et al.

(2013). Enhancing the Autonomy of Disabled Persons: Assistive Technologies Directed by User Feedback.

in:

4th International Conference on Emerging Security Technologies (EST 2013),

.

IEEE

,

pp.

71-74

.

Available at

:

http://dx.doi.org/10.1109/EST.2013.20

.

Europe faces a major and growing healthcare problem due to increase in population, increasing longevity and an aging population with disability. Such dependent, elderly, disabled and vulnerable persons, are concerned since they wish to live at home as long as possible. This aspiration is also shared by national policies and communities across EU. To ensure the optimum care of dependent people, innovative solutions are encouraged to maintain independent life style. This paper outlines two projects, SYSIASS and COALAS, which aim to develop a set of technology based solutions to meet the needs and empower these people by enhancing mobility and communication.

Guness, S.

et al.

(2013). A Novel Depth-based Head Tracking and Gesture Recognition System.

in:

12th European AAATE (Association for the Advancement of Assistive Technology in Europe) Conference

.

IOS Press EBooks

,

pp.

1021-1026

.

Available at

:

http://dx.doi.org/10.3233/978-1-61499-304-9-1021

.

This paper presents the architecture for a novel RGB-D based assistive device that incorporates depth as well as RGB data to enhance head tracking and facial gesture based control for severely disabled users. Using depth information it is possible to remove background clutter and therefore achieve a more accurate and robust performance. The system is compared with the CameraMouse, SmartNav and our previous 2D head tracking system. For the RGB-D system, the effective throughput of dwell clicking increased by a third (from 0.21 to 0.30 bits per second) and that of blink clicking doubled (from 0.15 to 0.28 bits per second) compared to the 2D system.

Gillham, M.

et al.

(2013). Real-time Doorway Detection and Alignment Determination for Improved Trajectory Generation in Assistive Mobile Robotic Wheelchairs.

in:

Emerging Security Technologies (EST), 2013 Fourth International Conference on

. pp.

62-65

.

Powered wheelchair users may find operation in enclosed environments such as buildings difficult; a fundamental problem exists: wheelchairs are not much narrower than the doorway they wish to pass through. The ability to detect and pass through doorways represents a major current challenge for automated guided wheelchairs. We utilize a simple doorway pattern recognition technique for fast processing in a real-time system for robotic wheelchair users. We are able to show a 96% detection and identification of 5 individual doorways and an 86% recognition rate of 22 separate approach angles and translations. We conclude that pattern recognition using features obtained from simple constrained infrared ranging sensor data binning can be utilized for fast identification of doorways, and important coarse position and approach angle determination, suitable for real-time trajectory adjustment, representing a significant enhancement in this area.

Guness, S.

et al.

(2012). Developing a vision based gesture recognition system to control assistive technology in neuro-disability.

in:

2012 Annual Conference, American Congress of Rehabilitation Medicine (2012 ACRM-ASNR)

.

Elsevier Science B.V.

,

p.

e1

.

Available at

:

http://dx.doi.org/doi:10.1016/j.apmr.2012.08.202

.

Guness, S.

et al.

(2012). Evaluation of vision-based head-trackers for assistive devices.

in:

34th Annual International Conference of the IEEE EMBS

. pp.

4804-4807

.

Available at

:

http://dx.doi.org/10.1109/EMBC.2012.6347068

.

This paper presents a new evaluation methodology for assistive devices employing head-tracking systems based on an adaptation of the Fitts Test. This methodology is used to compare the effectiveness and performance of a new vision-based head tracking system using face, skin and motion detection techniques with two existing head tracking devices and a standard mouse. The application context and the abilities of the user are combined with the results from the modified Fitts Test to help determine the most appropriate devices for the user. The results suggest that this modified form of the Fitts test can be effectively employed for the comparison of different access technologies.

Gillham, M.

et al.

(2012). Real-time sensor data for efficient localisation employing a weightless neural system.

in:

Systems and Computer Science (ICSCS), 2012 1st International Conference on

.

IEEE

,

pp.

1-5

.

Available at

:

http://dx.doi.org/10.1109/IConSCS.2012.6502448

.

Mobile robotic localisation obtained from simple sensor data potentially offers real-time real-world integration. Computationally highly efficient Weightless Neural Networks, when used for location determination, further enhances performance potential. This paper introduces techniques for the identification of rooms or locations in the absence of complex and succinct information. Using simple floor colour and texture, and room geometrics from ranging data, although inherent uncertainties exist, these limited simple fused real-time sensor data can be easily resolved into a room identification criterion using architectures generated by a Genetic Algorithm technique applied to a Weightless Neural Network Architecture.

Gillham, M.

et al.

(2012). Weightless Neural System Employing Simple Sensor Data for Efficient Real-Time Round-Corner, Junction and Doorway Detection for Autonomous System Path Planning in Smart Robotic Assisted Healthcare Wheelchairs.

in:

Emerging Security Technologies (EST), 2012 Third International Conference

.

IEEE

,

pp.

161-164

.

Available at

:

http://dx.doi.org/10.1109/EST.2012.21

.

Human assistive devices need to be effective with real-time assistance in real world situations: powered wheelchair users require reassuring robust support, especially in the area of collision avoidance. However, it is important that the intelligent system does not take away control from the user. The patient must be allowed to provide the intelligence in the system and the assistive technology must be engineered to be sufficiently smart to recognize and accommodate this. Robotic assistance employed in the healthcare arena must therefore emphasize positive support rather than adopting an intrusive role. Weightless Neural Networks are an excellent pattern recognition tool for real-time applications. This paper introduces a technique for look-ahead identification of open doorways and junctions. Simple sensor data in real-time is used to detect open doors with inherent data uncertainties using a technique applied to a Weightless Neural Network Architecture.

Kokosy, A.

et al.

(2012). SYSIASS – an intelligent powered wheelchair.

in:

First International Conference on Systems and computer Science

.

This paper explains the motivations and the goals of the SYSIASS project. This project has three major ambitions: to design intelligent devices for both the assisted navigation of the powered wheelchairs and the secure communication of the data and to design multi-modality human machine interaction. Moreover, the challenge of the project is to take the needs of the users and the constraints that it implies into account at each stage of the project development. The devices developed during the project will be evaluated by the users through the clinical trials.

Gillham, M.

et al.

(2012). Highly efficient Localisation utilising Weightless neural systems.

in:

20th European Symposium on Artificial Neural Networks, Computational Intelligence and Machine Learning, ESANN

.

ESANN

,

pp.

543-548

.

Available at

:

https://www.elen.ucl.ac.be/Proceedings/esann/esannpdf/es2012-138.pdf

.

Efficient localisation is a highly desirable property for an autonomous navigation system. Weightless neural networks offer a real-time approach to robotics applications by reducing hardware and software requirements for pattern recognition techniques. Such networks offer the potential for objects, structures, routes and locations to be easily identified and maps constructed from fused limited sensor data as information becomes available. We show that in the absence of concise and complex information, localisation can be obtained using simple algorithms from data with inherent uncertainties using a combination of Genetic Algorithm techniques applied to a Weightless Neural Architecture.

Bai, L.

et al.

(2012). Application of low cost inertial sensors to human motion analysis.

in:

2012 IEEE International Instrumentation and Measurement Technology Conference

. pp.

1280-1285

.

Available at

:

http://dx.doi.org/10.1109/I2MTC.2012.6229349

.

In this paper the feasibility of utilizing low cost inertial sensors for human motion analysis is presented. The Xsens MTx sensor is used as the standard for comparison with the Sony Move and the Nintendo Wii (Wii Remote with Wii MotionPlus). Initial tests have been carried out by measuring upper limb range of motion and position tracking. Initial measurements utilizing kinematic modeling indicates that the MTx, whose static angle accuracy is 0.3°, can measure a movement of 10 cm with an error less than 0.05 cm. The low cost inertial sensors are capable of measuring the range of elbow flexion motion whose typical range is 150° with an error no greater than 1° and the Sony Move can track movement of 10 cm with an error less than 0.2 cm. In order to track position the system must include tri-axial accelerometers, rate gyros and magnetometers. This requirement is met by the Sony Move. The outcome is that Wii can be used for measuring upper limb range of motion and the Move for range of motion and position tracking based on the kinematic model.

Kelly, S., Pepper, M. and Sakel, M. (2011). From Telecare and Telehealth to Telesupport.

in:

KentHealth/ICE-T Workshop - Prototype to Market: Innovation in Telecare

.

Bai, L.

et al.

(2011). A Multiparameter Assessment Tool for Upper Limb Motion in Neurorehabilitation.

in:

IEEE International Instrumentation and Measurement Technology Conference (I2MTC 2011)

. pp.

21-24

.

Geng, Z., Pepper, M. and Yan, Y. (2011). A Multiplexer System for Multi-Channel Charge Signal Processing in In-Shoe Force Measurement.

in:

IEEE International Instrumentation and Measurment Technology Conference (12MTC 2011)

. pp.

74-78

.

Available at

:

http://dx.doi.org/10.1109/IMTC.2011.5944184

.

Geng, Z., Pepper, M. and Yan, Y. (2010). Design and Characterisation of a Single Element Tri-Axial Piezoelectric Transducer for In-Shoe Force Measurement.

in:

IEEE International Instrumentation and Measurement Technology Conference (I2MTC 2010)

. pp.

1048-1052

.

Available at

:

http://dx.doi.org/10.1109/IMTC.2010.5488168

.

Barton, J.

et al.

(2005). A System for Real World Monitoring of Prostheses and Footwear.

in:

A System for Real World Monitoring of Prostheses and Footwear

.

The problem the EU sponsored Real-Prof project[1] seeks to address is that there is no means of scientifically monitoring the performance of therapeutic footwear and lower limb prostheses in the real world. This prevents the early detection of problems under the sole of the foot or on the stump which lead to ulceration, and potentially amputation. Also, clinicians prescribing the footwear or prosthesis and designers of these devices currently have no means of monitoring the performance of the device once fitted, which is a prerequisite for treatment improvements[2]. This paper details the progress in this project so far.

Nester, C.

et al.

(2004). Real World Monitoring of Protheses and Footwear (Real-Prof) - Novel Gait Data Processing.

in:

Jan, J., Kozumplik, J. and Provaznik, I. eds.

Biosignal:; Analysis of biomedical signals and images: EURASIP

.

Brno University of Technology,; 2004

,

pp.

103-105

.

Razian, M. and Pepper, M. Tri-axial and Uni-axial In-shoe Pressure Measurements. Are Uni-axial Measurements Adequate.

in:

Proceedings of the 13th Conference of the Eurpean Society of Biomechanics, 4, Suppl. 1,

. pp.

357-358

.

Barton, J.

et al.

Design and Fabrication of a System Integration Unit for Real World Monitoring of Prostheses and Footwear.

in:

Design and Fabrication of a System Integration Unit for Real World Monitoring of Prostheses and Footwear

.