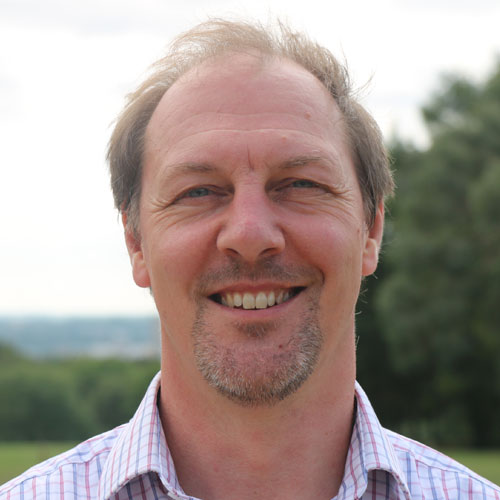 Dr Simon Black
Associate Lecturer and Researcher
About
Dr Simon Black focuses on both conservation science and management, with a particular interest in how to manage conservation effectively and how to improve the impact of conservation interventions. One aspect of his work includes the interfaces between science, field research, project management and organisational psychology. A second area examines how conservation management can be improved and sustained. 

Dr Black's specific scientific interests centre on the genetics of small populations (effects on survival, diversity and disease resistance), management strategies for conserving and sustaining threatened populations, and how Human-Wildlife Conflict can be managed in systems where humans and wildlife need to co-exist (marine and terrestrial). Simon works on projects involving landscape, human communities, wildlife trade and species recovery. 

Dr Black's interest in supporting the conservation community to improve effectiveness and impact of its activities led to the development of the Conservation Excellence Model and the MSc in Conservation Project Management. Simon has an active interest in developing practical collaborations to support learning and new practices in conservation projects worldwide. 

Dr Black published, as co-editor and contributor, the 2018 book Species Conservation: Lessons from Islands with Cambridge University press, a comprehensive text featuring world-class contributors which offers insight to anyone with a practical or research interest in conservation biology. 

Research interests
Leadership and management in conservation


Dr Black's core interests are conservation management effectiveness, improvement and learning, informed by over thirty years as a researcher, manager, consultant, and educator. Simon has delivered teaching for corporate, university, NGO and government programmes. His published research papers span species conservation, conservation leadership, performance evaluation, psychology, management development and business improvement. 

Recent work has examined how management assessment frameworks can be used to improve the effectiveness of conservation programmes and how leadership behaviour has an impact on conservation programme success or failure. Current work includes examining how innovative data analysis tools, such as Systems Behaviour Charts, and new methods of programme assessment, like the Conservation Excellence Model, can improve conservation management. Dr Black's research informs management development work which he is conducting in conservation programmes in Europe, North & South America, Caribbean, North Africa, East Africa, the Middle East, South and Southeast Asia, and islands of the Indian and Pacific Oceans. 


Human-wildlife interactions

Current work with colleagues examines: 
how human-wildlife conflict data can be used to assist in management of conservation effort to greatest effect.

the interaction of ecosystems and species with human land-use (and waterway-use) and the restoration of ecosystems for both human and wildlife benefit, in the Mediterranean biome (particularly North Africa), the Arabian Peninsula, Central and South Asia, and Southern USA.

practical methods for data monitoring and decision-support having been devised for Human-Wildlife Conflict programmes in Bangladesh, Indonesia, Tanzania and Kenya.

agro-ecosystem improvement and reforestation in the Indian Ocean, East and North Africa, and Brazil.

analysis of illegal trade to influence anti-poaching and change behaviour of consumers.

Conservation genetics
Dr Black's genetics work has primarily involved large species, including the conservation genetics of the Arabian Leopard (Panthera pardus nimr) and the genetics of Moroccan Royal lions, the captive population thought to be descended from the now extinct North African lion population (Panthera leo leo). The latter work reviewed the status of these lions and has led to Simon's development of the European studbook which is now used by zoos involved in maintaining the European and Moroccan zoo population.
Dr Black previously contributed to the Leverhulme-funded DICE project which examined how MHC diversity in endangered island bird species in Mauritius, which have experienced population bottlenecks, compares with more robust invasive parrots.
Teaching
DI889: Leadership Skills for Conservation Managers
DI893: Business Principles for Biodiversity Conservation
DI1001: Multidisciplinary Perspectives on Conservation
DI510: Global Biodiversity
DI310: Skills for Wildlife Conservation and Management
Dr Black also supervises student projects (DI998).
Supervision
Current PhD students
Gemma Harding: The best laid plans? Evaluation of ex situ components within species conservation action plans (co-supervisor)

Thirza Loffeld: Continuous professional development in wildlife conservation: identifying gaps and barriers from case studies in developing countries
Alumni
Sone Christopher: Victims of their teeth: critical issues for continued killing of elephants in Cameroon

Professional
Dr Black runs four outreach portals on the web:
Dr Black has featured in the following TV documentaries in the UK, North America and Europe.

Die letzten Berberlöwen - Könige im Exil on W wie Wissen (K for Knowledge), NDR German Television, Hamburg (aired 1 April 2012)

Museum secrets: Barbary Lions, History Television, Kensington Comm. (aired March 18, 2011)

Dr Black was also consulted for the following TV and Web media features:

Dr Black has also contributed to the following general interest books:
Evans S. (2018) When the Last Lion Roars: The Rise and Fall of the King of the Beasts (Bloomsbury: London)

Brown-Blewett, A and Raven-Ellison, D. (2014) Mission Lion Rescue: all about lions and how to save them. National Geographic Kids

Publications
Article
Lee, T.

et al.

(2015).

Assessing uncertainty in sighting records: an example of the Barbary lion

.

PeerJ

[Online]

3

.

Available at

:

http://dx.doi.org/10.7717/peerj.1224

.

As species become rare and approach extinction, purported sightings can be controversial, especially when scarce management resources are at stake. We consider the probability that each individual sighting of a series is valid. Obtaining these probabilities requires a strict framework to ensure that they are as accurately representative as possible. We used a process, which has proven to provide accurate estimates from a group of experts, to obtain probabilities for the validation of 32 sightings of the Barbary lion. We consider the scenario where experts are simply asked whether a sighting was valid, as well as asking them to score the sighting based on distinguishablity, observer competence, and verifiability. We find that asking experts to provide scores for these three aspects resulted in each sighting being considered more individually, meaning that this new questioning method provides very different estimated probabilities that a sighting is valid, which greatly affects the outcome from an extinction model. We consider linear opinion pooling and logarithm opinion pooling to combine the three scores, and also to combine opinions on each sighting. We find the two methods produce similar outcomes, allowing the user to focus on chosen features of each method, such as satisfying the marginalisation property or being externally Bayesian.

Black, S., Groombridge, J. and Jones, C. (2013).

Using Better Management Thinking to Improve Conservation Effectiveness

.

ISRN Biodiversity

[Online]

2013

:1-8

.

Available at

:

http://doi.org/10.1155/2013/784701

.

The current paradigm for effective management in biodiversity conservation programmes is dominated by three broad streams of thinking: (i) traditional "command-and-control" approaches which are commonly observed in, but are not exclusive to, bureaucratic government-administered conservation, (ii) more recent notions of "adaptive management," and (iii) emerging "good practice" management frameworks for conservation. Other variations on these themes suggested by the literature tend to endorse additions or enhancement to one or more of these approaches. We argue that instead a more fundamental alternative approach to conservation management is required, based on "systems thinking." The systems thinking approach should encompass (i) an understanding of natural systems, (ii) a sense of how human behaviour is influenced, (iii) an understanding of how knowledge should inform decision-making and problem solving, and (iv) an approach based on an understanding of variation in natural systems. Our argument is that the current paradigms of conservation management fail to address these four fundamentals and therefore do not represent the most effective way to manage conservation programmes. We suggest that the challenge for the conservation community is so great that conservation managers should seriously consider better ways of designing and managing programmes, setting goals, making decisions, and encouraging learning and improvement.

Black, S.

et al.

(2013).

Examining the extinction of the Barbary Lion and its implications for felid conservation

.

PLoS ONE

[Online]

8

:e60174

.

Available at

:

http://dx.doi.org/10.1371/journal.pone.0060174

.

Estimations of species extinction dates are rarely definitive, yet declarations of extinction or extirpation are important as they define when conservation efforts may cease. Erroneous declarations of extinctions not only destabilize conservation efforts but also corrode local community support. Mismatches in perceptions by the scientific and local communities risk undermining sensitive, but important partnerships. We examine observations relating to the decline and extinction of Barbary lions in North Africa. Whilst the extinction predates the era of the scientific conservation movement, the decline is relatively well documented in historical records. Recently unearthed accounts suggest Barbary lions survived later than previously assumed. We use probabilistic methods to estimate a more recent extinction date for the subspecies. The evidence presented for a much later persistence of lions in North Africa, including generations when sightings were nil, suggests caution when considering felid populations as extinct in the wild. The case raises the possibility that captive animals descended from the Moroccan royal collection are closer contemporaries to wild Barbary lions. Furthermore, our results highlight the vulnerability of very small lion populations and the significance of continued conservation of remnant lion populations in Central and West Africa. © 2013 Black et al.

Kundu, S.

et al.

(2012).

Tracking Viral Evolution during a Disease Outreak: the Rapid and Complete Selective Sweep of a Circovirus in the Endangered Echo Parakeet

.

Journal of Virology

[Online]

86

:5221-5221

.

Available at

:

http://dx.doi.org/10.1128/JVI.06504-11

.

Circoviruses are amongst the smallest and simplest of all viruses, but are relatively poorly characterised. Here, we intensively sampled two sympatric parrot populations from Mauritius over a period of 11 years and screened for the circovirus Beak and Feather Disease Virus. During the sampling period a severe outbreak of Psittacine Beak and Feather Disease, which is caused by Beak and Feather Disease Virus, occurred in Echo parakeets. Consequently, this dataset presents an ideal system to study the evolution of a pathogen in a natural population and to understand the adaptive changes that cause outbreaks. Unexpectedly, we discovered that the outbreak was most likely caused by changes in functionally important regions of the normally conserved replicase gene and not the immunogenic capsid. Moreover, these mutations were completely fixed in the Echo parakeet host population very shortly after the outbreak. Several capsid alleles were linked to the replicase outbreak allele suggesting that whilst the key changes occurred in the latter, the scope of the outbreak and the selective sweep may have been influenced by positive selection in the capsid. We found evidence for viral transmission between the two host populations though evidence for the invasive species as the source of the outbreak was equivocal. Finally, the high evolutionary rate that we estimated shows how rapidly new variation can arise in Beak and Feather Disease Virus and is consistent with recent results from other small single-stranded DNA viruses.

Black, S., Groombridge, J. and Jones, C. (2011).

Leadership and conservation effectiveness: finding a better way to lead

.

Conservation Letters

[Online]

4

:329-339

.

Available at

:

http://dx.doi.org/10.1111/j.1755-263X.2011.00184.x

.

Conservation practitioners and academics have highlighted leadership as an important component for conservation programs, but the attributes of effective leaders are not yet clearly defined. We identify a leadership approach that enables a conservation organization to be more effective in achieving positive results. An analysis of successful and unsuccessful species conservation programs consistently reveals contrasting leadership approaches. Successful approaches resonate strongly with both the characteristics of species conservation and established leadership theory in mainstream management literature. We describe the practices identified in successful species conservation programs to provide the basis for a new understanding of conservation leadership using established management theory. The traits of a successful conservation leader include: an ability to share a clear, long-term vision; orientation toward "hands-on" management; an ability to switch thinking between the big picture and the detail; and a willingness to encourage learning, improvement, and receptiveness to alternative solutions. Activities in the conservation sector are typically influenced by factors beyond the control of managers. Conversely, a leadership approach is under managers' direct control and has an impact on attainment of results. Effective leadership is one factor that should not be left to chance but should be considered seriously for its impact on achievement in biodiversity conservation.

Black, S., Meredith, H. and Groombridge, J. (2011).

Biodiversity conservation: Applying new criteria to assess excellence

.

Total Quality Management & Business Excellence

[Online]

22

:1165-1178

.

Available at

:

http://doi.org/10.1080/14783363.2011.624766

.

Biodiversity conservation is a discipline that has developed from amateur pursuits by wildlife enthusiasts in the 1960s to today's complex community of multi-national NGOs, government agencies and research institutions. The conservation sector is largely funded by government grants, private donations and sponsorship, and unsurprisingly faces increasing scrutiny in the current economic downturn. Furthermore, the observed failure to halt the decline of biodiversity provides additional pressure to organisations. In this context, business excellence models which have been utilised across many other sectors for evaluation, benchmarking and improvement planning could prove valuable in influencing the effectiveness of conservation management. This paper presents a sector-specific Conservation Excellence Model which describes how conservation managers can better understand how scientific processes and results can be aligned with financial and organisational measures of success. The relevance of the model is illustrated through evaluation of two well-documented species conservation programmes, and experience of adapting the assessment process to evaluate a field-based conservation programme is also presented. The potential benefits of using the Conservation Excellence Model include improved objective setting, more effective measures of biological success and clearer evaluation of conservation processes. The paper illustrates how assessment models can support improvement in organisations still unfamiliar with concepts of excellence.

Black, S. and Groombridge, J. (2010).

Use of a Business Excellence Model to Improve Conservation Programs

.

Conservation Biology

[Online]

24

:1448-1458

.

Available at

:

http://dx.doi.org/10.1111/j.1523-1739.2010.01562.x

.

The current shortfall in effectiveness within conservation biology is illustrated by increasing interest
in "evidence-based conservation," whose proponents have identified the need to benchmark conservation
initiatives against actions that lead to proven positive effects. The effectiveness of conservation policies, approaches,
and evaluation is under increasing scrutiny, and in these areasmodels of excellence used in business
could prove valuable. Typically, conservation programs require years of effort and involve rigorous long-term
implementation processes. Successful balance of long-term efforts alongside the achievement of short-term
goals is often compromised by management or budgetary constraints, a situation also common in commercial
businesses. "Business excellence" is an approach many companies have used over the past 20 years to
ensure continued success. Various business excellence evaluations have been promoted that include concepts
that could be adapted and applied in conservation programs. We describe a conservation excellence model
that shows how scientific processes and results can be aligned with financial and organizational measures of
success. We applied the model to two well-documented species conservation programs. In the first, the Po'ouli
program, several aspects of improvement were identified, such as more authority for decision making in the
field and better integration of habitat management and population recovery processes. The second example,
the black-footed ferret program, could have benefited from leadership effort to reduce bureaucracy and to
encourage use of best-practice species recovery approaches. The conservation excellence model enables greater
clarity in goal setting, more-effective identification of job roles within programs, better links between technical
approaches and measures of biological success, and more-effective use of resources. The model could improve
evaluation of a conservation program's effectiveness and may be used to compare different programs, for
example during reviews of project performance by sponsoring organizations.

Black, S.

et al.

(2009).

Maintaining the genetic health of putative Barbary lions in captivity: an analysis of Moroccan Royal Lions.

European Journal of Wildlife Research

[Online]

56

:21-31

.

Available at

:

http://dx.doi.org/10.1007/s10344-009-0280-5

.

The last representatives of the Barbary lion
(Panthera leo leo), once numerous in North Africa but
exterminated from the wild by the 1940s, are believed to be
the captive lions descended from the Moroccan Royal
Collection, numbering less than 90 animals in zoos
worldwide. The genetic fitness of these captive "Royal
Lions" may now be under threat since, although most zoos
have avoided hybridisation with animals of other origin, no
formal breeding programme currently exists and several
institutions have halted breeding activities. This situation
has arisen since the distinctiveness of Barbary lions and the
representative status of Royal Lions remain inconclusive
and definitive molecular studies have yet to be completed.
Previously, in the 1970s, morphological and phenotypic
traits were used to match Royal Lions and the historic
Barbary lion and an ex situ breeding programme was
initiated involving a number of selected "founder" animals.
This paper outlines the status of the descendent population
within zoos in Morocco and Europe, including all known
pure-bred descendents from the Royal Palace collection.
Founder representation is shown to be greater across
European collections than the Moroccan collection. Breeding
exchanges are recommended between institutions in
order to improve genetic diversity and maintain the genetic
health of the population and a studbook for European zoo
animals has been developed to support this action. This
analysis serves as a benchmark for guiding effective
maintenance of the captive population, thereby allowing
time to clarify the conservation value of Royal Lions and
their relevance to North African ecology.