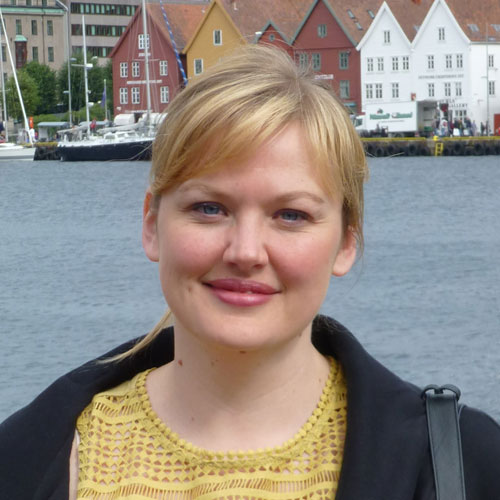 Dr Alanna Cant
About
Dr Alanna Cant is a social anthropologist, trained in Canada and the United Kingdom, where she completed her PhD in 2012 at the London School of Economics. Before joining the School, Alanna was a Postdoctoral Research Fellow in Anthropology at the University of Oslo.

Dr Cant's theoretical interests include the social production of aesthetics and materiality; intellectual property and authorship; the generation of economic and non-economic value; anthropology of art and heritage; the anthropology of Catholicism. Her research is based on extensive fieldwork in the Central Valleys region of Oaxaca, Mexico.

Alanna became a Marie Skłodowska-Curie Fellow in the School in December 2016, funded by 'Horizon 2020', the European Union Framework Programme for Research and Innovation.  
Research interests
The central theme of Dr Cant's research is people's 'everyday aesthetic practices' in Oaxaca, Mexico and how these practices intersect with larger issues of politics, value, globalisation, identity, history and faith. Alanna draws in particular on works by Pierre Bourdieu, Walter Benjamin and Alfred Gell to develop a robust anthropological approach to aesthetics that attends to the material, artistic and auratic power of art-like objects, while also addressing the social relationships constituted through aesthetic practices and experiences. She is also interested in the methodological issues of studying aesthetics and art production ethnographically.

Dr Cant's current research addresses the restoration of a colonial-era Catholic church located in a peripheral indigenous community in the state of Oaxaca, Mexico. It investigates the ways in which the professionals concerned with the conservation of the church as a federally-protected historic site engage with the local religious community that has particular rights in, and relationships with, the building and objects that are to undergo repair. It raises larger political and ethical questions of how divergent ideological, aesthetic and cultural values are negotiated in contexts of religious heritage conservation. 

This is a social anthropology project that is grounded in a broader multidisciplinary approach that connects with art and architectural history, conservation sciences, and religious studies. The aims are to investigate: (1) the cultural, religious and vocational ideologies and beliefs that come into conflict as actors work through restoration projects together; (2) how the material and immaterial aspects of sacred and historically valuable objects are understood by different stakeholders; and (3) how relations of power are manifested and reinforced or resisted during restoration projects.

Dr Cant's field diary can be read here.

Practising aesthetics: artisanal production and politics in a woodcarving village in Oaxaca, Mexico

This research is based on twenty months of ethnographic fieldwork (2008-2009) with artisans in the village of San Martín Tilcajete, Oaxaca, where woodcarvings (or alebrijes) are produced for sale to tourists, art collectors, museums and wholesalers. The central theoretical concern is how the aesthetic projects and expectations of art producers and consumers condition the economic and social worlds in which artisans work and live. 

It addresses: (1) artisans' aesthetic practices, including questions of how production is experienced aesthetically and conceptualisations of authorship, style and skill; (2) how different actors' aesthetic sensibilities produce and reproduce the woodcarvings as a genre; and (3) the political consequences of these aesthetic practices for issues of competition, community politics and belonging and emergent understandings of aesthetic ownership, now frequently framed in the language of intellectual property.  
Publications
Article
Cant, A. (2018). What Can Witchcraft Do in Mexico?. Anthropology News website [Online]. Available at: http://dx.doi.org/10.1111/AN.1010.

A short piece in Anthropology News about why Mexicanist anthropology has not contributed to disciplinary debates about witchcraft and what witchcraft does to relations of power and authority in contemporary Catholicism.

Cant, A. (2018). 'Making' labour in Mexican artisanal workshops. Journal of the Royal Anthropological Institute [Online] 24:61-74. Available at: https://doi.org/10.1111/1467-9655.12799.

The anthropology of art and craft has been reinvigorated by new theoretical approaches to materiality, creativity, and skill. While this research has been connected to larger political economic processes such as nationalism, identity, and consumerism, these approaches have not been wholly brought to bear on questions of labour. Based on ethnographic research in San Martín Tilcajete, a woodcarving village in Oaxaca, Mexico, this essay shows how labour is made in artisanal workshops through the social and material relations that take place within them. I argue that rather than ownership of the means of production, in San Martín relations of labour are generated by the intermingling of the art world's ideology of 'authorship' with the intimate relations of kinship. The art market locates the production of value in the work of those who are recognized as authors, eliding the labour of many of the workers who produce the carvings. Labourers who work for family members struggle to establish themselves independently in this market because of the multiple and socially salient relations of obligation and respect that are central to kinship and because their own creative work becomes subsumed into the general style of the workshop where they are employed.
Review
Cant, A. (2018). Book Review. Journal of the Royal Anthropological Institute [Online] 24:860-861. Available at: https://doi.org/10.1111/1467-9655.12951.
Forthcoming
Cant, A. (2019). The Value of Aesthetics Oaxacan Woodcarvers in Global Economies of Culture. [Online]. USA: The University of Texas Press. Available at: https://utpress.utexas.edu/books/cant-value-of-aesthetics.

Unlike many other handicrafts in the Mexican state of Oaxaca, which have long cultural and historical trajectories, Oaxacan woodcarving began in the second half of the twentieth century and has always been done for the commercial market. In The Value of Aesthetics, Alanna Cant explores how one family's workshop in the village of San Martín Tilcajete has become the most critically and economically successful, surpassing those of neighbors who use similar materials and techniques. The dominance of this family is tied to their ability to produce a new aesthetic that appeals to three key "economies of culture": the tourist market for souvenirs, the national market for traditional Mexican artesanías, and the international market for indigenous art.

Offering a new analytical model by which anthropologists can approach visual aesthetics and conceptualize the power of artworks as socially active objects, The Value of Aesthetics shows how aesthetic practices produce and redefine social and political relationships. By investigating the links between aesthetics and issues of production, authorship, ownership, and identity, Cant shows aesthetic change to be a process that ultimately repackages everyday life into commodified objects in Oaxaca.
Last updated