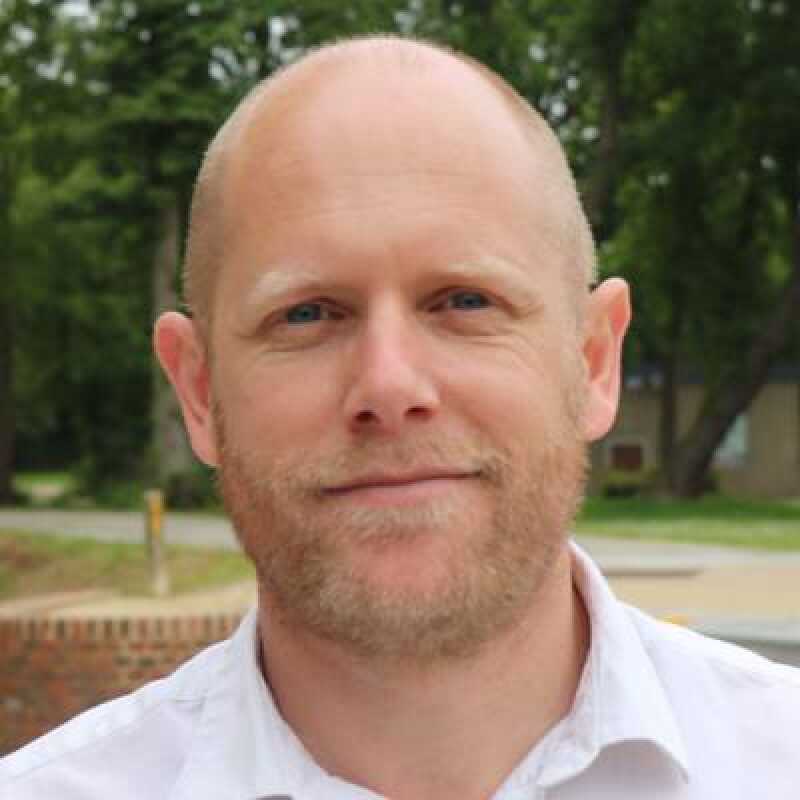 Professor Matthew Skinner
Professor of Biological Anthropology
Director of the Skeletal Biology Research Centre (SBRC)
About
Dr Matthew Skinner is a paleoanthropologist whose research focuses on the analysis of teeth and bones to answer questions about the growth and development, diet, taxonomy and evolutionary history of living and extinct primates, including our human ancestors (hominins). His current research is focused on taxonomic diversity and evolutionary history of fossil hominins, how teeth grow and how their shape has changed over the course of human evolution, and the influence of behaviour on external and internal bone structure. He is also principal investigator on the European Research Council Consolidator Grant 'NewHuman'. 

Dr Skinner completed his BA in Archaeology and Biological Anthropology at Simon Fraser University (Canada) and received his PhD in 2008 from The George Washington University (USA). The topic of his doctoral studies was a microtomography-based study of the internal structure of hominin teeth to understand their growth and use in systematics. Matthew was then a postdoctoral fellow (2008-2011) in the Department of Human Evolution in the Max Planck Institute for Evolutionary Anthropology (Germany).

Prior to coming to the University of Kent, Dr Skinner was a Lecturer in the Department of Anthropology at University College London (UK). Matthew has participated in forensic anthropology projects in Canada and East Timor, and palaeontological field projects in France, Germany, Republic of Georgia, Ethiopia, Kenya, South Africa and Indonesia.

Research interests
Dr Matthew Skinner's current research interests include:
Origins of the genus Homo, including the evolutionary history of Homo habilis, Homo naledi and Homo floresiensis
Taxonomic diversity in the Pliocene including the genera Australopithecus, Kenyanthropus and Paranthropus
The growth and development of hominin tooth crowns and roots
Internal (trabecular and cortical) bone structure in extant and fossil primate skeletons to better understand the evolution of locomotion and manipulation in hominins
Morphometric analysis of hominin teeth and bones
Projects in which he is involved include the following:
GRASP: Evolution of the human hand: grasping trees and tools [PI: Professor Tracy Kivell, Senior Staff Member: Dr Matthew Skinner, funded by European Research Council Starting Grant 2014-2019.] The aim of this project is to understand the evolutionary forces that have influenced hand morphology throughout human evolution.
The dentition of Homo naledi

Dr Skinner is a primary investigator on the study of the large dental sample of Homo naledi that derives from the Dinaledi and Lesidi Chambers in the Rising Star Cave complex in South Africa. This project is conducted in collaboration with a number of international researchers including, among others, Professor Lee Berger (University of Witwatersrand) and Dr Lucas Delezene (University of Arkansas).
Tooth structure in extant and fossil primates

Examination of the two primary tissues of primate teeth, enamel and dentine to 1) improve our understanding of the processes underlying tooth shape; and 2) use tooth structure to contribute to our understanding of the evolutionary history of hominins. This research covers the whole period of human evolution and examines fossils from Africa, Europe and Asia.
Functional signals in hominin bone structure

A comparative investigation of internal bony morphology of extant and fossil primate skeletons to assess variation in joint loading patterns and how this reflects differences in locomotor and manipulative behaviours.
Teaching
Undergraduate
ANTB3020: Foundations of Biological Anthropology
ANTB5330: Independent Research Project
ANTB5410: Palaeoanthropology
SE567: Methodology in Anthropological Science
Postgraduate
SACO9920: Advanced Topics in Evolutionary Anthropology
SE8011: Advanced Topics in Palaeoanthropology
Supervision
Dr Matthew Skinner can offer supervision of PhD and MA/MSc research within any of his areas of interest – human evolution, skeletal biology, dental development and morphology, and functional morphology of the postcranial skeleton, including external and internal bone morphology.

Postdoctoral researchers
Current PhD students
Simon Chapple: Assessing the variability and complexity of occlusal tooth patterning in primate enamel-dentine junction morphology as it relates to current systems of tooth crown nomenclature (primary supervisor)
Emma Bird: It's all in the wrist: understanding the evolution of Homo tool-making through internal bone structure (secondary supervisor)
Thomas Davies: A dental perspective on Homo habilis (Max Planck Institute for Evolutionary Anthropology) (co-supervisor)
Alumni
Christopher Dunmore (PhD in 2019): Skeletal form and function of the primate hand (University of Kent)
Leoni Georgiou (PhD in 2019): Locomotor signals in the trabecular structure of the femur in extant and extinct hominoids (University of Kent)
Zewdi Tsegai (PhD in 2018): Systemic and functional patterns of human and chimpanzee internal bone structure: a regional, systemic and ontogenetic approach (Max Planck Institute for Evolutionary Anthropology)
Nicholas Stephens (PhD in 2018): Functional morphology of the hand: Detecting behaviour during life by way of variation in internal trabecular architecture (Max Planck Institute for Evolutionary Anthropology)
Collin Nathaniel Moore (PhD in 2016): Premolar root morphology in extant and fossil apes (Max Planck Institute for Evolutionary Anthropology)
Professional
Research Associate, Department of Human Evolution, Max Planck Institute for Evolutionary Anthropology (Leipzig, Germany) 2013-present. 

Dr Matthew Skinner is available to provide topical comment on or in-depth discussion of topics related to human and primate evolution, the African human fossil record, the function of the human skeleton and the evolution of teeth. 

Last updated