Canterbury was selected as a location for an exciting electric scooter trial. The electric scooter scheme is a joint venture between the city and county councils and a leading electric scooter sharing company, Bird. Currently Bird operates in more than 100 cities across the globe.
Electric scooter trial
Initially, the trial will run on a controlled set route, on cycle lanes, minor roads and selected paths, serving students and staff from the University of Kent and Canterbury Christ Church University.

You can use electric scooters as an easy way to get around without the need for car travel, therefore reducing your carbon footprint and easing congestion. The scooters are all GPS connected and the speed can be set remotely depending on where they are. In busier areas, the speed will be walking pace, and in cycle lanes, they will go up to 15mph. If the scooters deviate from the approved route, they will slow down and stop.
During the trial, the e-scooters will use the same road space as bicycles and will not be allowed on the pavement or outside of the trial area. This is in line with the Government guidelines on E-scooter trials.
Please note: The rules for private e-scooters have not changed. It is against the law to use a privately owned e-scooter. The University of Kent does not allow the use of private e-scooters on their land. If you use an e-scooter illegally you could face a fine, get penalty points on your licence or the e-scooter could be impounded.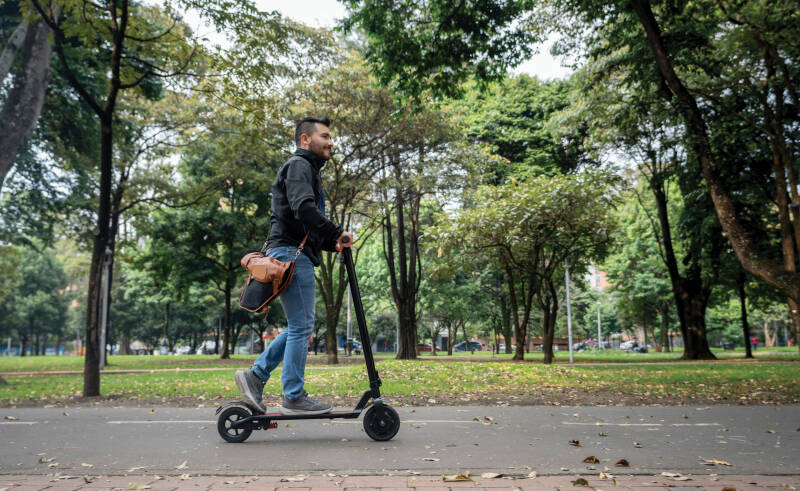 How to use the e-scooters:
1. Download the Bird app onto your smartphone, and create an account (initially the trial is only open for student email addresses).
2. Upload your driving licence to verify your age.
3. Open the app, using the map find the nearest Bird e-scooter. If you are not ready just yet, you can also reserve an e-scooter up to 30 minutes in advance.
4. Scan the QR code on top of the Bird to unlock it and start your trip.
5. Put on your helmet and enjoy the ride without riding on pavements. Just hit the throttle on the right to go and pull the brakes to slow.
6. When you've reached your destination, park the Bird in a designated space using the kickstand to keep the e-scooter upright and end the trip in the app.
Safety rules for trail e-scooter users
You must have the category Q entitlement on your driving licence to use an e-scooter. A full or provisional UK licence for categories AM, A or B includes entitlement for category Q. If you have one of these licences, you can use an e-scooter.

The Transport Team and Government guidance recommend that you wear a cycle helmet when using an e-scooter. Make sure that your cycle helmet conforms to current regulations, is the correct size and is securely fastened.

Wear light-coloured or fluorescent clothing so that other road users can see you in daylight, poor light and in the dark.

E-scooters should be used by one person at a time.

You must not use a mobile phone when using an e-scooter.

Always ensure bags or other small items you are carrying will not cause a danger to you or others around you – for example, never hang them from the handlebars.

You should not ride an e-scooter while drunk or otherwise intoxicated – you may be prosecuted under drink or drug driving laws as careless and dangerous driving offences also apply to users of e-scooters.

You must not tow anything using an e-scooter.

The e-scooters should only be used within the local area hosting the trial.