Sustainability Round Up 2023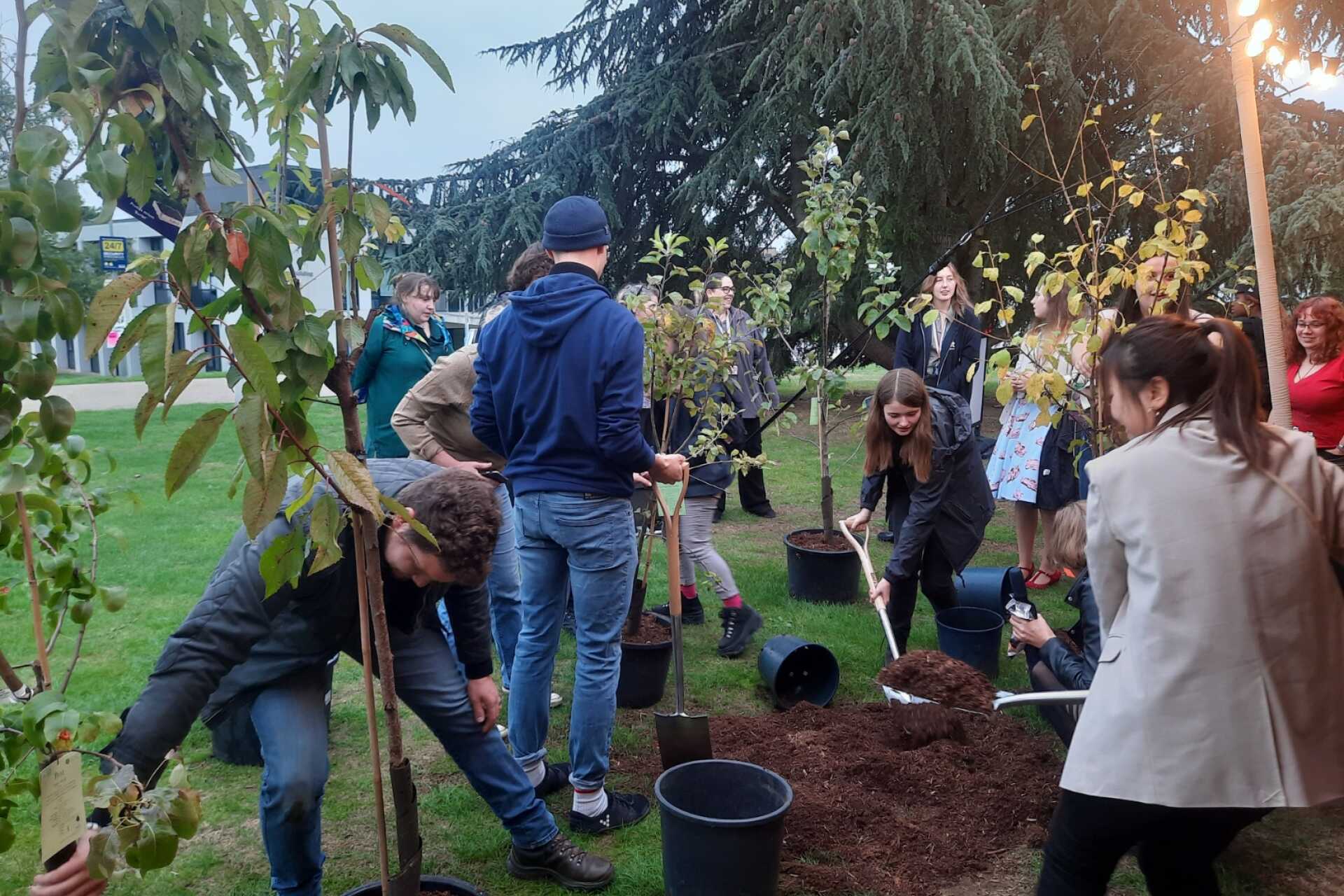 Sustainability Round Up 2023
Highlights and headlines from the last 12 months of sustainability activity at Kent. Including projects, initiatives, news stories and data from across the university.
Headlines
Remained on track with our Net Zero by 2040 reduction target and have undertaken audits across University buildings to identify further opportunities.
Awarded a Silver Award in the Wilder Kent Awards for 2022 for taking positive action to restore green spaces and help people to reconnect with nature
Our WARP-IT furniture reuse scheme has passed £1million in savings. Last year we reused 153,919kg of furniture equivalent to 113 tonnes CO2

Key links and information
14%

Reduction in Scope 1 & 2 Carbon Emissions (compared to 2018/19 baseline)

1291

Undergraduate modules mapped against the SDGs

43

Staff and Students certified Carbon Literate

4104

Research publications related to the SDGs over the last 5 years

29th

Place in the people and Planet University League table up 12 places from 2021

1141 kg

Food produced by volunteers at the Kent Community Oasis Garden

84

Staff volunteering at Sustainability Champions

43%

Electric vehicles in our fleet

180

Student engagements at Environmental Careers Week events

13.5

Tonnes of food waste diverted from landfill to anaerobic digestion
Operations
Our catering team began using the unsold fruit from our outlets to bake cakes, slices and puddings to reduce food waste
To celebrate World Toilet Day, the Sustainability Team and Estates Department came together to raise awareness of the global issues around access to clean water and sanitation and to save money and reduce wastage of this precious resource. Students and Staff now have the opportunity to 'twin' a toilet when they report water leaks and other faults
1141 kg of food was sold from the Kent Community Oasis Garden to the Gulbenkian and turned into incredible seasonal dishes by their chefs. Total food miles = 1.3km
Our British Heart Foundation donation points remain incredibly well used and reduce the amount of 'stuff' going to waste. Our donations have raised £21,658 for the British Heart Foundation
We ensure that as much of our waste IT equipment is reused or recycled. Last year over 13 tonnes of our IT was sent for reuse by the Stone Group
We worked with building users across our Estate to optimise building controls and improve efficiency. Providing user information on controls and resetting some of the control valves in Turing Hut 8 has resulted in savings of £7,400 a year reducing emissions of Co2 by 22 tonnes!
This year the Landscape and Grounds team scaled back their mowing regimes for #NoMowMay allowing central lawns that would normally be cut to grow wilder during this important part of the year for pollinators and other invertebrates
Our space and signage operations team are increasing the use of recycled and reused materials. They installed 6 wheelchair accessible picnic benches made from recycled plastic at our Medway campus and have re-upholstered seating in Keynes lecture theatres with sustainable fabrics made from recovered marine plastic pollution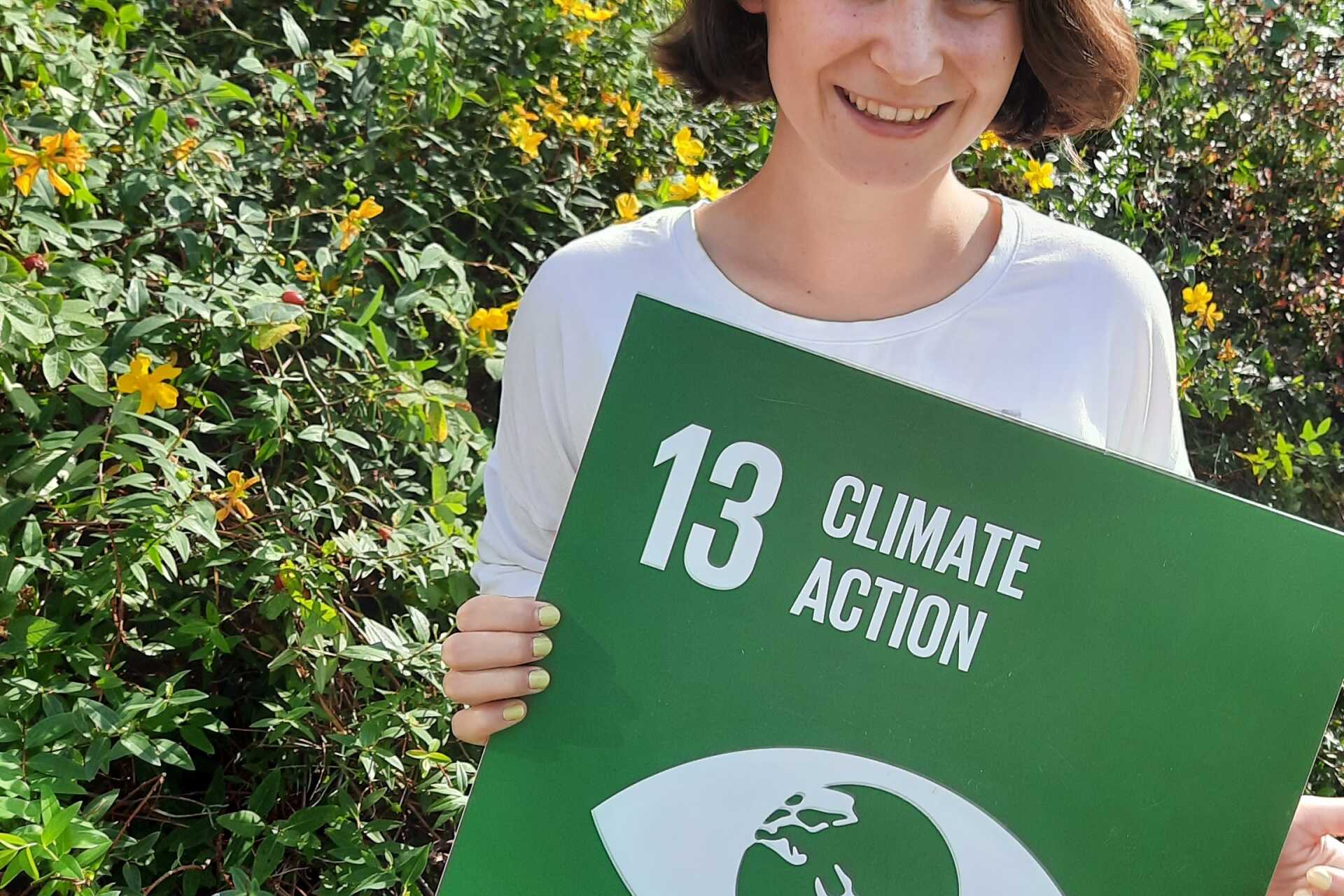 Collaborating on Carbon
The University of Kent is exploring a strategic partnership with Siemens to work in collaboration to achieve our net zero targets. This partnership is underpinned by the opportunity to develop apprenticeships, further research and develop the culture of a whole-university approach to net zero. The partnership will help the University to achieve its net zero goals through phased workstreams to achieve our overall and interim net zero targets. Work will focus across 3 main areas:
Energy Efficiency
Renewable Energy
Decarbonisation
Leadership and Governance
Published our governance structure detailing how accountability for sustainability is being driven into the heart of the University.
Developed out first Climate Change Risk and Adaptation Plan to ensure that we take the steps necessary to ensure our campus is resilient to the impacts of climate change now, and in the future.
All new staff at the University are now required to undertake a Sustainability Awareness module to better understand how they can contribute to our sustainability goals.

We are working towards becoming a University of Sanctuary to make Kent a place of safety, solidarity and empowerment for refugees, asylum seekers, and others who are displaced or forced to migrate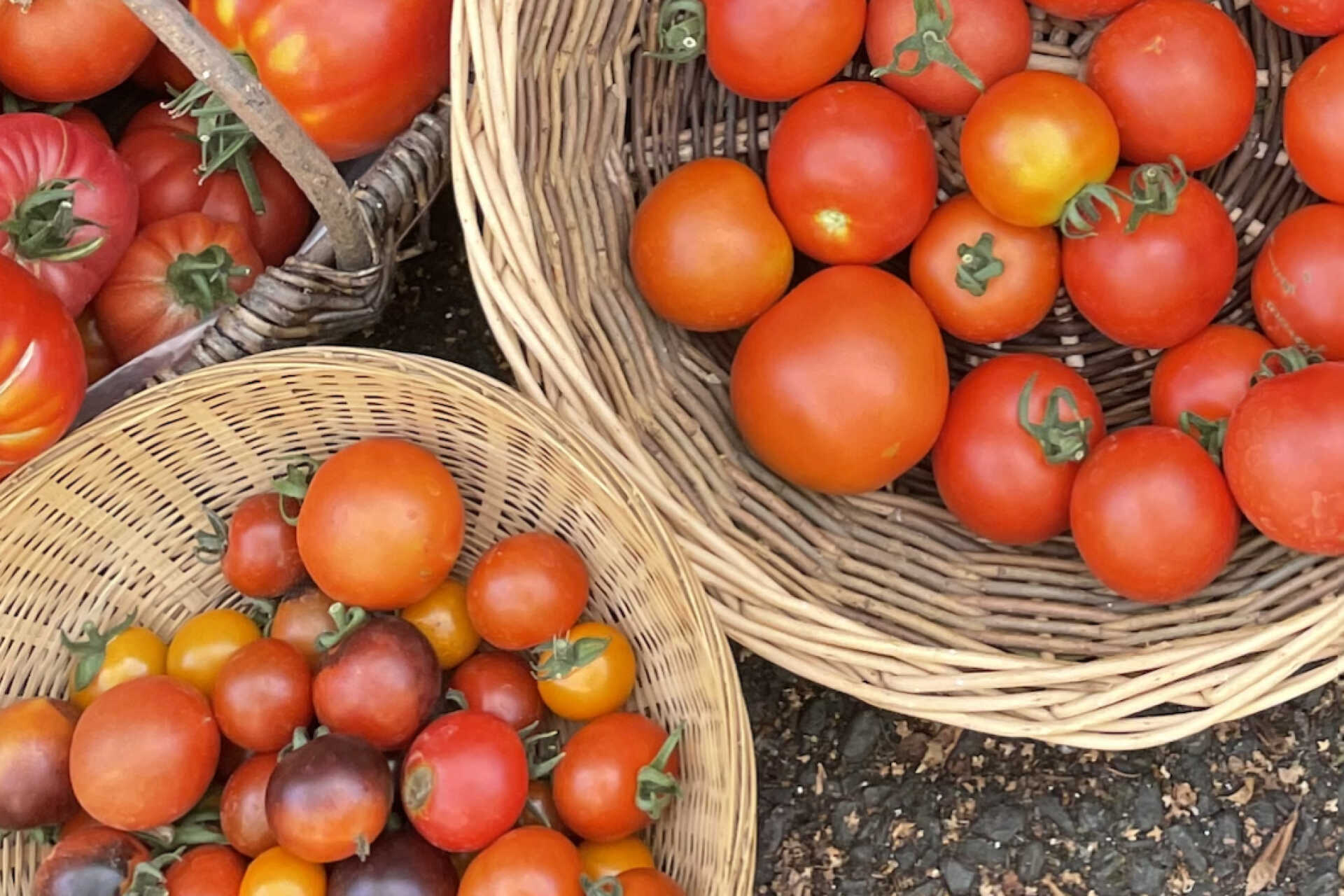 Right to Food
All of us have the right to healthy and affordable food. Being able to eat regular, fresh and nutritious meals each day is fundamental to our health and wellbeing.
Working in partnership with The Food Foundation, the University will adopt measures to protect its students and staff from food insecurity and achieve its four missions:

1: Putting the Right to Food on the World Stage
2: Transforming Food Systems through teaching and research
3: Tackling food insecurity, while promoting a healthy and sustainable food community at the University
4: Addressing food inequality in our region
Partnerships
We committed to becoming a 'Right to Food' University, working in partnership with the Food Foundation to promote food justice, tackle food poverty and transform our food system to advance human health and an environmentally sustainable society.
The University hosted a series of Net Zero Pathway for Change workshops in partnership with the Kent Invicta Chamber of Commerce to equip Kent businesses with the skills, expertise and confidence they need to take steps towards achieving their net zero goals
One of the UK's largest graduate recruiters, Enterprise Rent-A-Car, donated £2500 to Kent's Sustainability program which enabled us to provide more opportunities for students to get involved and to gain practical sustainability skills to improve employability This funding has allowed offer fully funded Carbon Literacy training and help develop a pollinator and sensory garden at KentCOG.
We form part of the Canterbury District Biodiversity Network, working to bring conservation and natural spaces organisations together to share information and join up on projects that support biodiversity in the district and to connect more people to the wonderful wildlife found in the district.
To celebrate the introduction of European Bison on our doorstep to the Blean, we commissioned a beautiful mural to be painted outside of the Gulbenkian arts centre. This mural was joint funded by the University and councillors from CCC and KCC. This mural will form part of the Wilder Walls Canterbury Project in conjunction with the Canterbury District Biodiversity Network and The Canterbury Society.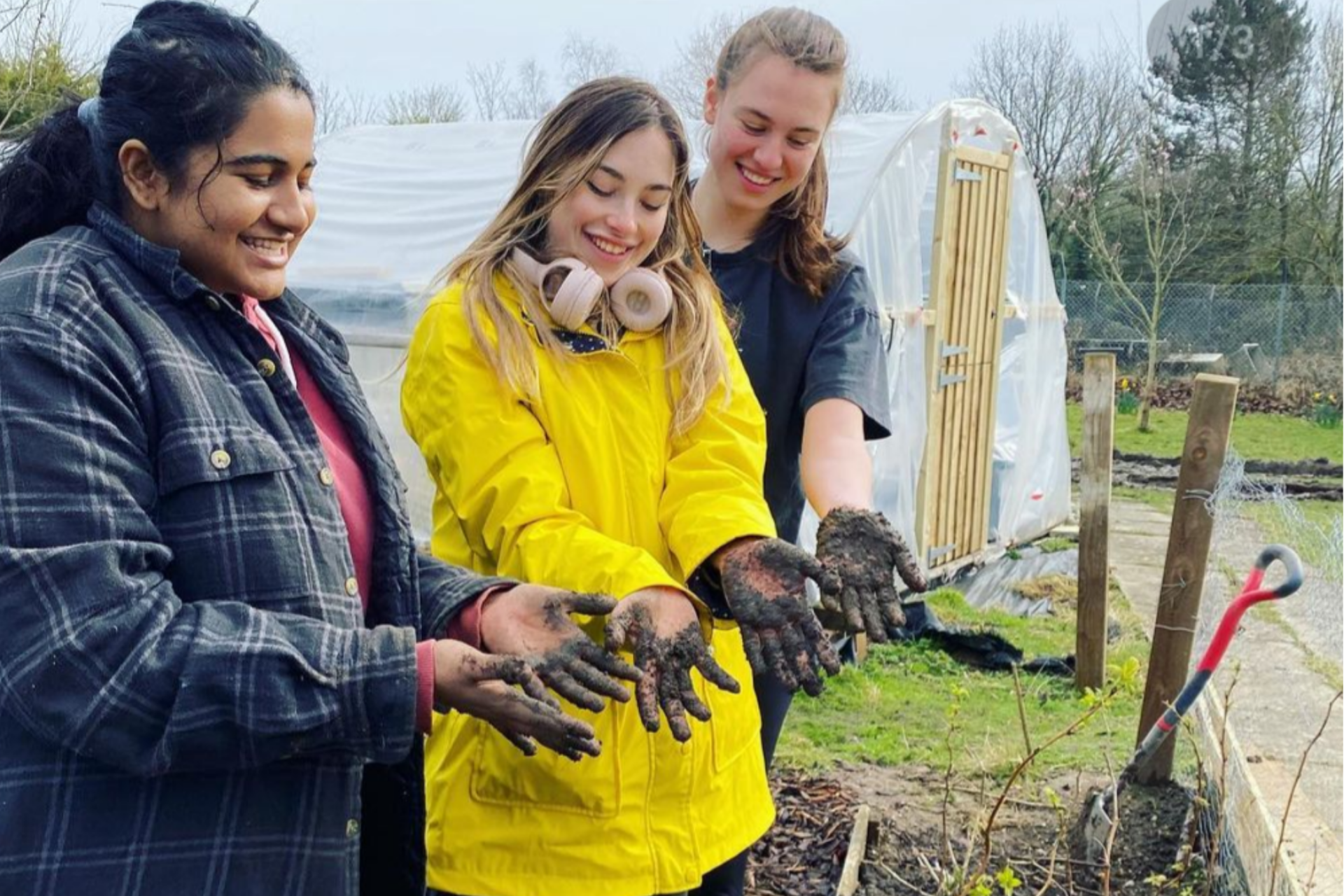 Kent Community Oasis Garden
An extraordinary collaboration between the University and East Kent Mind supporting students, staff and community members to work collaboratively on growing sustainable food and engaging with nature to support good mental health. This year the garden has expanded its growing space, seen a large rise in its number of volunteers and been used as a living lab site for the School of Architecture.
Learning and Teaching
We built sustainability into both the Post Graduate Certificate for Education (PGCHE) and Associate Fellowship scheme core module to enable all new academic teaching staff to understand how the SDGs and the UNESCO sustainability competencies could be integrated into teaching in their disciplines. To date 62 early career teachers have been through this module

We launched our fist Carbon Literacy training course to enable our staff and students to become Carbon literate and to better understand their role in the climate emergency and the steps society needs to take.
We undertook an initiative to map our undergraduate modules against the 17 Sustainable Development Goals as well as wider aspects of sustainability learning and methods. The results will inform our work to showcase and further sustainability in our taught programmes. Publish report on website and create link
The Careers and Employability service hosted our first Enviromental Careers Week to allow students to attend workshops and speak to employers to find out more about the types of careers available and the skills required
The Global Officers Leadership Development (GOLD) programme provides opportunity for undergraduate students to develop their leadership skills, Global Citizenship and cultural awareness. Over the last three years the SDGs have become a core part of the GOLD programme allowing students to embed sustainability into their understanding of what it means to be a global citizen and change agent
74 University of Kent students took part in the online Global Citizenship course offered by International Programmes and delivered by global leadership organisation Common Purpose, which empowers students to play an active role in advancing the 2030 Agenda for Sustainable Development. Read more below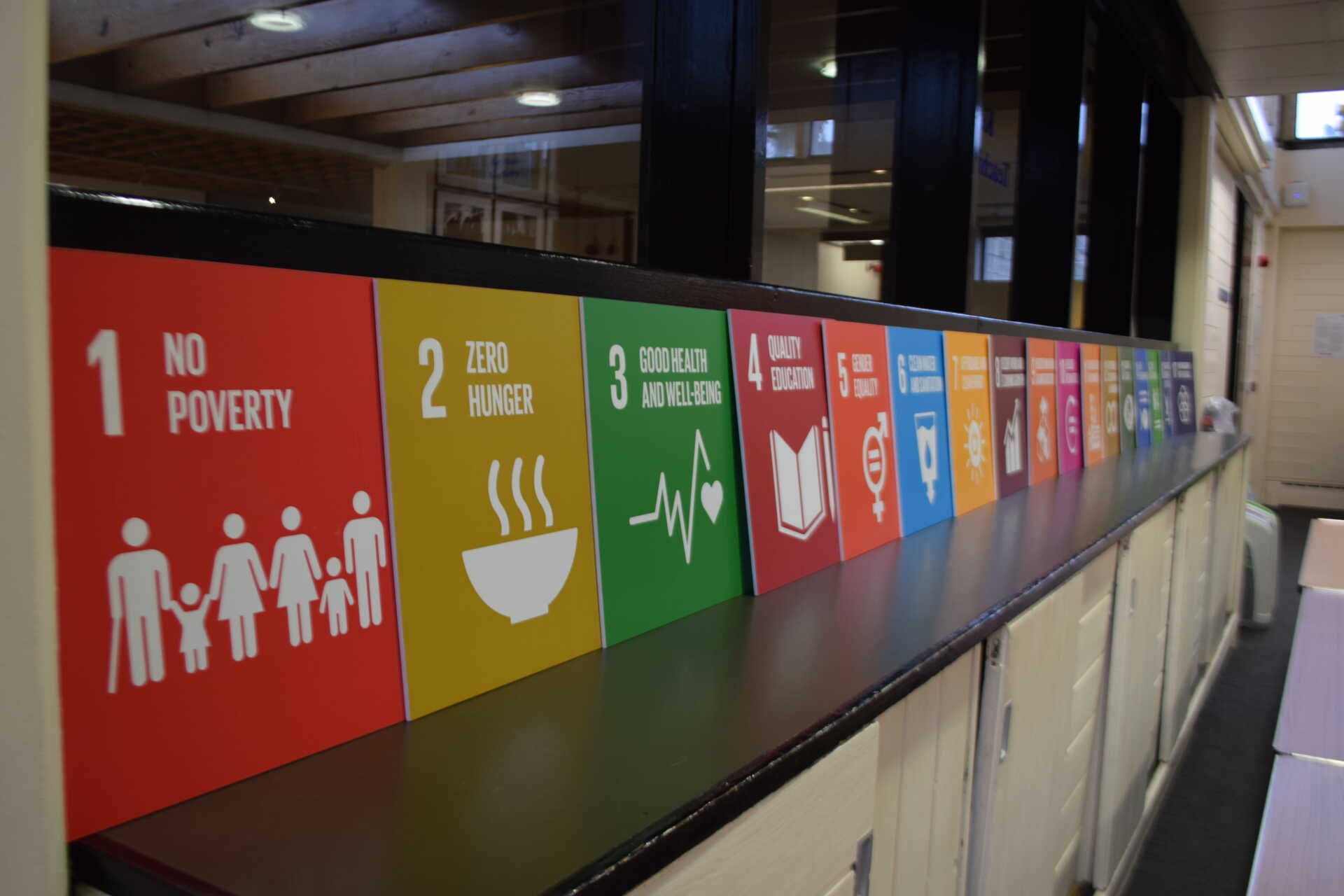 Global Citizenship
Participant Wadana Khan said that the online course offered:
"a great way of delving into the importance and significance of the UN SDGs and comprehending its practical application. Focusing on one SDG truly allowed me to critically explore and analyse it, whereby figuring out practical solutions enhanced my pragmatism. The skills I acquired from this course will tremendously benefit me when thinking critically about events and during group work."
The course was followed by a workshop allowing students to engage with staff that could support students to turn their ideas into a reality.
Research and Innovation
We further developed the Positive Environmental Futures signature research theme with research being undertaken under four main themes: Future Food, Future Energy, Trees and Coastal Communities
We expanded the Growing Kent and Medway partnership programme which supports reaserch and collaborates with businesses across the agriculture, horticulture, and food and drink sectors to solve real-world problems and transition towards healthy, sustainable food systems
The Global Challenges Doctoral centre (GCDC) hosted a poster exhibition showcasing the doctoral work being undertaken by 29 PhD students whose research is focused on tackling one or more of the Sustainable Development Goals
We have begun work to map our research outputs against the Sustainable Development Goals to highlight Kent's strengths in contributing to global solutions to the sustainability challenge.
Student led activities and support for students
The Conservation Society have been using their skills to support the development of a new pond at the Kent Community Oasis Garden donating time and plants to enhance the space for wildlife. The society is also leading on surveys for No Mow May.
Students taking part in the ASPIRE Business Start Up Journey took part in an ideas hack working to take inspiration directly from the natural environment. ASPIRE supports students to embed sustainability into their business ideas and connect with industry experts.
Students Bella and Hannah have been leading Climate Cafes for their fellow students. A Climate Café is a space where fears (and other thoughts and feelings) about the climate crisis can be safely expressed without judgement or advice. Expressing these thoughts and feelings can help to relieve eco-anxiety and help us to feel less alone in the changing world that we live in.
The Sustainability Team opened up a Sustainability Placement with the team for students taking part in a year in industry from the School of Anthropology and Conservation. The team have worked with two students now supporting them in developing their skills in communication and project management, whilst getting to see what happens behind the scenes in sustainability within Higher Education
Students on the Spatial and Interior Design course took part in a client brief to increase student engagement with the Kent Community Oasis Garden by pitching creative design based solutions for the space that would be attractive to students and solve current infrustructural barriers

Kent Gleaning Collective is a student-led, collaborative initiative by Produced in Kent, Kent Union and the University of Kent. The gleaning group will work together with growers in Kent, picking surplus fresh produce left on the fields, and redistributing this to charities, community groups and food banks in the Canterbury area, including the Campus Pantry at Kent Union.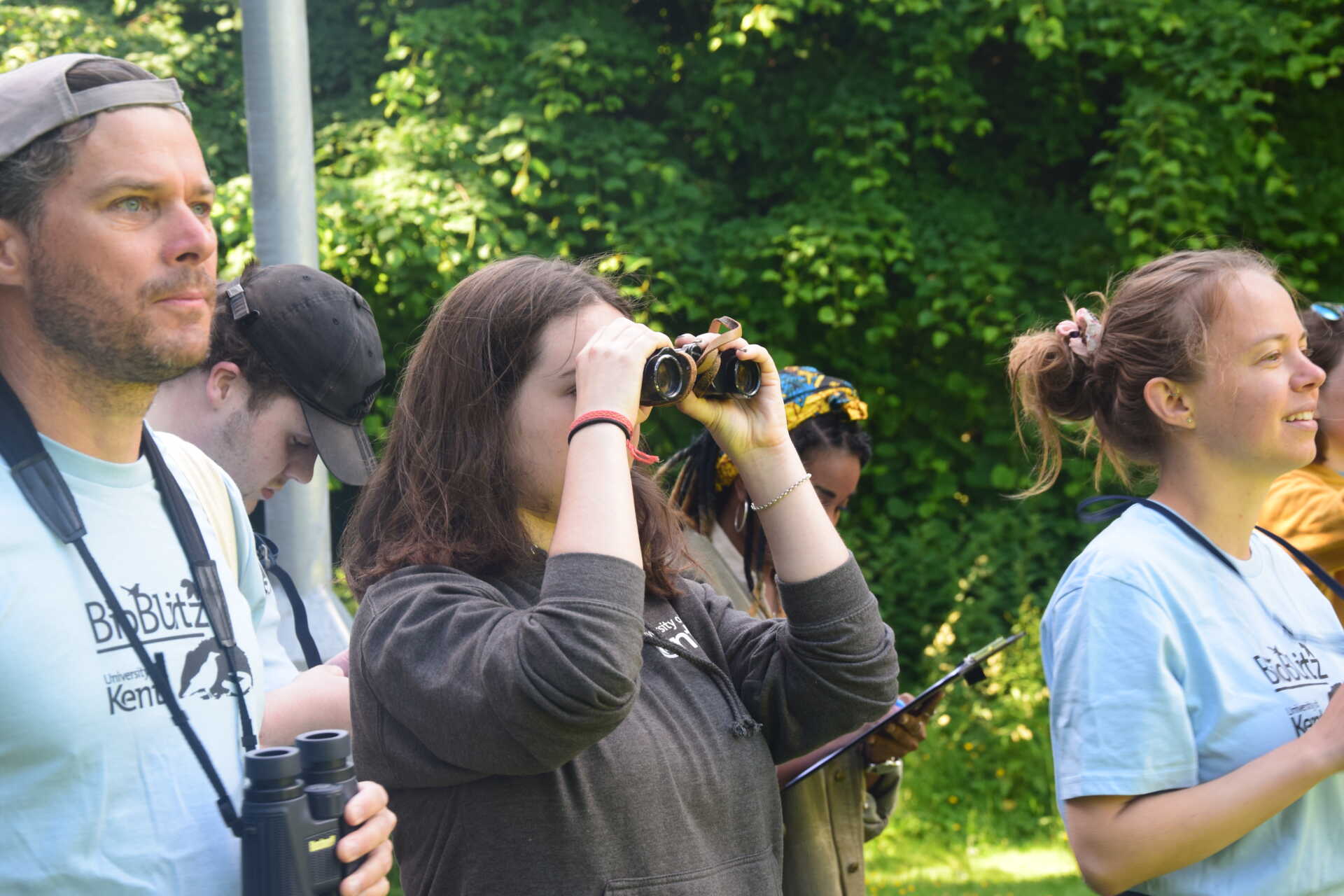 BioBlitz
Led by students from the School of Anthropology and Conservation, the BioBlitz is an annual event that captures a snapshot of the species diversity on our Canterbury campus in a 24 hour period. The BioBlitz carries out bird, amphibian, moth, small mammal surveys and much more! In 2022 408 people took part from the University and local community.
Now entering its 3rd year, the BioBlitz promises to be bigger and better, taking place on May 20th.
Sustainability Champions
This year we broke all records recording 84 registered staff volunteers as Sustainability Champions
Our first Sustainable Events Guide was compiled by Sustainability Champions at Kent, based on their own experiences that outline some recommendations and things to consider during the planning process. This guide provides considerations for the location, the promotion, food and drink, printing, handouts, freebies, clean-up, and the follow-up
The annual Computing and Climate Change lecture was held by Sustainability Champion Dominic Orchard highlighting the need for computing students to understand their role in supporting and finding solutions to support rapid decarbonisation
Continuing to develop Medway's green spaces, sustainability champions are working with the Mason Foundation to create a community mile at the Medway campus in collaboration with the University of Greenwich
Sustainability Champions Amy and Adam from the Landscape and Grounds Team donated their time to create a dead hedge for the Kent Community Oasis Garden to provide a useful habitat for wildlife alongside the developing sensory and pollinator garden
Sustainability Champion Tom Dixon from College and Community Life has been leading on bushcraft sessions in Brotherhood wood, engaging students in traditional woodland bushcraft techniques and transforming a part of the woodland into a space for mindfulness, building our connection with nature
Through the Biodiversity Forum, Sustainability Champions from the School of Architecture and Planning engaged Graphic Design students to create the signage to communicate No Mow May across central campus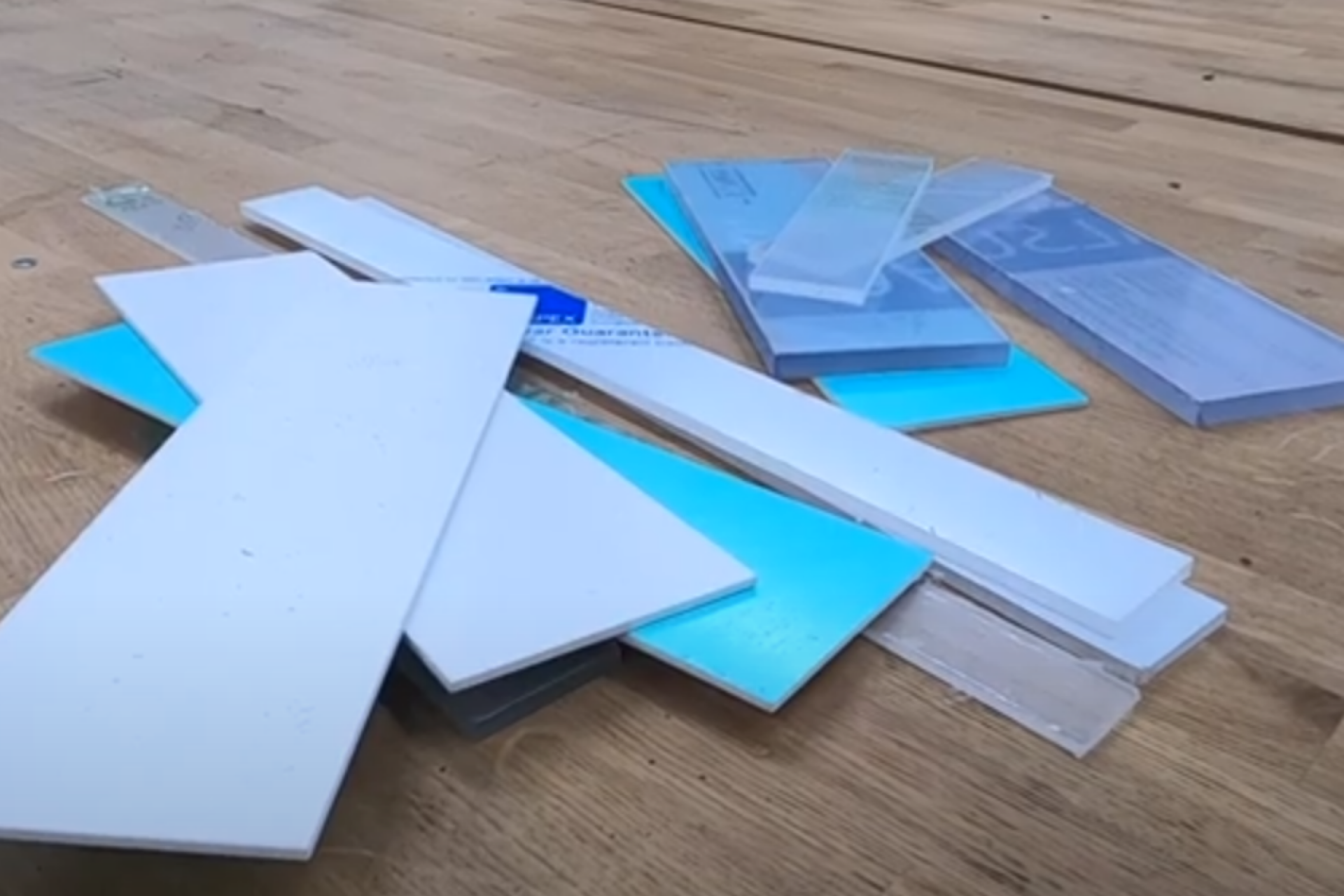 Finding a use for plastic offcuts
Sustainability Champion for the School of Engineering, Jason Morris, has been working in collaboration with local company SECWorks Group to find a use for their perspex offcuts.
Students are able to use the offcuts to practice their techniques before cutting into larger sheets. This has reduced waste within the department as well as supporting SECWorks Groups to reduce their waste.