What is it?
The Undergraduate Survey (UGS) is only for undergraduate students at Kent who are not eligible to participate in the NSS, and the responses you provide will be reported completely anonymously.
Take the survey now
When is it?
The survey will launch on Monday 27 January and run until Sunday 1 March 2020. If you are eligible to participate, you will receive an email on Monday 27 January inviting you to participate. It should only take about 10-15 minutes to complete.

Why should I take part?
This is your chance to tell us your thoughts about your course and being at Kent, especially if you think there are any aspects that can be improved. The results of the survey are shared across the University so that improvements can be made based on your feedback while you are still a student here.
If you do not want to participate and would like to unsubscribe from any emails regarding the UGS, please contact the Planning & Business Information Office at kentsurveys@kent.ac.uk.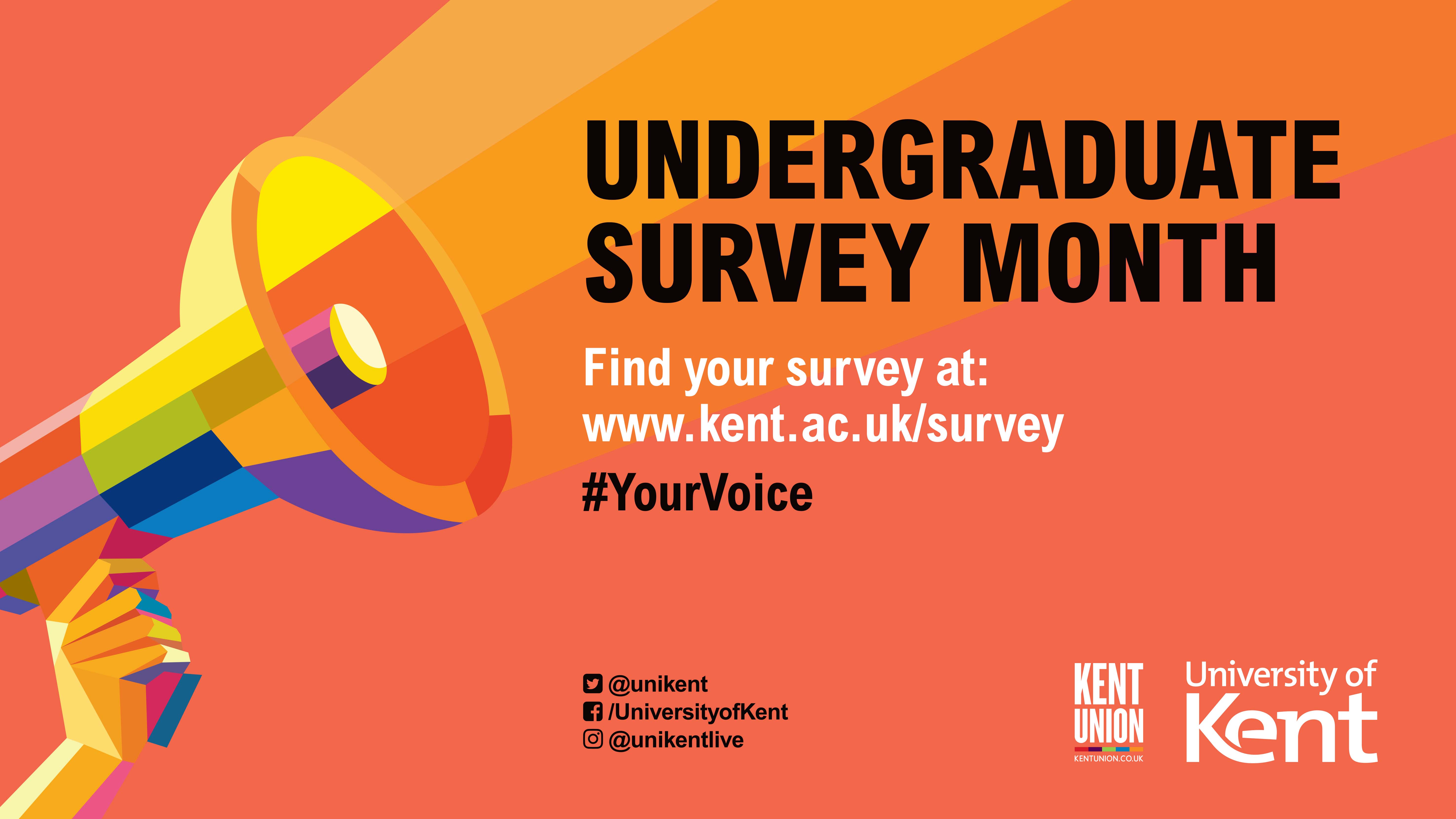 How are the results used?
What does the survey ask?
The survey will ask you to rate how much you agree with a number of statements on a number of things such as: the teaching on your course, the organisation and management of your course, the learning resources available to you and the academic support you've received.
You will be able to select one of the options on the scale outlined below. When results are reported, % agree scores will include the number of responses for Definitely agree and Mostly agree and divide this by the total number of responses for the question excluding any responses of Not applicable.
For each statement, show the extent of your agreement or disagreement by selecting the option which best reflects your current view of the course as a whole.
Response scale: Definitely agree; Mostly agree; Neither agree nor disagree; Mostly disagree; Definitely disagree; Not applicable.
The teaching on my course
1. Staff are good at explaining things.

2. Staff have made the subject interesting.
3. The course is intellectually stimulating.
4. My course has challenged me to achieve my best work.
Learning opportunities
5. My course has provided me with opportunities to explore ideas or concepts in depth.

6. My course has provided me with opportunities to bring information and ideas together from different topics.
7. My course has provided me with opportunities to apply what I have learnt.
Assessment and feedback
8. The criteria used in marking have been clear in advance.

9. Marking and assessment has been fair.
10. Feedback on my work has been timely.
11. I have received helpful comments on my work.
Academic support
12. I have been able to contact staff when I needed to.

13. I have received sufficient advice and guidance in relation to my course.
14. Good advice was available when I needed to make study choices on my course.
Organisation and management
15. The course is well organised and running smoothly.

16 The timetable works efficiently for me.

17. Any changes in the course or teaching have been communicated effectively.
Learning resources
18. The IT resources and facilities provided have supported my learning well.

19. The library resources (e.g. books, online services and learning spaces) have supported my learning well.
20. I have been able to access course-specific resources (e.g. equipment, facilities, software, collections) when I needed to.
Learning community
21. I feel part of a community of staff and students.

22. I have had the right opportunities to work with other students as part of my course.
Student voice
23. I have had the right opportunities to provide feedback on my course.

24. Staff value students' views and opinions about the course.
25. It is clear how students' feedback on the course has been acted on.
26. The students' union (association or guild) effectively represents students' academic interests.
Overall satisfaction
27. Overall, I am satisfied with the quality of the course.

28. Looking back on the experience, are there any particularly positive or negative aspects you would like to highlight?
Students' Union (association or guild)
29. The Students' Union (association or guild) has had a positive impact on my sense of belonging to the university or college.

30. The Students' Union (association or guild) has had a positive impact on the local community.
31. The Students' Union (association or guild) has helped me develop useful life skills.
Additional questions
There will be some additional questions regarding the Students' Union and if you are a Higher Degree Apprentice, there are some further questions specifically related to your training programme.
The UGS will also ask some additional questions for full-time students to do with university accommodation, and another question regarding academic support for all students.
Take the survey now