The 2022 examination period will be from Monday 9 May to Friday 17 June 2022.
Please use the links below to view guidance and support before your exams.
Exam timetable
A personal exam timetable will be available on KentVision approximately two weeks before the end of spring term with the caveat that it is subject to potential amendments. If your timetable is amended, you will be contacted by email, but it is your responsibility to ensure that you regularly check your timetable for any changes.
You are required to be available for exams during the whole of the summer term and during the resit exam period in August, and should not arrange holidays or other commitments during this time. We regret that we cannot take the wishes of individual students into account when scheduling the timetable, but will endeavour to take any Religious Observation requests into account.

Your exam timetable is based on your module registration. If you have any doubts about the modules on your timetable, or in the unlikely event of two exams timetabled for the same time, please contact exams@kent.ac.uk.
How to view your exam timetable
In KentVision, select My Timetable & Events.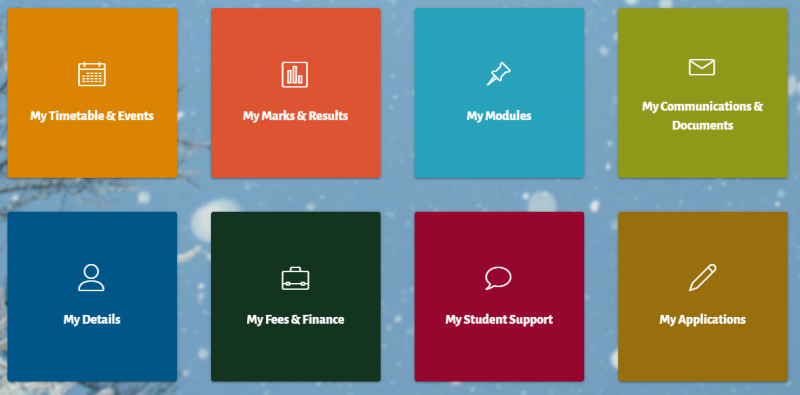 Select My Timetables.
Select My Exam Timetable.
Displayed is your timetable, information relating to the timing/duration of your exam and additional requirements (if applicable).

The exam timetable display can be amended by clicking on any of the column headings.
By default it is set to display 10 entries, but this can be expanded by using the drop down options if required.
Select Return to My Timetable to exit the screen or click Home to access the homepage.

How to find your exam number
Your exam number can be found in KentVision. Click My Details and then click My Course Details. Your exam number is found on the penultimate row.
Inclusive Learning Plan (ILP)
If you have an Inclusive Learning Plan (ILP), please note that any permitted extra time allowed will not show on the main exam timetable but will be accomodated on the day.
If you require adapted exam arrangements, please book an appointment with Student Support and Wellbeing.
The Student Support and Wellbeing team will discuss your requirements with you and record these as part of an ILP. Once your ILP is in place, your adapted arrangements for examinations will roll over each academic year. If your circumstances change or you begin a new course (eg undergraduate to postgraduate), please contact the Student Support and Wellbeing team as soon as possible to find out if your ILP needs updating.
Please note your ILP must be confirmed with Student Support and Wellbeing in order for the arrangements to be put in place for the exam period.
More information can be found on the disability support exam arrangements page.
Religious Observations
Exams 2023 deadline: Friday 3 February 2023
The University will make every effort to avoid timetabling examinations or assessments on religious days or festivals for those students whose commitment to the observance of their faith would otherwise cause them to miss the examination or assessment. Religious observation requests are only able to be considered for mandatory events; it is not possible to take into account casual preferences or social/domestic reasons.
Please note the University is not able to consider observance requests for Ramadan where the normal expectation is that daily activities (including examinations) continue as usual. You can find more information on the University Ramadan Guidelines, provided by the Canterbury Mosque. However, if the effect of fasting significantly affects your health and/or you have a medical condition, which may impair your performance or prevent you from attending an examination, you may submit a mitigating circumstances request.
How to make a request
If you wish to observe a religious commitment on a particular day during the published examination periods, please complete the Religious Observation request form.
If you fail to contact us by the deadline, the University cannot accept responsibility if you are timetabled for an examination at a time when your religious requirements overlap with the date of an exam.


The University will consider requests where mandatory religious observance would otherwise cause students to miss an examination, in cases where religious observance occurs over a restricted period. While every effort will be made to accommodate requests, the University may not always be able to guarantee that requests are met. Where a request change has not been possible, you can submit an extenuating circumstances request.
Extenuating circumstances
Extenuating circumstances, also known as mitigating circumstances or concessions, are unforeseen or unpreventable circumstances which negatively affect your performance in assessed work. You can request to have these circumstances taken into account in relation to your assessed work.
For more information, please view our guidance on how to submit an extenuating circumstances request.