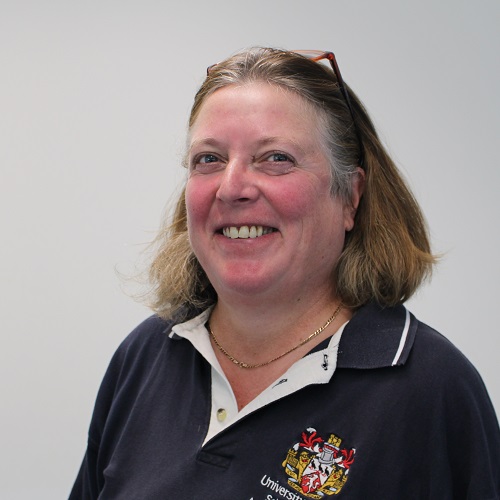 Dr Karen Hambly
About
Dr Karen Hambly completed her first degree in sports science before qualifying as a Chartered Physiotherapist in 1998 from the University of Southampton. After an initial time in the NHS she moved to work full time within sport, initially as physiotherapist/sports medicine coordinator for British Cycling before joining UKSport as sports medicine coordinator for Olympic and Paralympic programmes on her return from the Sydney 2000 Paralympics. 

Karen has over 15 years experience working within sports medicine and has a post-graduate diploma in sports and exercise medicine from the University of Wales College of Medicine. Karen moved into higher education in 2004 and joined the School for Sport and Exercise Sciences at the University of Kent in 2008 where she is currently senior lecturer and Director of Learning and Teaching.

Since 2001, Karen has developed a primary research focus in articular cartilage repair rehabilitation and in 2011 she completed her PhD on "Outcome measurement in articular cartilage repair". 

Karen has published and presented internationally on cartilage repair rehabilitation and is a reviewer for ten medical journals. 

In 2010 Karen was made a fellow of the International Cartilage Repair Society and she is currently co-chair of their Sports and Rehabilitation Subcommittee.
Research interests
Dr Karen Hambly's research to date has focused on postoperative rehabilitation and return to sport after articular cartilage repair with a specific focus on the patient perspective and the role of online health communities.

She would like to continue in my specialist field of cartilage repair rehab but would also like to transfer this experience to look at prevention, rehab and participation in sports and exercise in other non-communicable diseases.
Last updated