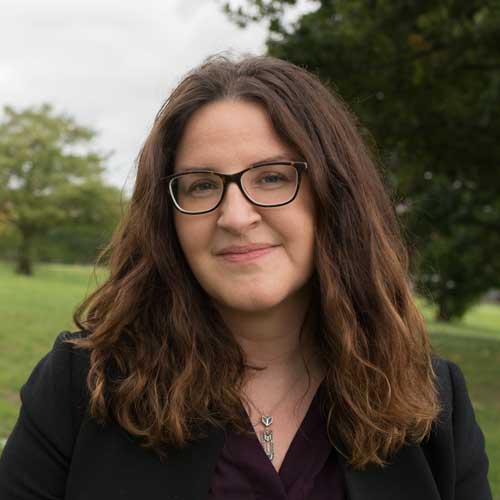 Dr Sinéad Ring
Senior Lecturer in Law
Co-Director of Graduate Studies (Taught)
Co-Director of the Centre for Race, Sexuality and Gender Justice.
About
Sinéad's research deals with the past abuse, rape and exploitation of children by adults. She is particularly interested in how memory, trauma and national identity influence the discursive construction of Ireland's history of child sexual abuse. 

Her doctorate, which was funded by the Irish Research Council for the Humanities and Social Sciences, examined how law shapes notions of truth and accountability in historic child sexual abuse prosecutions. Since then her work has explored questions of State responsibility and complicity in relation to historical child sexual abuse. 

A further strand of her research concerns the criminal law's regulation of women's bodies. This involves critical doctrinal work on rape and on abortion law. 
Research interests
Sinéad is currently working on a book Legal Responses to Historical Child Sexual Abuse (forthcoming 2020 with Routledge) with Dr Kate Gleeson (Macquarie Law School) and Prof Kim Stevenson (Plymouth).

This book examines the construction of child sexual abuse in the present by adopting a historiographic perspective exploring and comparing the responses of the law, legal institutions and legal professionals to historical child sexual abuse in Australia, Ireland and England and Wales and Northern Ireland.

Sinéad is also working on a project that examines the criminal law on condom fraud (ie non-consensual removal of a condom during sex). 
Teaching
Sinéad teaches Law concerning Evidence, Literature and Film. 
Supervision
Sinéad is happy to consider proposals on any area of criminal justice as it relates to historical injustice, sexual violence or domestic violence. 
Publications
Article
Ring, S. (2017).

Trauma and the Construction of Suffering in Irish Historical Child Sexual Abuse Prosecutions

.

International Journal for Crime, Justice and Social Democracy

[Online]

6

:88-103

.

Available at

:

https://doi.org/10.5204/ijcjsd.v6i3.417

.

Adopting the special issue's broad definition of criminal law reform, this article explores some of the ways the Irish criminal process is grappling with the demands for justice of adults who report childhood sexual abuse. In particular, it shows how the cultural notion of trauma is bound up with the construction of victims' suffering. In historical child sexual abuse prosecutions, trauma is shown to be an effect of the abuse on the victim/survivor; a site of mediation of the relationship between the state and victims; and a site of mediation of the relationship between the state and its past. The article first explores these insights in relation to the law's approach to questions of alleged procedural unfairness to defendants flowing from the passage of time. Trauma is exposed as both legitimating some forms of suffering, and disqualifying others. The article then employs the trope of trauma to expose the problems with current approaches to cross-examination of vulnerable victims and recent reforms of the rules on disclosure of victims' counselling records. Finally, the article explores the possibilities of trauma discourse in thinking anew about how to address the suffering of victims of historical child sexual abuse.

Ring, S. (2017).

The Victim of Historical Child Sexual Abuse in the Irish Courts 1999–2006

.

Social & Legal Studies

[Online]

.

Available at

:

https://doi.org/10.1177/0964663917694706

.

In recent years, Ireland has been rocked by revelations of historical child sexual abuse. This has led to a variety of state responses but one question remains particularly difficult to answer: why did the sexual abuse of children go unrecognized as a societal problem for so long? This article seeks answers by scrutinizing cases in which defendants sought to have their trial prohibited because of the delayed reporting. It explores the legal test used in the period 1999–2006, which focussed on the abuser's 'dominion' over the victim. The use of the notion of dominion elicited valuable information about the reasons for the delay and how children were silenced. Uncovering these stories is essential to understanding the dynamics of child sexual abuse. However, a critical reading of the delay cases that draws on feminist critiques of battered woman's syndrome and rape trauma syndrome reveals law's power to impose hegemonic discourses onto victims and to produce new histories. Under the dominion paradigm, the courts distorted victims' accounts of their experiences and sidelined stories that pointed towards a culture of indifference to abuse. Thus, law is shown to occupy a paradoxical position in relation to Ireland's history of child sexual abuse.

Ring, S. (2015).

Sexual Offence Complainants and Credibility: Why Virginity Testing is Pointless. R v L [2015] EWCA Crim 741

.

Journal of Criminal Law

[Online]

79

:385-394

.

Available at

:

http://dx.doi.org/10.1177/0022018315619268

.

Enright, M.

et al.

(2015).

General Scheme of Access to Abortion Bill 2015

.

feminists@law

[Online]

5

:1-32

.

Available at

:

http://journals.kent.ac.uk/index.php/feministsatlaw/article/view/174

.

Ireland has some of the most restrictive abortion laws in the world. Abortion has been criminalised since 1861, and the passage of the 8th Amendment in 1983 introduced 'the right to life of the unborn' into the Constitution. The effects of the 8th Amendment are felt on a daily basis by women leaving Ireland for abortion, by pregnant women receiving maternal care, by doctors caring for pregnant women, and by lawyers working for the health service. As predicted by the then-Attorney General Peter Sutherland at the time of the referendum, the 8th Amendment has introduced an uncertain and practically unusable position to Irish law. It has, simply put, become "unliveable".

In late 2014 Labour Women, a branch of the Irish Labour Party, established a Commission for Repeal of the 8th Amendment. That Commission comprised three groups: a political group, a medical group, and a group of legal experts. The authors of this Draft Bill are those legal experts. In the accompanying paper, we first outline the legal status quo as regards abortion in Ireland before making a case for constitutional reform. Having established the desirability of, and need for, constitutional reform we then outline the working principles that informed our drafting of the Access to Abortion Bill 2015, bearing in mind our intention to craft a model for reform that would be workable from the perspective of women's lives, medical practice, and politics. Although drafted as part of the Labour Women Commission, and with some (limited) input from the other Commission groups, the proposed draft is that of the authors (working within the confines of our remit as 'legal experts' to the Commission) and not of the Labour Party or of Labour Women. It is made available here for discussion, debate and development by all interested parties.

Ring, S. (2013).

Analysing Fairness in Context in Historic Child Sexual Abuse Prohibition Applications

.

Irish Criminal Law Journal

23

.

Prohibition applications relating to historic child abuse charges are a litmus test of the courts' commitment to upholding fairness to the accused. This article argues that the prohibition case law reveals two trends: one in which fairness is being marginalised; and another in which it is given a contextualised meaning. The article argues that the latter approach represents an attempt to re-imagine fairness to the accused in prohibition applications. Analysing fairness in context is shown to be a continuation of a tradition in Irish constitutional jurisprudence of understanding fairness to the accused as both fundamental and evolving.

Ring, S. (2012).

Due Process and the Admission of Expert Evidence on Recovered Memory in Historic Child Sexual Abuse Cases: Lessons from America

.

International Journal of Evidence and Proof

[Online]

16

:66-92

.

Available at

:

http://dx.doi.org/10.1350/ijep.2012.16.1.392

.

This article reviews the decisions of the US state courts on the admissi-
bility of expert testimony on recovered memory in historic child sexual abuse
prosecutions. Unlike their English and Irish counterparts, most US courts
scrutinise the reliability of expert evidence on recovered memory. In examining
the US decisions the article explores the challenges posed to the criminal
process by the contested scientific status of recovered memory theory. It sets out
due process arguments why expert evidence on the topic should not be
admitted in a criminal trial.

Ring, S. (2009).

Justice Denied? An Analysis of the Difficulties facing Applicants for Prohibition in Delayed Prosecutions for Child Sexual Abuse

.

First Law Criminal Law Online

.

Ring, S. (2009).

Beyond the Reach of Justice? Complainant Delay in Historic Child Sexual Abuse Cases and the Right to a Fair Trial

.

Judicial Studies Institute Journal

:162-203

.

Ring, S. (2006).

Collateral Challenges to a Declaration of Unconstitutionality: A v Governor of Arbour Hill Prison

.

Irish Student Law Review

:245-255

.
Book section
Ring, S. and Flynn, E. (2017). DPP v C.

in:

Enright, M., McCandless, J. and O'Donohgue, A. eds.

Northern / Irish Feminist Judgments Judges' Troubles and the Gendered Politics of Identity

.

Hart

.
Internet publication
Ring, S. (2013).

Proposed Reforms of Legal Aid in the UK

[Blog]

.

Available at

:

http://humanrights.ie/immigration/proposed-reforms-of-legal-aid-in-the-uk/

.
Review
Ring, S. (2010).

Review - General Principles of Law in the Decisions of International Criminal Courts and Tribunals

.

International Criminal Law Review

10

:807

.
Forthcoming
Ring, S., Gleeson, K. and Stevenson, K. (2020).

Legal Responses to Historical Child Sexual Abuse: Critical and Comparative Perspectives

.

Routledge

.

Ring, S. (2018). Making Sense of our Past: Historical Child Sexual Abuse, the Ideal Victim and the Ideal Offender.

in:

Duggan, M. ed.

Revisiting the Ideal Victim Concept

.

Policy Press

.

Ring, S. (2018). Law's Temporal Orders in Historical Child Sexual Abuse Cases.

in:

Grabham, E. and Beynon-Jones, S. eds.

Regulating Time

.

Abingdon

:

Routledge

.
Last updated