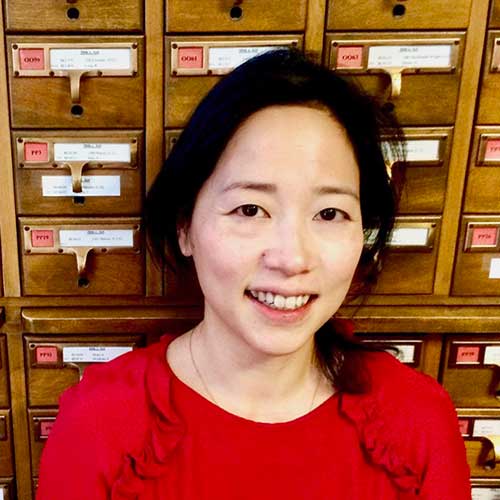 Dr Hyo Yoon Kang
Senior Lecturer in Law
Co-Convenor of LLM specialisation in Intellectual Property Law
About
Dr Kang's research interests are in intellectual property law, knowledge techniques, transmissions and practices, construction of values and valuation practices, novelty and creativity, and hermeneutic/post-hermeneutic approaches to the study of law.  In her work she employs an internalist understanding of law and legal textuality whilst drawing on insights from anthropology, philosophy, social theory, historical epistemology, and science and technology studies.

Dr Kang has a cross-disciplinary training and professional background in law, history of sciences, and science and technology studies. Prior to joining Kent Law School, she was an Assistant Professor of Science Studies at the University of Lucerne, Switzerland and a postdoctoral research fellow at the Max Planck Institute for the History of Science, Berlin, where she researched epistemic relations between scientific and legal classifications.

She earned her PhD in Law at the European University Institute, Florence, with a thesis which explored the implications of human gene patenting on the legal concept of human personhood. She holds an BSc in Government and Law at the London School of Economics and Political Science and also graduated there with a Distinction from the Masters of Laws (LLM) programme. She was a visiting research fellow at University of California at Berkeley (2002-3) and LSE (2013).
Research interests
Dr Kang is broadly interested in issues of intellectual and intangible properties and the transfer or representation of knowledge across different domains of meaning and jurisdictions.

Legal Materiality: AHRC (UK Arts and Humanities Research Council) funded ' Legal Materiality' research network, together with Dr Sara Kendall. Grant period: 2017-2019.
The Legal Materiality network is an interdisciplinary forum for exchange that foregrounds the material dimensions of law in light of the transformations affecting many aspects of law, challenging its concepts and practices, such as property or territory. It seeks to formulate novel approaches to understanding of law's changing materiality in light of specific matters, from textuality to diverse matters and media.
Patents: Legal Text as Scientific Text 
Co-Principal investigator for Kent Law School acting as a partner university to European Research Council Advanced Grant on 'Patents as Scientific Information 1895-2020' (PASSIM).
Lead and principal investigator of the ERC Advanced Grant: Professor Eva Hemmungs-Wirten, Linkoeping University. 
Co-Investigator at KLS: Dr Jose Bellido Other project partners: Nobel Museum and Boras University. 
Grant period: 2017-2022.
Project: What Do Patents Document? Reading and Using Scientific Information in Legal Text.
Dr Kang's project will assess whether patent documents are regarded and used as scientific information by scientists themselves. The validity of the patent bargain is explored from the point of view of the intended users in order to ascertain scientists' attitudes toward patents and whether they read and use patent information. Understanding patents as scientific information exposes an interstice between two different perceptions and function of patents: as public information and as legal documentation. The first approach towards patents assumes that the patent text is a documentary source, implying that the information contained in it has some kind of value beyond the legal text. The second approach regards the patent document as a legal registration document creating an intellectual property right. In this view, the invention is embodied by the patent document rather than being represented by it. A patent document may not have any scientific informational value. The tension between these two conceptions, one more sociological and the other more legal textual, will be explored in order to assess the ways and degrees in which a patent text indeed serves as scientific information for scientists today. 
Patent Value/Valuation
Monograph project on the value and valuation of patents as credit, commodity and asset.
Related Conference: 'Evaluations: Cases, Experiments and Models as Tools of Appropriation and Valuation' sponsored by Swiss National Science Foundation, University of Lucerne and Birkbeck School of Law- (University of Lucerne, June 2014). Co-organised with Jose Bellido. 
Teaching
Hyo's teaching responsibilities are mainly in the field of Intellectual
Property Law at Undergraduate level and span across Contemporary
Issues in Intellectual Property, Patent and Trade Mark Law and Intellectual Property and Industrial Practices at Postgraduate level.
Supervision
Rebecca Gulbul, 'A critical reflection on the no-property rule in the human bodily material in the context of research biobanks.' Second supervisor. 2nd year.

Jake Slosser, 'On the Use of Cognitive Linguistics to Explore Legal Categories: Judicial Interpretation of Digital and Privacy Laws in the EU'. Second supervisor. Completed.
Dr Kang is happy to supervise research on questions related to intellectual property in science, arts and music; creativity and novelty; practices and techniques of knowledge.
Professional
Dr Kang serves in the Organizing Committee of the Association for the Study of Law, Culture and the Humanities.

She has acted as a reviewer to numerous law and science studies journals, academic presses, as well as national funding bodies.

Publications
Article
Kang, H. (2018).

Ghosts of inventions: patent law's digital mediations

.

History of Science

[Online]

57

:38-61

.

Available at

:

https://doi.org/10.1177/0073275318770773

.

This article examines the shifts in the material ordering of inventions in patent law organization and their effects on the meaning and scope of inventions as intellectual property. Formats and media are constitutive of the establishment and stabilization of inventions as objects of intellectual property. Modern patent law's materiality had been dominated by paper documents but ever more consists of digital images, files, and networked data. The article traces and analyzes such effects of digital media on the meaning of intellectual/intangible property and argues that inventions increasingly matter as digital data in the legal realm.

Bellido, J. and Kang, H. (2016).

In Search of a Trade Mark: Search Practices and Bureaucratic Poetics

.

Griffith Law Review

[Online]

.

Available at

:

http://www.dx.doi.org/10.1080/10383441.2016.1170654

.

Trade marks have been understood as quintessential 'bureaucratic properties'. This article suggests that the making of trade marks has been historically influenced by bureaucratic practices of search and classification, which in turn were affected by the possibilities and limits of spatial organisation and technological means of access and storage. It shows how the organisation of access and retrieval did not only condition the possibility of conceiving new trade marks, but also served to delineate their intangible proprietary boundaries. Thereby they framed the very meaning of a trade mark. By advancing a historical analysis that is sensitive to shifts, both in actual materiality and in the administrative routines of trade mark law, the article highlights the legal form of trade mark as inherently social and materially shaped. We propose a historical understanding of trade mark law that regards legal practice and bureaucratic routines as being co-constitutive of the very legal object itself.

Kang, H. (2015).

Patent as Credit. When Intellectual Property Becomes Speculative

.

Radical Philosophy

194

:29-37

.

Kang, H. (2012).

Science Inside Law: The Making of a New Patent Class in the International Patent Classification

.

Science in Context

[Online]

25

:551-594

.

Available at

:

http://dx.doi.org/10.1017/S0269889712000233

.

Recent studies of patents have argued that the very materiality and techniques of legal media, such as the written patent document, are vital for the legal construction of a patentable invention. Developing the centrality placed on patent documents further, it becomes important to understand how these documents are ordered and mobilized. Patent classification answers the necessity of making the virtual nature of textual claims practicable by linking written inscription to bureaucracy. Here, the organization of documents overlaps with the grid of patent administration. How are scientific inventions represented in such a process? If we examine the process of creating a new patent category within the International Patent Classification (IPC), it becomes clear that disagreements about the substance of the novel inventive subject matter have been resolved by computer simulations of patent documents in draft classifications. The practical needs of patent examiners were the most important concerns in the making of a new category. Such a lack of epistemological mediation between the scientific and legal identities of an invention depicts a legal understanding that science is already inside patent law. From an internal legal perspective, the self-referential introduction of the new patent category may make practical sense; however it becomes problematic from a technological and scientific standpoint as the remit of the patent classification also affects other social contexts and practices.

Kang, H. (2006).

An exploration into law and narratives: the case of intellectual property law of biotechnology

.

Law and Critique

[Online]

17

:239-265

.

Available at

:

http://dx.doi.org/10.1007/s10978-006-0008-6

.

This essay explores the possibility of applying narrative analysis as a tool for the socio-cultural study of law. Narrative is understood to be both a form of representation of reality, as well as a starting point into the enquiry about the nature of reality itself. Consequently, an analysis of legal narratives could help to assess law's impact on our understanding of social reality and of ourselves. The narrative context, which is examined for its plot and metaphors, is the intellectual property law of human biotechnology. The legal representation of techno-scientific knowledge in intellectual property law is contrasted against other conceptions of science, especially with the ones that are put forward by scholars in science and technology studies and anthropology. It is argued that the present legal narrative of human biotechnology and intellectual property not only lacks sufficient understanding of the scientific knowledge-making process but also, importantly, that it is in need of a self-reflexive understanding of its own practice. At the end, the possibility of changing the present legal narrative will be probed with the help of different narrative theories of the self and of representation, which have been advanced by White, Taylor and MacIntyre.
Book section
Kang, H. (2018). Law's Materiality: Between Concrete Matters and Abstract Forms, or How Matter Becomes Material.

in:

Philippopoulos-Mihalopoulous, A. ed.

Routledge Handbook for Law and Theory

.

Routledge

.

Kang, H. (2014). Autonomy/Code: On software rhetorics in postgenomics and artificial intelligence.

in:

Bung, J. and Grube, M. eds.

Autonome Automaten. Künstliche Körper und Artifizielle Agenten in der technisierten Gesellschaft

.

Berlin

:

Kritische Reihe, trafo Verlag

.

Kang, H. (2011). Autonomic computing, genomic data and human agency: the case for embodiment.

in:

Hildebrandt, M. and Rouvroy, A. eds.

Autonomic Computing and Transformation of Human Agency

.

London

:

Routledge

.

Kang, H. (2011). Homo Postdoctus.

in:

Eine Naturgeschichte für das 21. Jahrhundert. Zu Ehren von Hans-Jörg Rheinberger

.

Berlin

:

Max-Planck-Institut für Wissenschaftsgeschichte

.

Kang, H. (2009). Classifying Novelty. Transfer and negotiation of scientific knowledge in the International Patent Classification.

in:

Gaudilliere, J. -P. and Kevles, D. eds.

Living Properties: Making Knowledge and Controlling Ownership in the History of Biology

.

Max Planck Institute for the History of Science Preprint, No 382

,

pp.

123-136

.

Kang, H. (2007). Identifying John Moore: narratives of persona in patent law relating to inventions of human origin.

in:

Glasner, P., Atkinson, P. and Greenslade, H. eds.

New Genetics, New Social Formations

.

London, New York

:

Routledge

.
Internet publication
Kang, H. (2018).

Climate Rights

[blog post]

.

Available at

:

https://www.lrb.co.uk/blog/2018/11/23/hyo-yoon-kang/climate-rights/

.

Kang, H. (2015).

Authors and Impresarios: How to Move Across Disciplines. A Conversation with Mario Biagioli

[Online]

.

Available at

:

http://somatosphere.net/2015/11/authors-and-impresarios-how-to-move-across-disciplines.html

.
Review
Kang, H. (2012).

Figures of Invention

.

Modern Law Review

75

:463-469

.
Forthcoming
Kang, H.Y. and Kendall, S. eds. (2019).

Special Issue on Legal Materiality

.

Law Text Culture

23

.

Kang, H. (2019). Patents as Assets: Intellectual Property Rights as Market Subjects and Objects.

in:

Birch, K. and Muniesa, F. eds.

Turning Things into Assets: New Lineaments in the Study of Technoscientific Capitalism

.

MIT Press

.

Kang, H. and Kendall, S. (2019). Legal Materiality.

in:

del Mar, M., Meyler, B. and Stern, S. eds.

Oxford Handbook for Law and Humanities

.

Oxford University Press

.

Kang, H. and Kendall, S. (2019).

Introduction

.

Law Text Culture

23

.

Kang, H. (2019).

Is There (Should There Be) a Law & Humanities Canon?

Law, Culture and the Humanities

16

.
Last updated