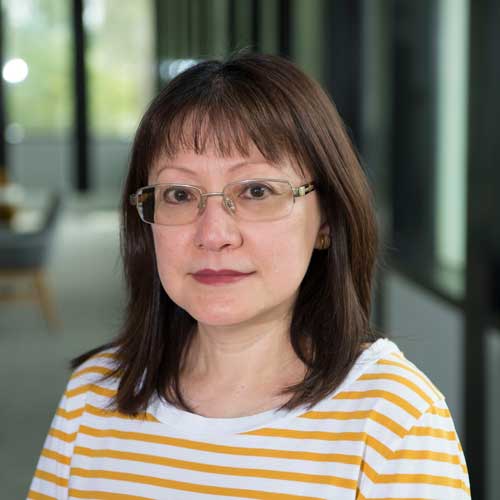 Dr Simone Wong
About
Qualifications: PhD, LLM, BA (Hons), Barrister-at-Law (Lincoln's Inn) 

Simone is a graduate of University of Kent and has worked as an Advocate and Solicitor in Malaysia and Singapore prior to joining Kent. Simone's teaching spans  Banking Law, Equity and Trusts. Simone usually teaches at both undergraduate and postgraduate level. Simone likes to adopt critical doctrinal and feminist perspectives in her teaching, which provide a unique perspective to the subjects. 

Simone established a Cohabitation network (2003- ) at Kent which arranges a series of workshops held mainly at Kent that focus on issues relating to cohabitation and other forms of close personal relationships. More recent events organised include the 'Wealth and Poverty in Close Personal Relationships' Workshop funded by and held at the International Institute for Sociology of Law, Onati, Spain in May 2012 and the 'Austerity, Gender and Household Finances' Conference held at Kent in June 2015.  

Research interests
Simone's current research in Trusts law has been on the problems that arise with the use of trusts for wealth management purposes, and she has more recently given a paper on this subject at the 2017 'The Use and Abuse of Trusts and Other Wealth Management Devices' Conference in Singapore. She is also currently researching on the impact of austerity on legal aid cuts in private family cases and the growing problem of post-separation poverty, debt and financial (in)justice.
Teaching
Simone's undergraduate teaching responsibilities span Banking Law Equity and Trusts. At postgraduate level her focus is in Banking Law. 
Supervision
Simone is happy to supervise topics in the area of Equity, Trusts Law, Banking law, and Cohabitation and other domestic relationships, with particular regard to Financial and Property matters.

Current PhD supervision: Philemon Omede; Pingyao Xie
Professional
Socio-Legal Studies Association: Ordinary member (1998- )

Society of Legal Scholars: Ordinary member (1998- )

Canadian Journal of Family Law: Advisory Board member (2016; 2018- )

Publications
Article
Wong, S. and Cain, R. (2018). The impact of cuts in legal aid funding of private family law cases. Journal of Social Welfare and Family Law [Online]:1-12. Available at: https://doi.org/10.1080/09649069.2019.1554784.

The Legal Aid, Sentencing and Punishment of Offenders Act 2012 (LASPO) made deep cuts to legal aid in the UK from April 2013, withdrawing state aid from almost all private family law cases. The paper is based on the findings of a micro-study of solicitors and Citizens Advice Bureaux (CABx) in Kent and London to investigate the impact of LASPO cuts on their work. The findings suggest that: legal aid firms have closed or merged; legal aid work is often partially carried out in solicitors' own time; 'unbundled' services for litigants in person (LIPs) are increasingly common; and family cases are being complicated and extended by the new ubiquity of the LIP. Respondents suggest that litigants may increasingly be 'giving up' on pursuing their cases, with clear implications for financial justice and contact with children. Further research is needed into the financial and affective impact of the cuts and the distribution of losses and difficulties between genders. The study, however, suggests the likelihood of post-separation poverty, debt and capital losses increasing in the post-LASPO environment, and that firms and CABx are having to find various methods of dealing with clients abandoned by the state

Wong, S. (2017). Equality between married/civil and cohabiting partners to a survivor's pension. Journal of Social Welfare and Family Law [Online] 39:361-363. Available at: https://doi.org/10.1080/09649069.2017.1344399.

Wong, S. (2017). The New EU Anti-Money Laundering Directive: Farewell to transparency of UK trusts. Trust Law International 31:137-151.

Wong, S. (2016). Sharing Homes by Unmarried Cohabiting Couples in England and Wales: Rebutting Presumptions and Exceptional Conduct. FamPra.ch [Online]:436-455. Available at: http://www.fampra.recht.ch/fampra/lpext.dll/fampra/avfampra16/fampra0216/inhfampra0216?f=templates&fn=index.html&2.0&vid=10.1049/Deu.

The article examines recent cases such as Stack v Dowden and Jones v Kernott in England and Wales where the courts have restated the principles of the common intention constructive trust over property used as the family home. Both cases deal with disputes between cohabiting unmarried couples over the family home after termination of their relationships. The courts held in those cases that the presumption is that equity follows the law. Where, for instance, the legal title is held by the cohabiting couple in joint names, they are presumed to be legal and equitable joint tenants sharing equally unless one party rebuts that presumption by establishing that either their common intention was to hold the property in different shares or the original intention of equal sharing had changed over time, leading to an ambulation of the trust (the ambulatory trust). A rebuttal of the presumption will thus focus on the context of the couple's relationship over the period of cohabitation (time), which arguably provides a more nuanced approach. It enables the parties' relationship to be assessed from the time of acquisition of the property to the point of separation in order to ascertain their actual intentions. The focus of the article is on the way in which time and context of home-sharing by unmarried cohabitants are being construed by the English courts and, particularly, the assumptions being made about certain types of conduct. The article seeks to argue that the cases reveal how the law remains imbued with certain ideologies and therefore reinforces a particular type cohabiting relationship, i.e., one that mimics marriage. Women continue to be portrayed as 'wife/mother/innocent' who require the law's protection against men. The sociology of unmarried cohabitation may require more in-depth examination in order to determine whether these assumptions are, or remain, apposite to cohabitants.

Wong, S. (2015). Cohabitation Reform in England and Wales: Equality or Equity. Canadian Journal of Women and the Law [Online] 27:112-129. Available at: http://dx.doi.org/10.3138/cjwl.27.1.112.

The law of cohabitation and the succession rights of cohabitants in England and Wales have been subject to separate reviews recently by the Law Commission for England and Wales. Even though the Law Commission's recommendations have not been implemented by the British government, the reviews raise some interesting, if not challenging, issues regarding the need to formally recognize cohabitation. A key argument for extending rights to cohabitants is the increased social acceptance of cohabitation as an alternative form of partnering and child bearing to marriage—that cohabitation, albeit not formalized, may be equally committed and stable and should not therefore be discriminated against. The article is concerned with two issues: the criteria adopted for determining cohabitants' qualification and the benefits that accrue from such qualification. It will examine whether a normative commitment to the promotion of stable, committed, and interdependent cohabitation has helped to secure equality for cohabitants, through more equitable treatment in terms of remedies upon termination of the relationship. The article argues that this objective has not been achieved and that giving cohabitation equivalent value to formalized relationships is heavily dependent on the meanings we attach to norms such as commitment and (inter)dependence.

La Law Commission for England and Wales a récemment examiné séparément le droit entourant l'union de fait et les droits de succession des conjoints de fait en Angleterre et au Pays de Galles. Même si le gouvernement britannique n'a pas mis en œuvre les recommandations de la Commission, les examens soulèvent des questions intéressantes, voire problématiques, sur le besoin de reconnaitre officiellement l'union de fait. L'acceptation croissante par la société de l'union de fait comme alternative de vie commune et de procréation au mariage est un argument convaincant pour reconnaitre les droits des conjoints de fait. Comme ceux-ci peuvent eux aussi être engagés et stables dans une relation non formalisée, la cohabitation ne devrait pas faire l'objet de discrimination. Le présent article soulève deux enjeux : les critères adoptés pour déterminer ce qui constitue un conjoint de fait et les avantages qui découlent de cette qualification. L'auteure se demande si un engagement normatif en faveur de la promotion d'une cohabitation stable, engagée et interdépendante a permis de garantir l'égalité aux conjoints, en leur accordant un traitement plus équitable en ce qui a trait aux recours à la fin d'une relation. Elle soutient que cet objectif n'a pas été atteint et que donner à l'union de fait une valeur égale aux relations officialisées dépend beaucoup des significations que nous donnons aux normes telles que l'engagement et l'(inter)dépendance.

Carr, H. and Wong, S. (2014). Feminist approaches to property law research. Property Law Review 3:247-255.

Wong, S. (2013). Human Rights Act 1998 (UK): Cohabitation, property and human rights. Property Law Review 3:138-151.

Vigneron, S. and Wong, S. (2012). An assessment of the DCFR on dependant personal securities. Journal of Business Law 1:1-15.

Examines the section of the draft Common Frame of Reference (DCFR) on dependent personal securities and whether it adequately protects security providers who are deemed vulnerable. Uses a case study to compare English law, French law and the DCFR on the provision of personal security for professional and personal debt. Considers differences in legal terminology, duties to provide information, the treatment of spouses who provide security, and the fairness of personal security transactions.

Wong, S. (2012). Shared Commitment, interdependency and property relations: A socio-legal project for cohabitation. Child and Family Law Quarterly 24:60-76.

This paper is concerned with the normative reason(s) for extending protection to close personal relationships such as cohabitation for the purposes of dealing with property matters when the relationship terminates. There has been an increasing shift from defining cohabitation along the marriage model (and, with it, a sexual nexus) to focusing on the 'couple', their commitment and interdependence as the fulcrum for extending protection. This is a trend that can be discerned in recent divorce and constructive trust cases where marriage, and even cohabitation, is acknowledged as a form of partnership. The focus on commitment is to be welcomed as it moves us away from conjugality as the basis for extending recognition to cohabitants. However, there remains a tendency to conflate commitment and interdependence with the issue of economic vulnerability and to make the latter the remedial objective of the law, which limits us to looking at patterns of dependence rather than more interactive patterns of commitment. The paper will consider the ways in which commitment and interdependence are being currently constructed by the law and what aspects of sharing lives are deemed particularly crucial to warrant the extension of some legal protection. It seeks to argue that the law has to go beyond the economic hardship trajectory and that there has to be greater interrogation of the nexus between sharing lives (and a home), commitment and interdependence.

Wong, S. (2008). The Iniquity of Equity: A Home-sharer's Tale. Singapore Journal of Legal Studies:326-346.

Wong, S. (2007). Would you "care" to share your home?. Northern Ireland Legal Quarterly 58:268-286.

The paper seeks to examine the position in England and Wales
relating to the ownership of property that has been shared by
parties to a domestic relationship who are neither married to
each other nor in a civil partnership. These include
cohabitants (couple-based relationships), and familial and
non-familial members living together in relationships of care
and support. Currently, the resolution of property disputes
between these parties fall outside the statutory regimes
available to spouses and civil partners on the termination of
their relationships, and resort must be made to the common
law.
Given that the Law Commission's review which commenced in
July 2005 is limited only to cohabitants, the paper focuses on
couple-based cohabitation and issues arising in relation to the
acquisition of property rights over the shared home. It
considers the way in which gender plays out in the law,
especially in the formulation of the legal principles dealing
with such property disputes. The paper also examines the Law
Commission's proposed economic advantage/disadvantage
approach but argues that, while the proposed approach is a
step forward in terms of addressing the problems judges face
in placing value on unpaid caregiving, female claimants who
have provided substantial caregiving to their partners and the
families constituted by them may still remain disadvantaged.

Wong, S. (2006). Cohabitation and the Law Commision's Project. Feminist Legal Studies [Online] 14:145-166. Available at: http://www.springerlink.com/content/mm87q077jg000nx8/fulltext.pdf.

In 2004, the U.K. parliament passed the Civil Partnership Act which provides a scheme to enable same-sex couples to obtain formal recognition of their relationships through the registration of a civil partnership. When the Civil Partnership Bill was making its way through parliament, attempts were made in the House of Lords to derail the Bill through amendments seeking to extend the Bill to certain familial relationships of care and support. In order to counter these attempts and to facilitate the removal of the amendments, the government gave the assurance that the matter of the economically vunerable cohabitant would be referred back to the Law Commission for England and Wales for review. Consequently, in July 2005, the Law Commission commenced its project on cohabitation. This paper seeks to examine models of reform (such as the one proposed by the Law Society of England and Wales in its 2002 Cohabitation report) as well as those introduced in other Commonwealth countries. The aim is to identify some of the crucial questions that the Law Commission will need to give careful consideration to if they are ti naje recommendations that will provide a more radical approach to this area of the law, rather than adopt the more conservative approach of including cohabitation in 'piggy back' mode on the marriage model.

Wong, S. (2005). Trust(s) and Intention in Resolving Disputes over the Shared Home. Northern Ireland Legal Quarterly 56:105-118.

Wong, S. (2005). The Human Rights Act 1998 and the Shared Home: Issues for Cohabitants. Journal of Social Welfare and Family Law [Online] 27:265-279. Available at: http://www.metapress.com.chain.kent.ac.uk/(egcx1z55aqlu3irsorv5upna)/app/home/contribution.asp?referrer=parent&backto=issue,4,12;journal,2,24;linkingpublicationresults,1:104719,1.

From the date of the Civil Partnership Act 2004 coming into force, in December 2005, same-sex couples can register a civil partnership, thereby giving them the rights and responsibilities that are analogous to those for married spouses. These include access to a property regime to deal with property matters at the end of the civil partnership. An issue that arose when the 2004 Act was being passed was the exclusion of the economically vunerable opposite-sex cohabitant, who would not have access to either the said Act or the Matrimonial Causes Act 1973 to deal with his or her rights; in particular, rights over the shared home. The Joint Committee on Human Rights highlighted the potential human rights issues that might arise and that the government would need to provide strong justification for the differential treatment of opposite-sex cohabitants. This article explores the extent to which opposite-sex cohabitants may be able to draw on the Human Rights Act 1998 to bolster their claims to a beneficial interest in the shared home, either under the common law or by access to a statutory regime such as that provided by the 2004 Act and the Matrimonial Causes Act 1973.

Wong, S. (2004). Property regimes for cohabitees: The Civil Partnership Bill and some Antipodean Models. Journal of Social Welfare and Family Law [Online] 26:361-375. Available at: http://www.informaworld.com/smpp/content~content=a744101695~db=all~order=page.

This article examines issues relating to the distribution of, and the rights of cohabitees to, property at the end of cohabitation. In particular, the article considers the implications of the Civil Partnership Bill and seeks to argue that more radical reform is needed to deal with property matters that arise in cohabiting relationships, whether heterosexual or same-sex. The token gesture of creating a new civil status for same-sex cohabitation fails to resolve these more substantive issues at the end of cohabitation. In that respect, the article examines whether reform for relationship recognition should be premised on a registration or a presumptive regime. It also includes a comparative study of the approaches adopted in some Australian property distribution regimes, which provides useful insights on the way in which a broader approach may be taken in resolving property disputes in a wider range of domestic relationships.

Wong, S. (2003). Trusting in trust(s): the family home and human rights. Feminist Legal Studies [Online] 11:119-137. Available at: http://www.springerlink.com/content/q731487796326687/fulltext.pdf.

In July 2002, the U.K. Law Commission published its Discussion Paper No. 287 on home-sharing. The conclusion drawn by the Law Commission was that it would not be possible to devise a statutory scheme for the resolution of family property disputes which is both workable and flexible enough to deal with the wide range of personal relationships that exist. It further took the view that, with appropriate changes to the way in which trusts principles are currently interpreted and applied by the courts, these trusts principles are sufficiently flexible and coherent to deal with the question of ascertaining and quantifying property rights over the family home. The aim of this paper is to examine the implications of these particular conclusions drawn by the Law Commission for both the law of trusts and the resolution of family property disputes between cohabitants. In particular, the paper will consider the extent to which trusts law remains a workable and desirable option and whether any mileage may be gained by drawing on the human rights culture that is emerging in U.K. legal and political discourse.

Wong, S. (2002). Revisiting Barclays Bank v. O'Brian and Independent Legal Advice for Vulnerable Sureties. Journal of Business Law Jul:439-456.

Scope and application of O'Brien principle, including when bank is put on inquiry and requirement for independent legal advice, and clarification of principle in Etridge, including presumed undue influence and manifest disadvantage.

Wong, S. (2001). Property Rights for Cohabitees in the UK: the Potential Effect of Human Rights on Legislative Reform. Journal of Social Welfare and Family Law [Online] 23:491-500. Available at: http://www.informaworld.com/smpp/content~content=a713775401~db=all~order=page.

Wong, S. (2000). Legal Advice for Vulnerable Sureties. Commercial Law Liability Review x:33-49.

Wong, S. (1999). When Trust(s) is not enough: An Argument for the Use of Unjust Enrichment for Home-Sharers. Feminist Legal Studies [Online] 7:47-62. Available at: http://www.springerlink.com/content/x772j1u65w77361p/fulltext.pdf.

Wong, S. (1998). No man can serve two masters: Independent Legal Advice and Solicitor's Duty of Confidentiality. Conveyancer and Property Lawyer 62:457-465.

Nature of requirement for independent legal advice to be given to surety, whether higher standard of advice is required, and resulting conflict of interest between disclosure and confidentiality where solicitor acts for both parties.

Wong, S. (1998). Constructive trusts over the family home: lessons to be learned from other Commonwealth jurisdictions?. Legal Studies [Online] 18:369-390. Available at: http://www.blackwell-synergy.com/doi/pdf/10.1111/j.1748-121X.1998.tb00023.x.
Book section
Wong, S. (2017). Intestate Succession and the Property of Unmarried Cohabitants in England and Wales. In: Millns, S. and Wong, S. eds. Money Matters: Wealth and Poverty in Close Personal Relationships. Farnham: Ashgate, pp. 134-147. Available at: https://www.routledge.com/9781472469861.

Wong, S. and Carr, H. (2015). Feminist Approaches to Property Law Research. In: Blandy, S. and Bright, S. eds. Researching Property Law. Palgrave, pp. 164-179. Available at: https://he.palgrave.com/page/detail/Researching-Property-Law/?K=9781137486189.

Vigneron, S. and Wong, S. (2011). Personal Security. In: Antoniolli, L. and Fiorentini, F. eds. A Factual Assessment of the Draft Common Frame of Reference. Munich: Sellier, pp. 179-206.

Bottomley, A. (2009). They shall be simple in their homes. the many dimensions of co-operative housing. In: Bottomley, A. and Wong, S. eds. Changing Contours of Domestic Life, Family and Law: Caring and Sharing. Oxford: Hart, pp. 49-66. Available at: http://www.hartpub.co.uk/books/details.asp?isbn=9781841139043.

Wong, S. (2009). "The UK Perspective on Issues Relating to Cohabitation",. In: Irish Council for Civil Liberties. ICCL Seminar Series, pp. 73-78.

Wong, S. (2009). Caring and sharing: interdependency as a basis for property redistribution?. In: Wong, S. and Bottomley, A. eds. Changing Contours of Domestic Life, Family and Law: Caring and Sharing. Oxford: Hart Publishing, pp. 49-66.

Wong, S. (2007). The Shared Home: A Rational Solution through Statutory Reform?. In: Lim, H. and Bottomley, A. eds. Feminist Perspectives on Land Law. London: Routledge Cavendish, pp. 195-215.

Bottomley, A. and Wong, S. (2006). Shared Households: A new paradigm for thinking about the reform of domestic property relations. In: O'Donovan, K. and Diduck, A. eds. Feminist Perspectives on Family Law. UK: Routledge Cavendish, pp. 39-57.

Wong, S. (2003). Rethinking Rosset from a Human Rights' Perspective. In: Hudson, A. ed. New Perspectives on Family Law, Human Rights and the Home. London: Cavendish Publishing, pp. 79-98.
Edited book
Millns, S. and Wong, S. eds. (2017). Wealth and Poverty in Close Personal Relationships: Money Matters. [Online]. Farnham: Ashgate. Available at: https://www.routledge.com/9781472469861.

At a time of global and domestic economic crisis, the financial aspects of domestic and familial relationships are more important and more strained than ever before. The focus of this book is on the distribution of wealth and poverty in traditional and non-traditional familial relationships. The volume takes an interdisciplinary approach to explore the way in which money matters are structured and governed within close personal relationships and the extent to which they have an impact on the nature and economic dynamics of relationships. As such, the key areas of investigation are the extent to which participation in the labour market, unpaid caregiving, inheritance, pensions and welfare reform have an impact on familial relationships. The authors also explore governmental and legal responses by investigating the privileging of certain types of domestic relationships, through fiscal and non-fiscal measures, and the differential provision on relationship breakdown. The impact of budget and welfare cuts is also examined for their effect on equality in domestic relationships.

Bottomley, A. and Wong, S. eds. (2009). Changing Contours of Domestic Life, Family and Law: Caring and Sharing. Oxford: Hart Publishing.
Review
Wong, S. (2013). Modern Couples? Continuity and Change in Heterosexual Relationships Book Review. Child and Family Law Quarterly 25:504-509.

Wong, S. (2012). The Household: Informal Order Around the Hearth Book Review. International Journal of Law in Context 9:318-320.
Thesis
Ojewumi, F. (2017). Imperialism, Extraterritoriality and Jurisdictional Competence of States in Anti-Corruption Regulation: Critical Analysis of the Leading Instruments.

Transnational Business relations have assumed phenomenal importance in the globalised world of the 21st Century. Corruption in international business relations however has become a global problem with a distorting effect on the international markets. The Foreign Corrupt Practices Act 1977 (Hereinafter, FCPA) and the UK Bribery Act 2010 (Hereinafter, UKBA) are part of a few anti-corruption laws adopted to fight bribery and corruption beyond the national level. However, the application of national anti-corruption laws across territorial borders raised the issue of legality and propriety of extraterritorial measures and their effects on sovereignty and jurisdictional competences of states. Therefore, this dissertation critically examines the effects of the practice of the doctrine of extraterritoriality on the states within the Economic Community of West African States (ECOWAS) region. This dissertation argues that the present regulation of corruption in international business transactions through the use of the doctrine of extraterritoriality presents an unfair and unequal regulatory framework. The dissertation examines five related research questions. First, how compatible are the extraterritorial jurisdiction inherent in the FCPA and UK Bribery Act laws with the doctrine of extraterritorial application of domestic laws in international legal practice? Second, is there an effective international legal framework which is put in place to curb the bribery of foreign officials in international business and will extraterritorial jurisdiction equitably applied help to foster the development of this framework? Third, what beneficial or other effects would the presence of multiple extraterritorial domestic anticorruption laws have on the international community generally? Fourth, to what extent do developing countries possess equal extraterritorial regulatory strength in the international regulation of corruption? Lastly, with what strategies and in what ways can the unfairness in the extraterritorial regulatory framework of corruption in international business transaction be mitigated?

Moss, B. (2014). Regulating and Supervising Systemic Risk in the European Union: Results of the Post-Crisis Structural Reforms.

This thesis contributes new and unique perspectives on the post 2007-09 crisis reform agenda established in the European Union. The focus of the thesis will be specifically on reform of the regulatory and the supervisory framework aimed at mitigating the effects of systemic risk. The starting point will be a review of the literature on the concept of systemic risk which will demonstrate that its unpredictable nature requires a malleable regulatory response. In light of the suggested areas of concern by the pivotal 'de Larosiere report', analysis will be provided on the progress achieved so far. On the regulatory front, the systemic risk aspects of the various legislative measures introduced are assessed in terms of their relevance and potential effectiveness. The reformed supervisory framework under the new European System of Financial Supervision (ESFS) requires close scrutiny due to the transfer of power to centralised authorities. Although the reform should be considered a success in terms of reaching its objectives in a timely manner, some critiques and suggestions will be provided on how to carry the framework forward. The thesis will also argue that taking the framework to the next step may require testing the boundaries of European Treaties and its case law in relation to delegation of powers. The measured success of the new framework could however be jeopardised by the recent introduction of the first steps towards a banking union in the Eurozone. By creating a new supervisory dynamic within the EU, it will be argued that such a move raises the potential of creating a 'two speed' model of financial supervision in the EU. Additionally it risks polarising the supervisory debate between the European Central Bank and the Bank of England at the detriment of the EU.
Forthcoming
Wong, S. (2018). Tapping into trust assets for redistribution upon divorce in England and Wales. In: Nolan, R., Wu, T. H. and Low, K. K. F. eds. Trusts and Modern Wealth Management. Cambridge: Cambridge University Press.
Last updated