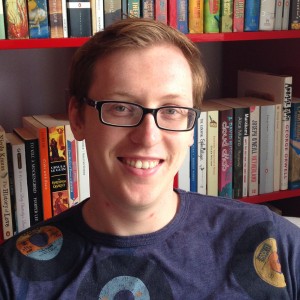 Dr Liam Haydon
About
Liam's PhD was in English Literature, focusing on John Milton's Paradise Lost. He has written on a number of intercultural aspects of Milton's poetry, and early modern literature more generally, especially the translation or appropriation of foreign texts into English. 

Liam is currently working in the Centre for the Political Economies of International Commerce on the impact of corporations on English thought in the seventeenth century.
Publications
Article
Haydon, L. (2017).

Paradise Lost and the Politics of the Corporation

.

Studies in English Literature

[Online]

57

:135-155

.

Available at

:

https://doi.org/10.1353/sel.2017.0006

.

This essay considers the effects of corporate activity on the life and work of John Milton. It analyses the ways in which the moral certainties of Paradise Lost are expressed through mercantile metaphors, especially the corporate idea of debt and credit. It further argues that Milton considers virtue through the manner of collective organisation – to be part of an equitable collective is to be virtuous (and vice versa). He therefore turns to the language of the body corporate in Paradise Lost when describing angelic society: this heavenly corporation is the fulfilment of Milton's ideas of civic virtue, a modulation of his disappointment with the republic in England into an idealised collective.

Haydon, L. (2014).

Ambiguous words: Post-lapsarian language in Paradise Lost

.

Renaissance Studies

[Online]

.

Available at

:

http://dx.doi.org/10.1111/rest.12110

.

This article considers the differences between fallen and unfallen language in Paradise Lost. The poem presents divine language as perfect, intuitive and possessing a direct correlation between word and thing. The Falls of both Satan and mankind break that correlation, introducing multivalency, and the ability to dissimilate, into language. Satan rebels, in part, by emphasizing the open-ness of language in a series of puns and contestations over the proper naming of things. Conversely, although Adam and Eve both pun after the Fall, this is done almost unconsciously as a mark of, rather than exultation in, the Fall. Paradise Lost, too, is enmeshed in this fallen language; I argue that it self-consciously deploys the features of postlapsarian language (puns, ambiguity, multivalency) in order to express the limits of its own expression, pointing to its own failure to reproduce sacred song. In Paradise Lost, the glorious achievement is not in overcoming this multivalence, but in expressing it at all. In doing so, it invites its fit audience to recognize the limits of their own language and understanding, and find in those very limits a renewed desire to strive towards the unattainable perfection that the poem seeks to fleetingly capture.
Book section
Haydon, L. (2016). Jahangir's Paintings.

in:

Pettigrew, W. A. and Gopalan, M. eds.

The East India Company, 1600–1857: Essays on Anglo-Indian connection

.

Abingdon, UK

:

Routledge

,

pp.

157-174

.
Last updated