What we do to stay well has had to change due to restrictions caused by the pandemic. Could you use some inspiration from other students on what's getting them through this uncertain time? Check out the resources below.
University Mental Health Day
Kent was proud to celebrate University Mental Health Day on 4th March and use this opportunity to share so many resources and services Kent students can access to support them during this difficult academic year.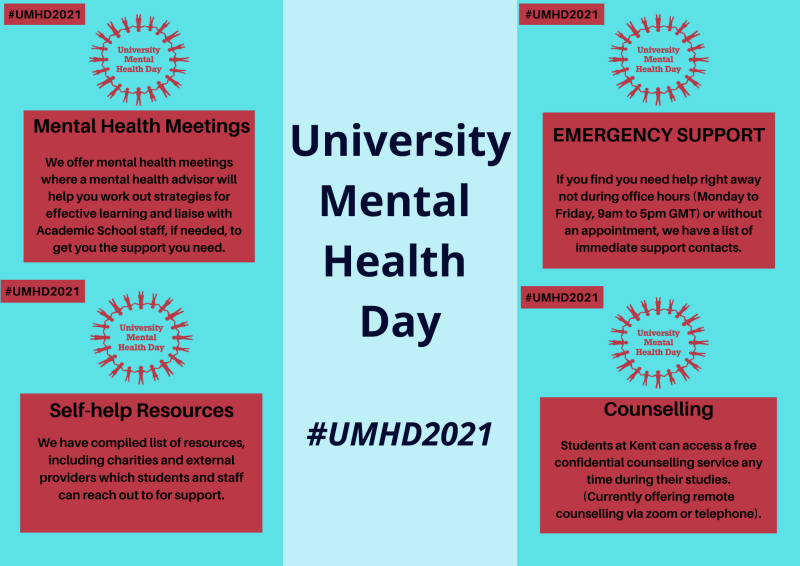 Alternative Text for Image Above:
University Mental Health Day - #UMHD2021
Block One: Mental Health Meetings
We offer mental health meetings where a mental health advisor will help you worl out strategies for effective learning and liaise with Academic School staff, if needed, to get you the support you need.
Block Two: Emergency Support
If you find you need help right away not during office hours (Monday to Friday, 9am to 5pm GMT) or without an appointment, we have a list of immediate support contacts.
Block Three: Self-help Resources
We have compiled a list of resources, including charities and external providers which students and staff can reach out to for support.
Block Four: Counselling
Students at Kent can access a free confidential counselling service any time during their studies. (Currently offering remote counselling via Zoom or telephone).
Get inspired with a workshop or group
If you're feeling a bit stuck or lonely, or could use some ideas on dealing with issues such as stress, worry or low self esteem, check out the events calendar for what's coming up that might help you face the rest of the term with positivity.

Support from College and Community Life
The College and Community Life team can also offer confidential advice and help for any welfare or personal issues or household dispures, through informal, friendly advice or as a first point of contact directing you to other specialist services on the campuses if needed.
Check out the College and Community Life page for more details on how they can support your university experience.
Support for Exams
Exam season can be difficult and this year students all over the world are facing new challenges as they prepare for exams. At Kent we have a lot of resources, information and activities to help you stay calm and connected, and feel prepared and empowered to tackle your exams.
Take a look at the Exam Calm page to see how you can make the most of a range of support from different university departments who are working together to help all students throughout the summer term.
Need some time away from social media?
During the uncertainty and lockdown restrictions as a result of COVID-19, social media has become a common go-to for many to 'pass the time'. In support of University Mental Health Day, this Social Media and Mental Health article explores some considerations around social media use for you to be mindful of to ensure it does not impact your physical or mental wellbeing adversely.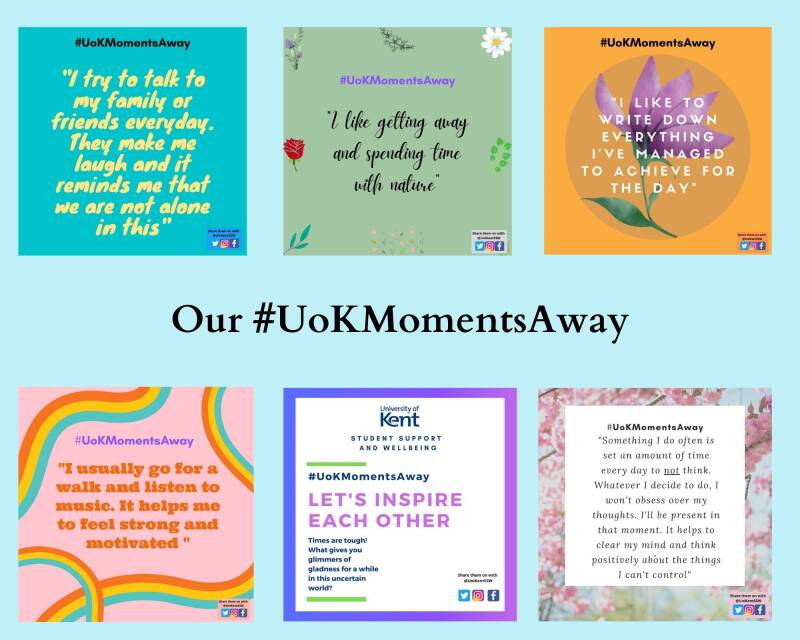 If you use Twitter, Instagram or Facebook, follow @UniKentSSW for advice and information to help you keep calm and safe, and connected to others in the Kent community.
#KentWellbeingIdeas
More mindfulness?
Would you like to explore this meditative practice and give it a try? Find out more about welcoming Mindfulness communities for staff and students at Kent.