Use Teams to host an online conference, training session or a live event (where a main presentation is streamed and chat is moderated)
Teams meetings, webinars and live events: the difference
Teams webinars and live events offer everything you can do in a Teams meeting, such as:
use a lobby
mute all participants and disable video for attendees
spotlight your presenters
with some differences or added extras.
Live events
Choose a live event if you want:
one person on screen at a time; you can control who that is, and can switch to a different presenter or spokesperson during the session
moderated chat; you can approve all comments and questions before others can see them
to let attendees ask questions anonymously.
Teams live events enable you to schedule and produce events that stream to large online audiences; up to 1000 people can watch the event.
How to set up a live event
Webinars
Choose a webinar if:
you want an online registration form to share/promote the event and enable people to book a place
the purpose of your session is for presenters to share their ideas or provide training to an audience, who can then participate/interact in a managed way.
You can facilitate and manage participation by asking people to raise their hand to take a turn to speak or to use the chat. The presenter can also mute and unmute all attendees and allow or hide their video.

More about webinar features
Track registration and attendance at your event
Up to 1000 people can interact, and up to 10,000 people can view it live
You can run real-time polls during the session
Things to do before the webinar
Arrange the webinar several weeks in advance if possible
If using the registration form, decide what questions you want attendees to fill in when they register. What do you want to know about your delegates?
Invite any additional presenters by adding them to the webinar invite in the Teams app. Don't add attendees here: see point 4!
To share the event with potential attendees, copy the registration form link. You can then share it by email, social media etc. By inviting them to book using a registration link, they won't be able to bypass the lobby when they join the webinar on the day. Only people invited directly from the Teams meeting (your co-presenters) should be allowed to bypass the lobby
Download the registration report ahead of the meeting to see who has registered and read their responses to the registration questions
During the webinar
When attendees select the Join link, they wait in the lobby until the organiser or a presenter lets them into the webinar
Attendee audio and video is turned off by default, and they can't share content
The presenter controls audience participation. Polls can be used to enable participation, ask for feedback etc
After the webinar
The organiser can download an attendance report.
How to set up a webinar
To create a webinar, use the Teams app on a PC/laptop.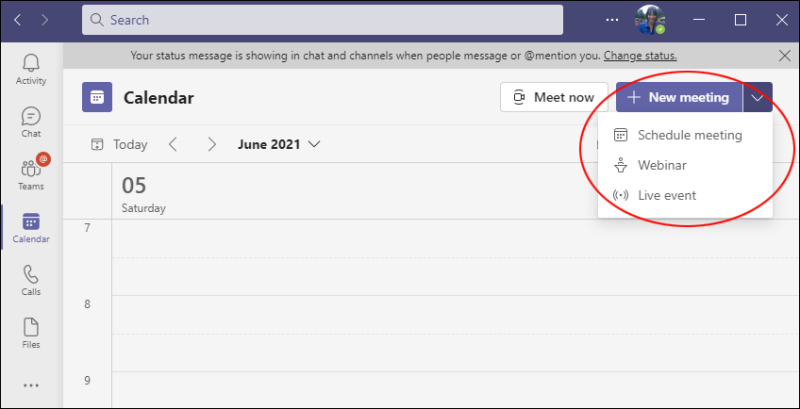 Click Calendar in the left menu of Teams
+ New Meeting button on the right
From the drop-down box, choose Webinar (the other options are Schedule meeting or Live event)
Add a title, add presenters, time etc.
To add a registration form, click the link to View registration form
Copy the registration link so that you can share it by email / promote the event online, asking people to sign up to book their place
When you Save the meeting it will send an invitation to all presenters, and put the meeting in your calendar
Help and support
Microsoft tutorials about running webinars
Ask us a question
Get in touch to ask for help or give us feedback:
The Microsoft 365 suite at Kent