Introducing Teams meetings
Teams meetings are online; they are audio or video conference sessions that let participants connect from anywhere using a PC/laptop, tablet or smartphone.
Organise a Teams meeting
All staff at Kent can organise a Teams meeting from within the Teams app, or directly in Outlook. Using the Teams app gives you more options, see the steps below.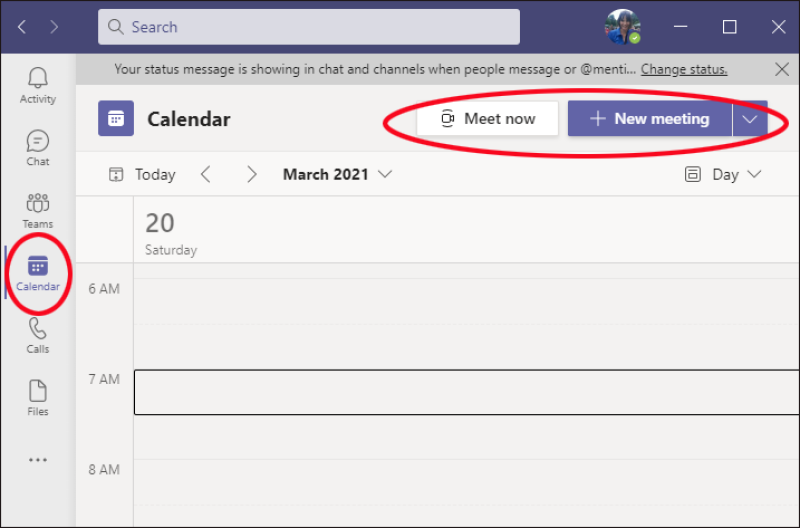 Click Calendar in the left menu of Teams
+ New Meeting button
Add a title, attendees, time etc. If you choose to associate the meeting with a specific Teams channel, then all members of that channel will be invited
Save to send out invites to attendees and put the meeting in your calendar
To start/join the meeting, click on it from your Calendar in either Teams or Outlook.
Want to Meet now?
The Meet now button on the calendar tab creates a private meeting space where you can invite attendees
To create an instant meeting in a channel, go to the channel and click the meet now button
For a 1:1 video call you can also use the Chat section of Teams
Using a lobby
When you set up a meeting you can use a lobby. This puts people in a waiting area; you allow people to join the meeting when you're ready.
How to enable the lobby
Go to your calendar and edit an existing meeting that's already in your calendar:
In Teams, open the Calendar
Edit an existing meeting by clicking on it to open it
Click Meeting options from along the top (it's in the second row of links, next to Time zone)
Edit the lobby options as needed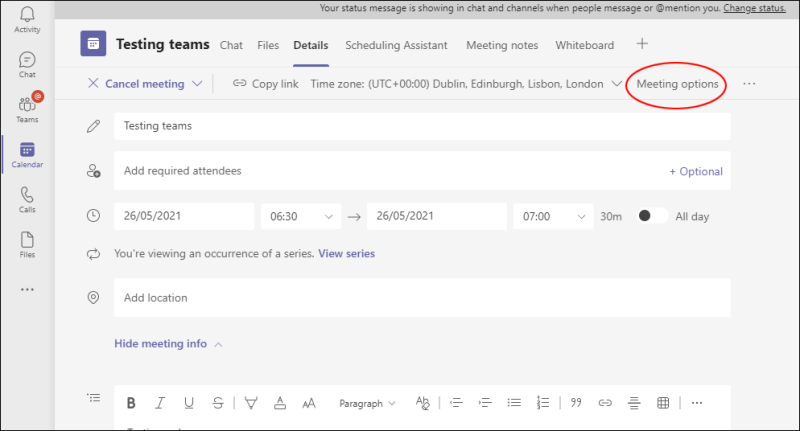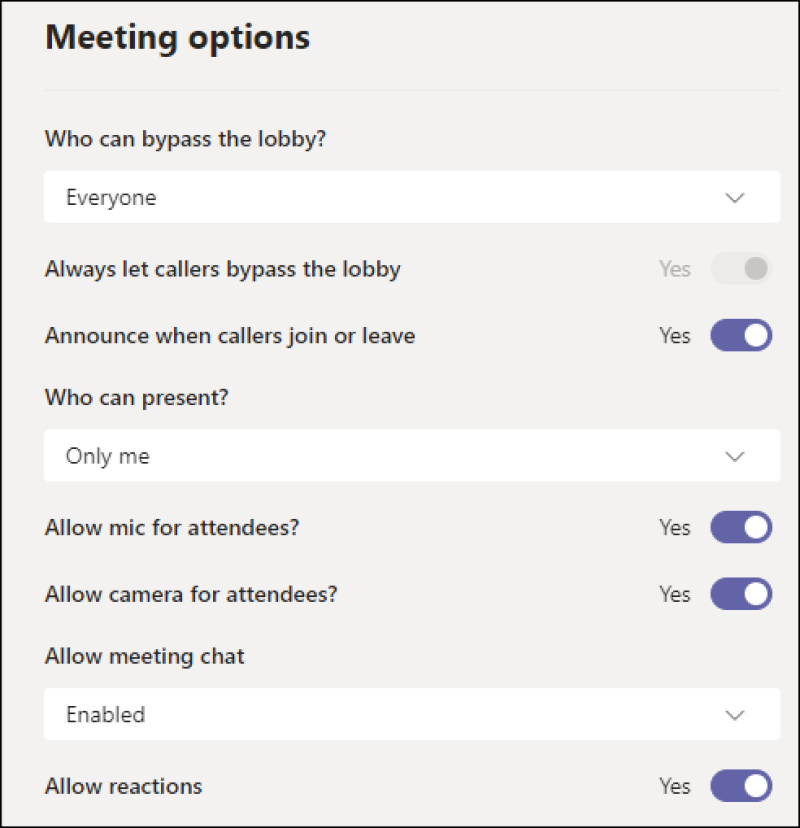 How to let only presenters bypass the lobby
In the 'Who can bypass the lobby' drop-down box, choose People I invite
Invite your meeting presenters to the meeting by email
For all other attendees, share the meeting link with them rather than sending them an invitation by email.
Present slides/share screens
Presenter view: see your slides and interact with attendees
To see your slides, slide deck and notes on your screen, alongside a view of your meeting attendees, you need to share a PowerPoint file within Teams instead of sharing your screen.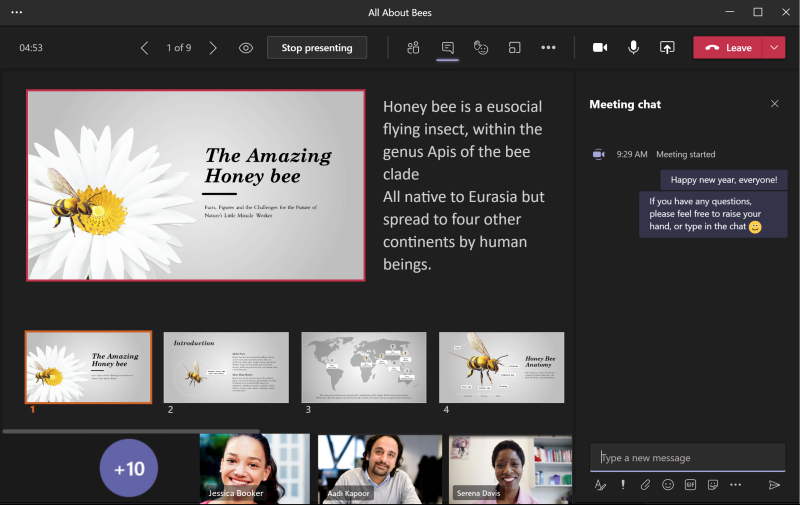 How to share a PowerPoint file in Teams (without sharing your screen!) so that you can see your slide deck and interact with attendees:
When in a Teams meeting, click Share from the control bar
Use the Powerpoint option (to the right of the previews of your open windows)
Browse to a PowerPoint file and open it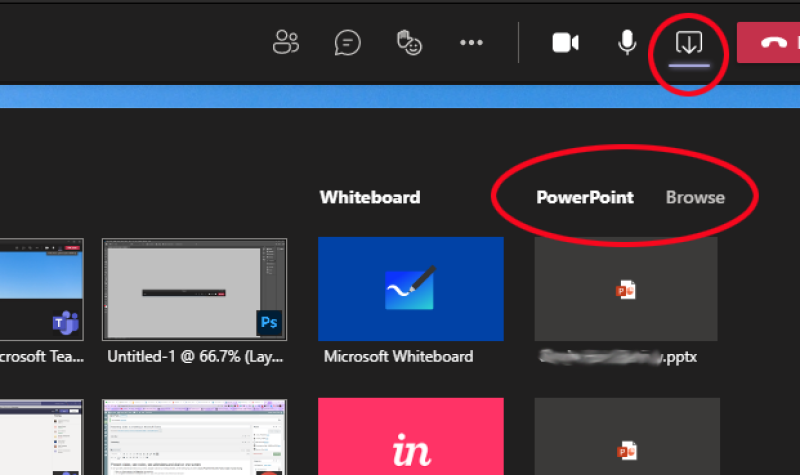 This shares the slides within Teams which means you get a full presenter view of your slides, and can also interact and respond to your attendees throughout the presentation if you wish.
On a small screen? Hide the notes and slide deck
Click in the slide area and press "Ctrl+Shift+X"
To bring "presenter view" back, use the same keyboard shortcut again
Share a Window to show any file you have open
Click the Share button in the control bar
You see the option to present your Desktop, a Window or a Powerpoint file. Choose a window to share any document or browser window open on your screen except PowerPoint (see Presenter view above).
Allow attendees to present

Meeting attendees can't share their screen or mute others unless the meeting organiser allows this.
To allow others to present (share their screen):
Start the meeting
View the participants
Click on the ellipses next to the name of the person you want to give access to
Make them a presenter from the popup menu
To allow everyone in the meeting to present: click the three elipses at the top of the meeting, select meeting details, then meeting options. This will allow you to set 'anyone' as an option rather than specific individuals.
Text chat during meetings
There's a chat panel for text conversations in meetings; open or close this by clicking the chat button in the control bar.
If you meet in a channel, any team member can open the meeting and read the chat history after the meeting has finished.
Live captions for meetings
Make it easier for attendees to follow the dialogue by turning on live captions. These help everyone follow what's being said, especially if some attendees don't turn their video on so can't be seen.
From the meeting's control bar, click the elipses '...'
Select Turn on live captions.
Meeting recordings (video)
Captions are essential
Video recordings of your meetings need to include captions. Captions improve the findability of videos in search results, and are useful for anyone who can't hear/can't turn sound up for any reason.
They can be automatically generated: use Microsoft Stream to make sure they are turned on. Stream guide: autogenerate and correct video captions
Check video permissions before sharing
When sharing your video, you need to use Stream to make sure it isn't open to all students and staff. This is not obvious/intuitive, if you share without specifying permissions in Stream, your video will be open to all at Kent.
Breakout rooms
As a meeting organiser, you can open breakout rooms during meetings to separate participants into smaller working groups and then bring them back together again (note, this doesn't work for meetings that are within a specific channel).

Create breakout rooms
You need to be using the Teams desktop app to set up breakout rooms:
Start the meeting
From the main meeting toolbar, select the Breakout rooms icon
Select the number of rooms you want (50 max), and whether you want Teams to assign people to rooms (Automatically) or you want to choose the people for each room yourself (Manually) - to assign manually put a tick next to their name, click Assign and choose which room they will enter
Select Create Rooms.
To open the breakout rooms
Click Start rooms. Participants then see a message saying they will be moved. Each breakout room acts as a separate meeting.
Reassign people to open breakout rooms
While rooms are open you can now reassign people to different rooms, or to the main room. This can be useful if you want to assign facilitators between different rooms.
Timer countdown for sessions
You can now set a timer for breakout sessions. Use the Breakout rooms settings panel to choose the length of time you want the session to run for: click the ellipses to see the options.
The clock shows participants a countdown of how much time they have left in the left-hand corner, and will alert them when there are 60 seconds left. You can choose to automatically redirect participants to the main meeting room (auto-move On) or choose to give people the option to return to the main meeting room (or disconnect).
Leaving and rejoining breakout rooms
If someone leaves a breakout room, for example because their internet is slow, they will be leaving the whole meeting. When they rejoin, they will now be put back into the correct breakout room. Breakout room allocation stays the same for any subsequent sessions.
Presenting slides or sharing screens in breakout rooms
People can't share slides or their screen until the organiser changes the room settings to allow it.
To allow people in the breakout room to present: join the breakout room, click the three elipses (…) at the top of the meeting, select meeting details, then meeting options. This lets you to set 'anyone' as a presenter option.
The organiser can join any room by right-clicking on the room, then clicking Join room. The organiser will still have access to the main meeting, but the participants will only see the room they are in.
The organiser can Close rooms to bring everyone back to the main meeting, participants will receive another message, and they will be moved within 10 seconds.
Meeting attendance reports
All meetings will offer the meeting organiser an attendee report, which can be very useful for meeting notes. It's a permanent record of how well attended a particular meeting, teaching or training session was.
It's generated at the end of the meeting, to download immediately. It opens in Excel.
It's available after the meeting in the meeting chat.
For each attendee it shows their name, email, join time, leave time, duration and role in the meeting (attendee or meeting organiser).
Only the meeting organiser can see it and download it.
Effective meeting tips
Ask everyone to take turns to speak, to face their camera and speak clearly
If anyone asks a question or makes a comment: repeat it to make sure everyone heard it correctly
Record your meeting so your students/colleagues can watch it back for revision or to check what was said if they missed anything in the moment
Check the captions afterwards and correct any errors
Help and support
Ask us a question
Get in touch to ask for help or give us feedback

The Microsoft 365 suite at Kent