This is one of several visual guides designed to help students and others understand how to access support through Student Support and Wellbeing at the University of Kent.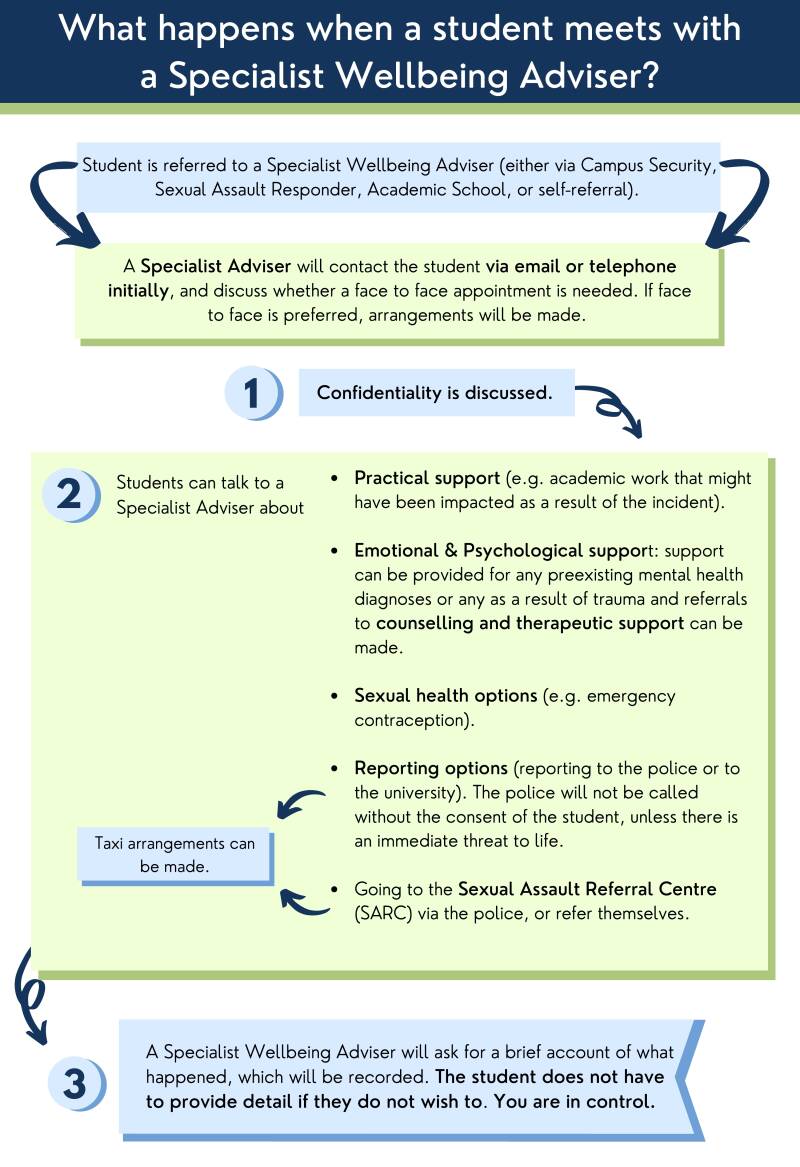 What happens when a student meets with a Specialist Wellbeing Adviser?
(Alternative text version of image above):
The student is referred to a Specialist Wellbeing Adviser (either via Campus Security, Sexual Assault Responder, Academic School, or self-referral).
A Specialist Adviser will contact the student via email or telephone initially, and discuss whether a face to face appointment is needed. If face to face is preferred, arrangements will be made.
One of the first things discussed with the student is confidentiality.
Students can talk to a Specialist Adviser about a vast range of things students, from
practical support (for example, academic work that might have been impacted as a result of the incident);
emotional and psychological support, such as, support for any preexisting mental health diagnoses or any as a result of trauma, and referrals to counselling and therapeutic support can be made;
sexual health options can also be discussed(for example, emergency contraception); and
reporting options (that is, reporting to the police or to the university), and going to the Sexual Assault Referral Centre (SARC) via the police, or refer themselves.
5. A Specialist Adviser can also make Taxi arrangements should the student wish to go to the police or to a Sexual Assault Referral Centre.

6. A Specialist Wellbeing Adviser will ask for a brief account of what happened, which will be recorded. The student does not have to provide detail if they do not wish to. You are in control.

For more guides on other Student Support topics, please see: