This is one of several visual guides designed to help students and others understand how to access support through Student Support and Wellbeing at the University of Kent.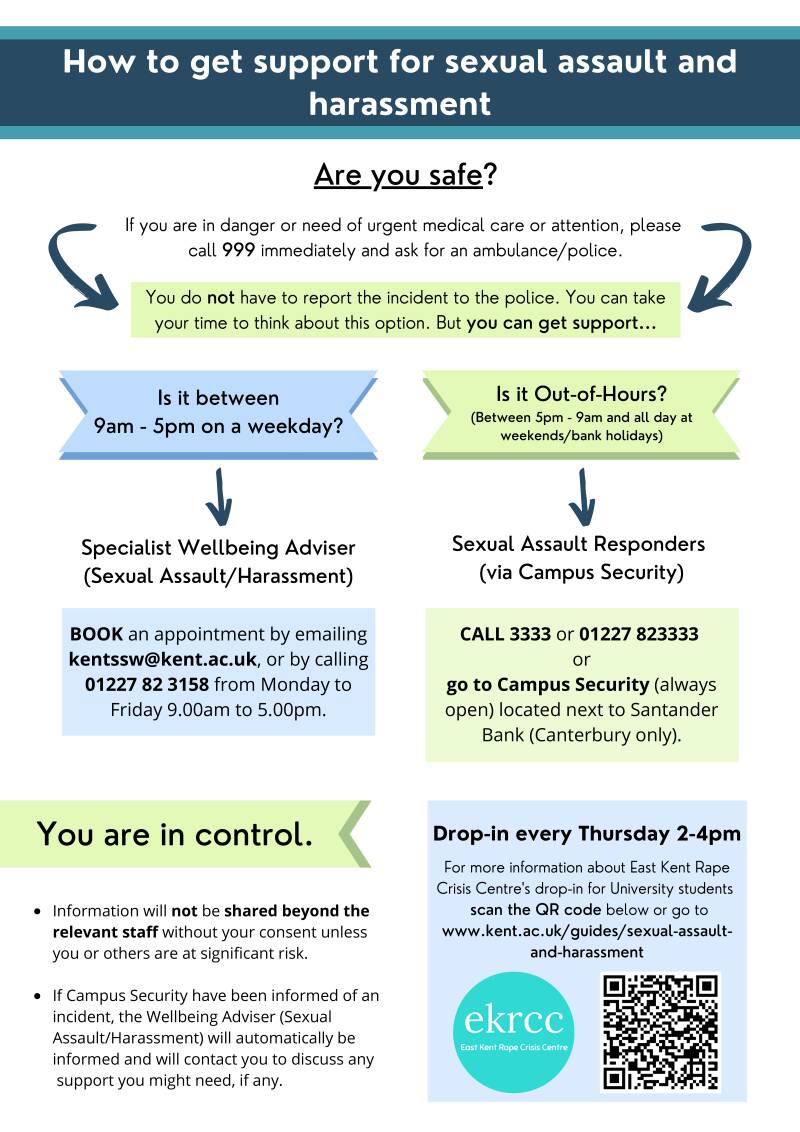 How to get support for sexual assault and harassment
(Alternative text version of image above):
Are you safe? If you are in danger or need of urgent medical care or attention, please call 999 immediately and ask for an ambulance or police.
Remember that you do not have to report the incident to the police. You can take your time to think about this option. But you can get support. Here are three sources of support available to you.

(1) Is it between 9 am-5 pm on a weekday? If so, you can book an appointment with the Specialist Wellbeing Adviser for Sexual Assault and Harassment by emailing kentssw@kent.ac.uk or by calling 01227 82 3158.

(2) If it is out-of-hours, that is, between 5 pm-9 am and all day at weekends/bank holidays, you can get support from a Sexual Assault Responder by calling 3333 or 01227 823333 or, if you're on the Canterbury campus, you can also go to Campus Security which is always open and located next to Santander Bank.

(3) The East Kent Rape Crisis Centre hosts a drop-in for University students every Thursday from 2 to 4 pm. For more information on how to access this service go to the Sexual Assault and Harassment Guide Online.

You are in control. This means that the information you share will not be shared beyond the relevant staff without your consent unless you or others are at significant risk. However, if Campus Security have been informed of an incident, the Wellbeing Adviser (Sexual Assault/Harassment) will automatically be informed and will contact you to discuss any support you might need, if any.

For more guides on other Student Support topics, please see: