Whether you live on or off campus, are a first year or returning student, you still belong to your college and can stay involved in college life. This will enhance your student experience, widen your social support network, and become a strong statement on any CV.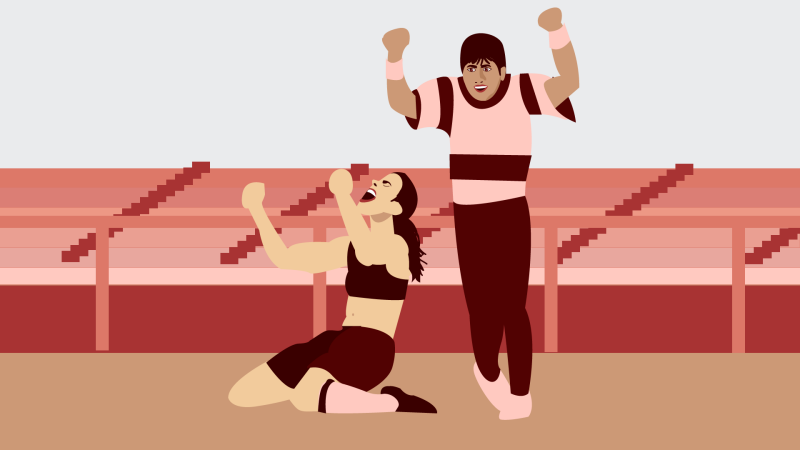 How can you get involved in College Life?
College Committees
College Committees are made up of volunteers from the current student body, including all stages and year groups. 
The focus of these Committees will be on running College events, suggested by students and run by students. 
The Committee members can live on or off campus.
Participation remains on a voluntary basis and the general Regulations for Students will apply regarding behaviour, concerns or disputes. 
Events
College events should reflect the pattern of the University year, noting moments of 'welcome', induction and transition wherever possible.
Events can reflect the themes of College and Community Life as well as promote all the opportunities open to students at Kent, including those offered by independent local interest groups in the area. 
Events should reflect the many diverse cultures and communities within the Colleges. 
Events could be artistic and creative, and we would want to support exhibitions of any work produced and promotion of student achievement in the College spaces and out into the wider community.   
College Committees will consider what they feel College life should look like, identifying the various experiences of different groups and proactively working to engage all students in accessible, positive events.

Contacts
The College Committees are welcome to reach out to other teams, like the International Office, Kent Union, The Hub at Medway, or Kent Sport, to consider the cross-over of events and promotion to best facilitate student engagement. 
Each College has Alumni who are very interested to hear about the events and achievements of current students: they may have founded the first societies at the University of Kent, planned amazing events in the past, and are happy to be involved where possible in planning and supporting the Colleges. We love to hear from our College alumni!
Residential Life Assistants and College Committees
Residential Life Assistants (RLA) help to set up the College Committees and support them in planning events , keeping in mind accessibility and budgets.
Meet the Residential Life Assistants
Residential Life Assistants (RLAs) are postgraduate student volunteers who host events and support initiatives within your College. They will support you to shape the ways you can all come together to make your College Community, where every student is welcome no matter what their background and whether living on or off campus.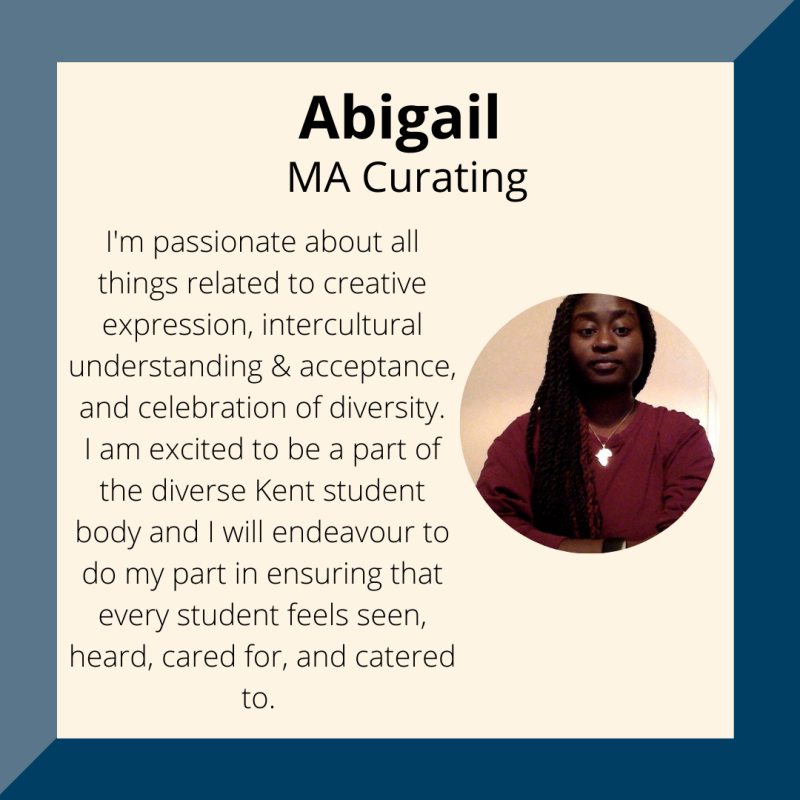 Abigail - text version of image above
MA Curating.
"I'm passionate about all things related to creative expression, intercultural understanding & acceptance, and celebration of diversity.
I am excited to be a part of the diverse Kent student body and I will endeavour to do my part in ensuring that every student feels seen, heard, cared for, and catered to.."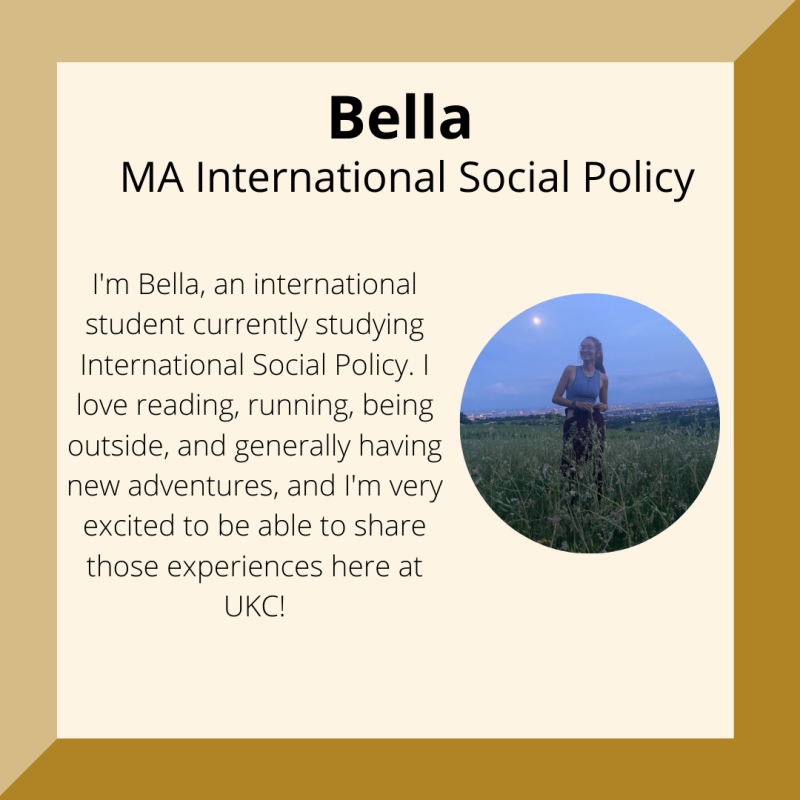 Bella - text version of image above
MA International Social Policy.
"I'm Bella, an international student currently studying International Social Policy. I love reading, running, being outside, and generally having new adventures, and I'm very excited to be able to share those experiences here at UKC!"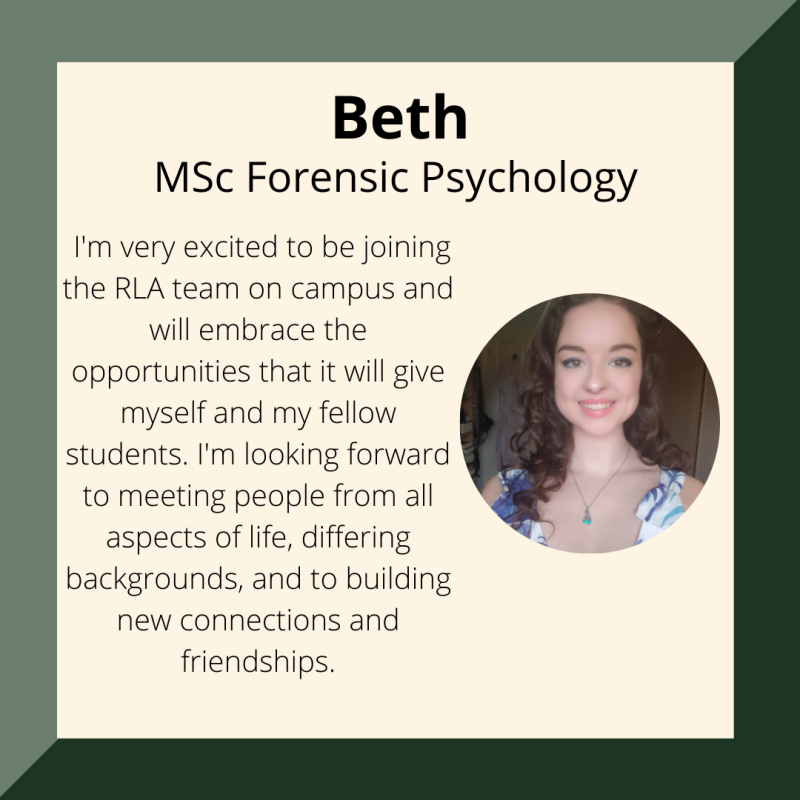 Beth - text version of image above
MSc Forensic Psychology.
"I'm very excited to be joining the RLA team on campus and will embrace the opportunities that it will give myself and my fellow students. I'm looking forward to meeting people from all aspects of life, differing backgrounds, and to building new connections and friendships.."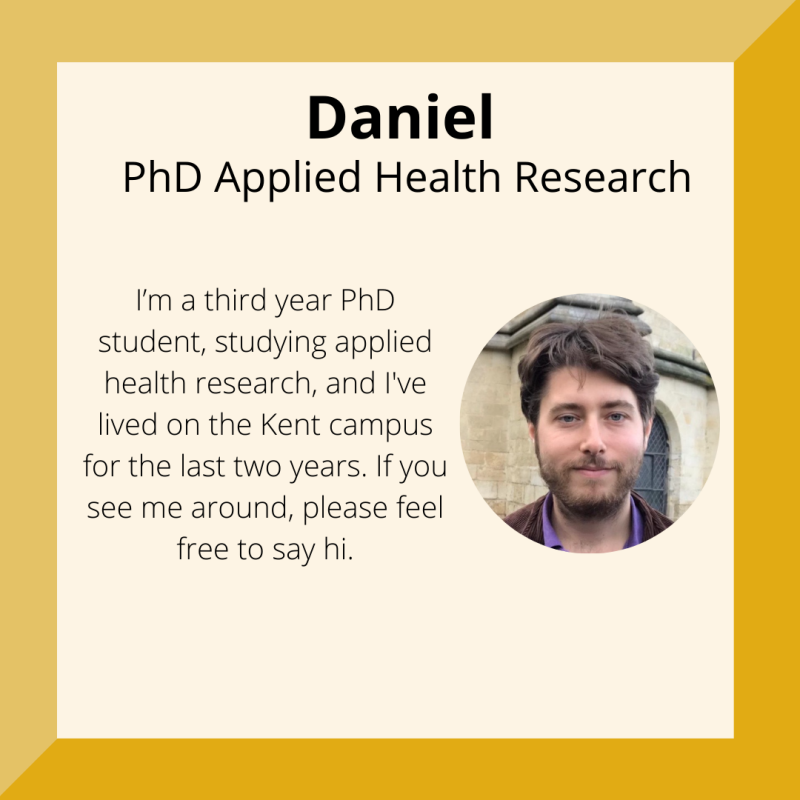 Daniel - text version of image above
PhD Applied Health Research.
"I'm a third year PhD student, studying applied health research, and I've lived on the Kent campus for the last two years. If you see me around, please feel free to say hi."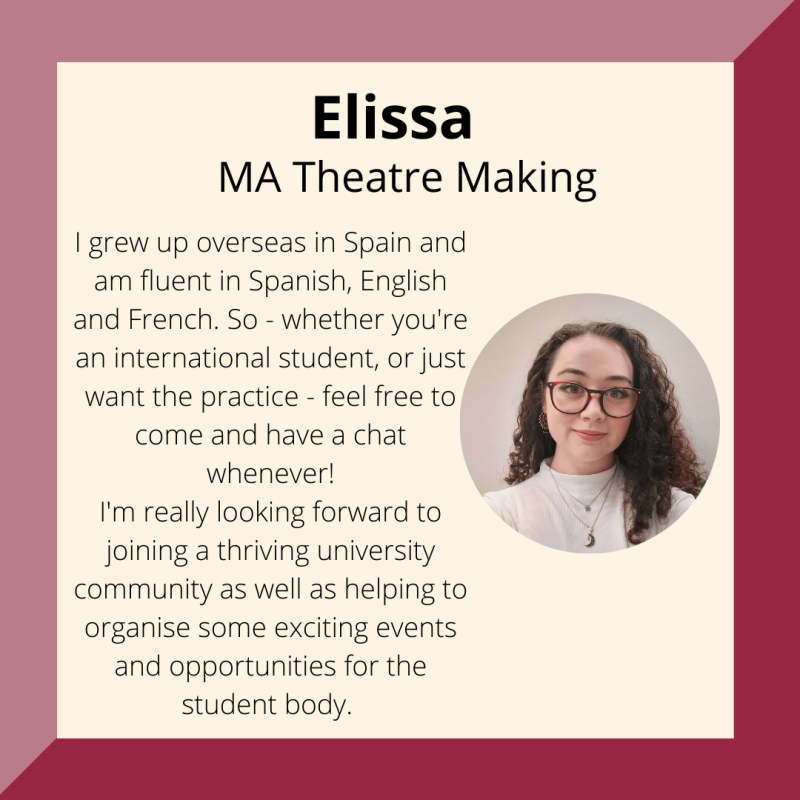 Elissa - text version of image above
MA Theatre Making.
"I grew up overseas in Spain and am fluent in Spanish, English and French. So - whether you're an international student, or just want the practice - feel free to come and have a chat whenever!
I'm really looking forward to joining a thriving university community as well as helping to organise some exciting events and opportunities for the student body."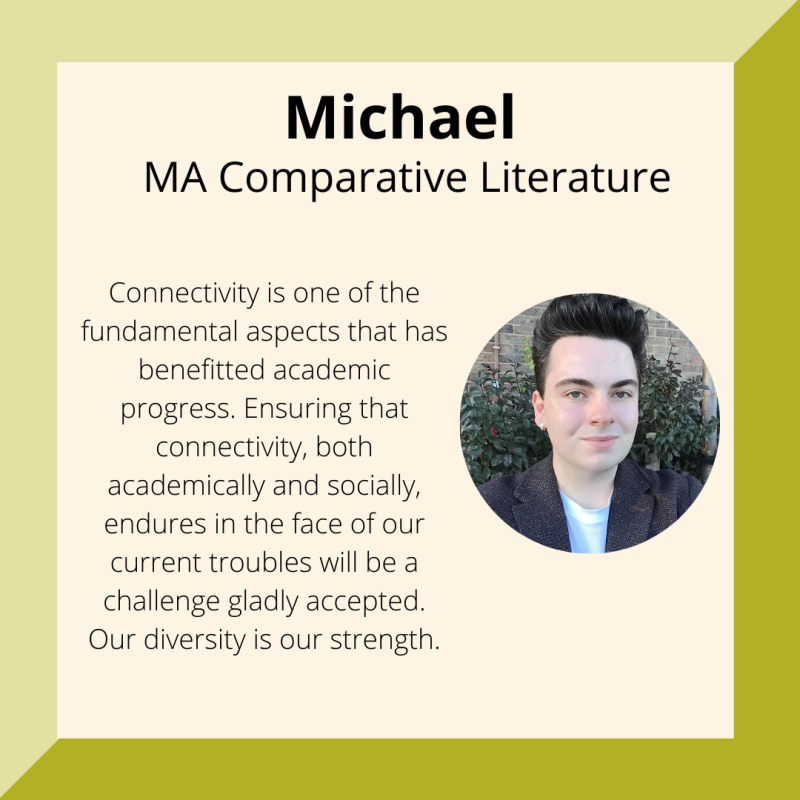 Michael - text version of image above
Connectivity is one of the fundamental aspects that has benefitted academic progress. Ensuring that connectivity, both academically and socially, endures in the face of our current troubles will be a challenge gladly accepted. Our diversity is our strength.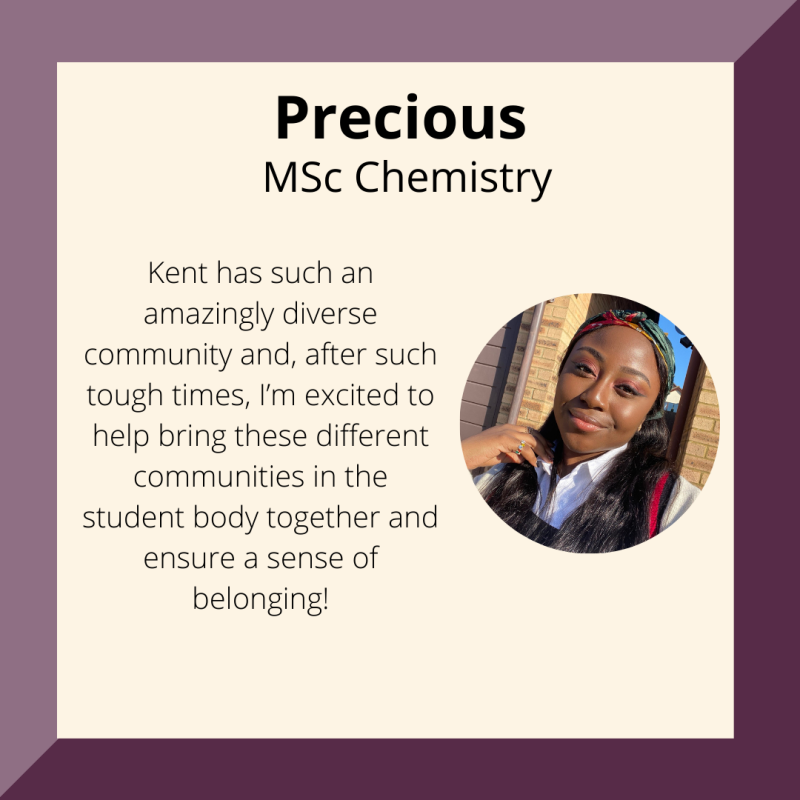 Precious - text version of image above
MSc Chemistry
"Kent has such an amazingly diverse community and, after such tough times, I'm excited to help bring these different communities in the student body together and ensure a sense of belonging!"
Reena - text version of image above
I'm a Masters student studying Reproductive Medicine: Science and Ethics. I am so excited to hopefully meet some of you in person so we can build our community and make our time at Kent really special and memorable.