Canterbury Street Marshals support students to stay safe when out and about in Canterbury at night. They patrol the streets where many students live off-campus or their routes back to campus after a night out.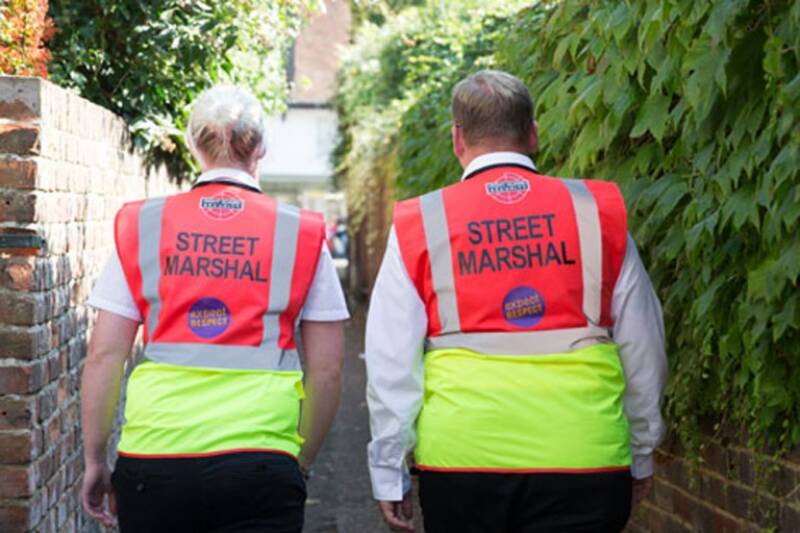 What is the Canterbury Street Marshals Scheme?
The Street Marshalls scheme operates in defined residential areas with the two aims:

Safeguarding students and local residents as they transit through designated areas of Canterbury at night.
Promoting positive community relationships by encouraging students and local residents to behave responsibly whilst walking through these areas.
The Street Marshal scheme is funded by the University of Kent and Canterbury Christ Church University. It is is a partnership between the University of Kent, Canterbury Christ Church University, Kent Union, Christ Church Students' Union, Kent Police, Canterbury City Council, the Residents' Associations of north and south Canterbury and Right Guard Security.
What the Street Marshalls do
The Street Marshals are provided by Right Guard Security, and are all Security Industry Authority (SIA) accredited, and approved and vetted by Kent Police as prescribed by the Community Safety Accreditation Scheme (CSAS).
Street Marshals have the devolved power from Kent Police to require a person whom they have reason to believe to have been acting, or to be acting, in an anti-social manner to give their name and address.
The Street Marshals operate in pairs, one male and one female, with a first aider available on each shift.
How to identify the Street Marshalls
The Street Marshals are clearly identifiable:
Wearing red and yellow jackets or tabards, which will clearly state "STREET MARSHAL" on the back of the jacket or tabard
Will display the CSAS logo
Will display the "Expect Respect" logo for the scheme
They will have a CSAS ID card to display their devolved power status from Kent Police.
The Street Marshals are there to support those transiting through designated areas, and have been selected for their professionalism, communication skills and approachability.
When and where do the Street Marshalls operate?
The scheme operates on designated nights during term time and Welcome Weeks when the students' unions of both Kent and Christ Church run events at The Venue and Club Chemistry.
Patrols will operate on the following days and times during University term times:
St Michael's area and the Headcorn Drive area – Wednesday, Friday and Saturday 23:00-04:00
Martyrs Field, area around Club Chemistry, North Holmes Road area – Wednesday and Friday 23:00-05:00
Further patrols take place on additional club nights held by both universities on a regular basis.
Roads included in the scheme
The Street Marshalls operate on the following roads in Canterbury:
Beaconsfield Road
Salisbury Road
St Michael's Road
St Michael's Place
Ringwood Close
Lyndhurst Close
Cadnam Close
Damerham Close
Durnford Close
Brockenhurst Close
Bramshaw Road
St Stephen's Hill (no further than Tyler Court steps)
Downs Road
Tenterden Drive
Long Meadow Way
Headcorn Drive
Farleigh Road (between Headcorn Drive and Tenterden Drive)
If you have any concerns whilst transiting though a designated area, please approach the Street Marshals.