For University staff and research postgraduates: share learning and promote your work in a blog.
Apply for a blog
Before you apply for a blog
There are two kinds of blog:

Standard blog: you can choose from a selection of supported themes. Your department will be informed of your blog request. A standard blog can be individual (one author) or shared (multiple authors).
Kent Official blog: uses a Kent-style theme. Blogs need to be signed off by the head of Department, and the design is based on your website template.

You need to read the blogging guidelines.
About Kent blogs
They're interactive: readers can comment and share.
They can be updated on a PC, tablet or phone.
Content from blogs can be pulled dynamically into Kent websites.
Links are in this format: blogs.kent.ac.uk/myblogname.
The footer shows the following disclaimer plus links to 'report a concern' and the blogging guidelines: The views expressed are not necessarily those of the University of Kent.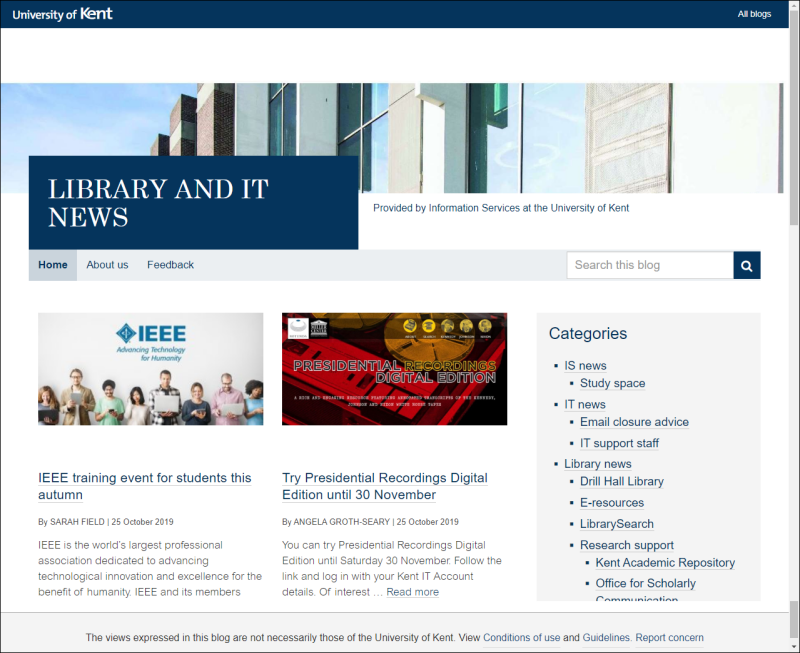 Get started using your blog
Once you've received your login details by email, you can start posting immediately. The software, WordPress, is fairly easy to use:
you can pick from a range of templates (if appropriate).
different templates offer different personalisation options.
Online tutorials
You don't need any design skills: for self-help guidance on creating your blog visit the Wordpress help site (note: not all the features are available for Kent blogs.)
Blogging guidelines
Be aware of the public nature of blogs, the association of Kent blogs with the University, and the implications for what should be posted.
General guidelines
Writing guidelines
Blog comments
Reporting concerns
Images and files
You can upload up to 1.5mb per file, and have a total file storage allocation of 10MB (exceeding this may incur a hosting charge).
Blogging responsibilities
| Responsibility | Individual Standard blog | Joint Standard blog | Official blog |
| --- | --- | --- | --- |
| Breaches of regulations or law within a blog post | Blog owner | Post author | Post author |
| Breaches of regulations or law within a comment | Comment author | Comment author | Comment author |
| Checking comments and removing if necessary | Blog owner | Post author and blog owner | Post author and blog owner |
| Responding to a 'report' about blog content | Blog owner | Post author and blog owner | Post author and blog owner |
| Additional editorial control | N/a | Blog owner supervises postgrads | Blog owner |
Help
Find out all the ways you can get in touch:
More IT and Library services