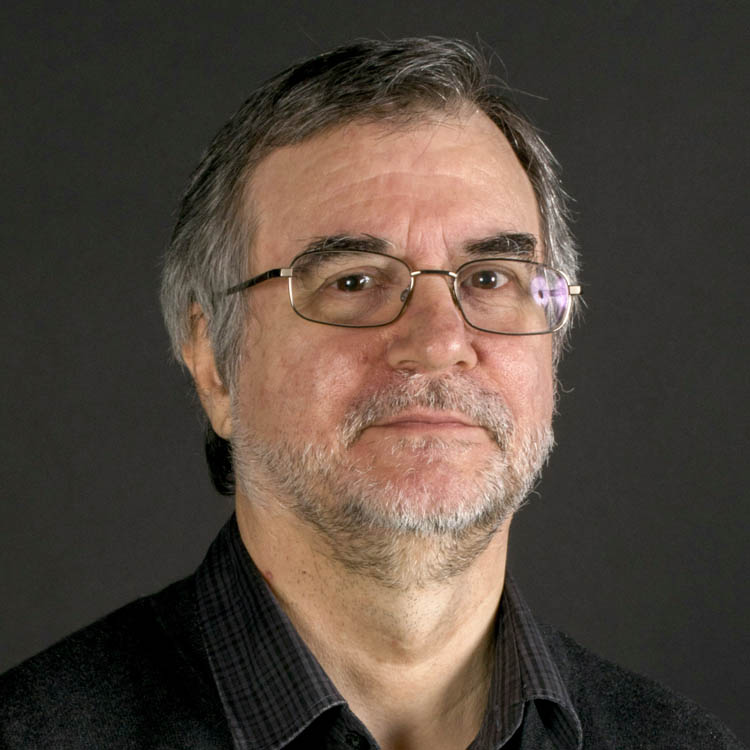 Dr Les Walczowski
Senior Lecturer in Electronic Engineering
About
After graduating in Physics at Imperial College, London, Les Walczowski moved to the Department of Electronics (now School of Engineering and Digital Arts) at Kent in 1975.He originally worked on mapping the low radio-frequency structure of the Supernova Remnant Cassiopeia A, which involved building antenna, radio frequency and correlation systems for remote outstations upto 20km away from the University.

He was awarded a PhD in 1981 and was a Senior Experimental Officer in the Digital Systems Group between 1985 and 1987. He became Lecturer in Electronics in 1987 and then Senior Lecturer in October 1992. He led the team that developed the ChipWise suite of VLSI design tools, which were distributed to over 50 universities in the UK and abroad. He pioneered the use of the Web for interactive Web based learning with the development of ChipWise tutor.

In 2000, he started the first of the Digital Media courses, the BSc in Multimedia Technology and Design.  His main interests are in the development of e-learning tools, mobile applications and web technology. He has published over 80 papers and received grants totalling more than £850,000 since May 1988.
Research interests
Main interests are in the development of e-learning tools, mobile applications and web technology.
Teaching
Undergraduate Modules
Postgraduate Modules
Publications
Showing 50 of 64 total publications in the Kent Academic Repository. View all publications.
Article
Lau, A.

et al.

(2011).

The Role of Social Media for Patients and Consumer Health

.

Yearbook of Medical Informatics

[Online]

6

:131-138

.

Available at

:

http://www.ncbi.nlm.nih.gov/pubmed/21938338

.

To provide an overview on social media for consumers and patients in areas of health behaviours and outcomes.

Walczowski, L., Dimond, K. and Waller, W. (2000).

A digital engineering curriculum for the new millennium

.

International Journal of Electrical Engineering Education

37

:108-117

.

This paper examines the development of a digital engineering curriculum, which closely integrates EDA tools and multimedia courseware into the syllabus. It describes the software that has been integrated, including tools for schematic capture, logic simulation. VLSI design and high-level simulation and highlights the advantages of closely integrating computer-based teaching with conventional lecture-based material.

de Abreu Moreira, D. and Walczowski, L. (1997).

Using software agents to generate VLSI layouts

.

IEEE Expert

[Online]

12

:26-32

.

Available at

:

http://dx.doi.org/10.1109/64.642958

.

Software agents can provide flexibility and scalability in a client-server architecture. To demonstrate how agents can aid layout generation, the authors created agents, a scalable distributed system that generates full-custom digital and mixed-signal VLSI layouts implemented in CMOS or BICMOS technologies.

Moreira, D. and Walczowski, L. (1997).

AGENTS: a distributed client-server system for leaf cell generation

.

ACM Transactions on Design Automation of Electronic Systems

[Online]

2

:42-61

.

Available at

:

http://doi.org/10.1145/250243.250248

.

The AGENTS system is a set of programs designed to generate automatically the mask-level layout of full custom CMOS, BICMOS, and bipolar leaf cells. The system is formed from four sever programs: the placer, router, database, and broker.The placer places components in a cell, the router wires the circuits sent to it, the database stores all the information that is dependent upon the fabrication process, such as the design rules, and the Broker makes the services of the other servers available.These servers communicate over a computer network using the TCP/IP Internet Protocol. The Placer server receives from its client the description and netlist of the circuit to be generated using EDIF (Electronic Design Interchange Format.) The output to its client is the mask layout of the circuit, again codified in EDIF. The comcept of agents as software components which have the ability to communicate and cooperate with each other is at the heart of the AGENTS system. This concept is not only used at the higher level, for the four servers, but at a lower level as well, inside the Router and Placer servers, where small relatively simple agents work together to accomplish complex tasks. These small agents are responsible for all the reasoning carried out by the two servers, as they hold the basic inference routines and the knowledge needed by the servers. The system's philosophy is that competence should emerge out of the collective behavior of a large number of relatively simple agents. In addition and integrated to these small agents, the system uses a genetic algorithm to improve components' placement before routing.

de Abreu Moreira, D. and Walczowski, L. (1995).

A Leaf-cell Generator for Silicon Compilers

.

SIGPLAN OOPS Messenger

[Online]

6

:50-51

.

Available at

:

http://doi.acm.org/10.1145/219260.219267

.

A program for the design of leaf cells for silicon compilers of digital VLSI (Very Large Scale Integrated) circuits, is being developed. This program uses rule based reasoning and genetic algorithmic search techniques, whenever each is appropriate. Leaf cells are subcircuits of a complexity comparable with SSI (Small Scale Integration) components such as one-bit adders, flip-flops or multiplexers. They typically contain between 10 to 100 transistors. Silicon compilers can use libraries of ready designed leaf cells or each leaf cell can be automatically generated [1] by synthesis tools such as the program we are developing. The main advantage of the synthesis approach is that circuit performance will not be sacrificed since a new, optimal layout will be produced whatever the complexity of the circuit and whenever the fabrication process is upgraded.

Shi, K.

et al.

(1995).

EFFICIENT JACOBIAN EVALUATION METHOD IN MULTIMODE HIERARCHICAL CIRCUIT SIMULATION

.

Electronics Letters

[Online]

31

:1890-1892

.

Available at

:

http://dx.doi.org/10.1049/el:19951320

.

An efficient method fcr Jacobian evaluations in multimode hierarchical circuit simulation is presented. The method evaluates the Jacobian matrix based on the block Jacobian contributions which can be evaluated by various methods for different types of blocks to achieve both accuracy and efficiency. Comparison of the method with the forward-difference method shows considerable improvement in simulation efficiency and convergence.

Walczowski, L., Waller, W. and Wells, E. (1992).

Teaching full-custom design skills using chipwise

.

IEE Proceedings G: Circuits Devices and Systems

139

:154-160

.

ChipWise is a VLSI design environment, developed at the University of Kent, which integrates symbolic design tools obtained from industry with design tools for hand craft layout. Since 1989, ChipWise has been used at a number of UK higher-educational institutions for teaching VLSI design skills, and became part of the UK Higher Education ECAD Initiative in 1990. The paper describes the design tools and their use in student design projects at the University of Kent.

Walczowski, L., Waller, W. and Wells, E. (1991).

Teaching Vlsi Design using Chipwise

.

International Journal of Electrical Engineering Education

28

:271-277

.

Chip Wise is a design system for VLSI circuits developed at the University of Kent, based on tools which originated at several academic institutions and tools obtained from industry. From 1st August, 1990, Chip Wise will be included as a supported package within the software portfolio offered by the U.K. Higher Education ECAD Initiative. This paper describes the design tools and their application in a typical laboratory exercise.
Book
Walczowski, L.

et al.

(1997).

Analogue layout generation by World Wide Web server-based agents

.

[Online]

.

USA

:

I E E E, Computer Soc Press

.

Available at

:

http://bookshop.blackwell.co.uk/jsp/id/Proceedings/9780818677861

.

A World Wide Web (WWW) based client/sewer system has been developed which allows server-side process independent layout generators to generate the design rule correct geometry of analogue components such as resistors, capacitors and transistors for a design system running on a local workstation. The complete system is based on the bidirectional interface between a WWW browser and a VLSI design system, with layout generators running remotely on a WWW server.
Book section
de Abreu Moreira, D. and Walczowski, L. (1994). Automated placement for a leaf cell generator.

in:

International Symposium on Circuits and Systems

.

Piscataway NJ

:

Institute of Electrical and Electronics Engineers

,

pp.

A117-A120

.
Conference or workshop item
Walczowski, L. and Green, M. (2013). Establishing Online Identity as an Integral Component of an Undergraduate Curriculum.

in:

ICERI2013

.

IATED

,

pp.

4885-4888

.

Available at

:

http://library.iated.org/view/WALCZOWSKI2013EST

.

Walczowski, L. and Green, M. (2013). Offline Reality in an Online World: Identity Creation via Responsive Web Design of Digital Portfolios.

in:

Herrington, J., Couros, A. and Irvine, V. eds.

Proceedings of World Conference on Educational Multimedia, Hypermedia and Telecommunications 2013

.

Chesapeake, VA

:

AACE

,

pp.

1214-1219

.

Available at

:

http://www.editlib.org/p/112112

.

The Online Identity of a person working in the creative industries makes a vital contribution to developing their network of professional contacts and relationships. A vital component of this Identity is the digital portfolio, which not only serves as a way of displaying the person's professionalism and skills but also a shop window of their creative ability. In this paper, we present the methodology we use in teaching our students the development of responsive websites that utilize the latest web technologies. This paper describes the workflows that have been adopted in producing these websites, and in particular the use of a Precedence Analysis Diagram together with a desktop wireframe, which are key to producing effective designs.

Walczowski, L. and Ellis, M. (2010). Customization of SharePoint for Teaching and Learning within a University Department.

in:

2010 World Conference on Educational Multimedia, Hypermedia and Telecommunictions, Toronto, Canada

.

Chesapeake, VA

:

Association for the Advancement of Computing in Education (AACE)

,

pp.

1280-1284

.

Walczowski, L. and Ellis, M. (2009). SharePoint for Teaching and Learning.

in:

Use of Microsoft SharePoint in UK Higher Education Institutions

.

.

Available at

:

http://www.eduserv.org.uk/events/sharepoint-for-he

.

Walczowski, L. and Ellis, M. (2009). E-Portfolio from Customization and Personalization of Learning Management Portals.

in:

2009 World Conference on Educational Multimedia, Hypermedia & Telecommunications

.

Chesapeake, VA, USA

:

Association for the Advancement of Computing in Education (AACE)

,

pp.

1542-1547

.

Walczowski, L. and Ellis, M. (2009). Development of Flash-Folios for a Learning Management Portal System.

in:

2009 International Conference of Education, Research and Innovation (ICERI 2009)

.

International Association of Technology, Education and Development (IATED)

.

Walczowski, L. and Ellis, M. (2008). Using Web 2.0 Technology to Support Learning and Teaching.

in:

Malpica, F. et al. eds.

2nd International Multi-Conference on Society, Cybernetics and Informatics

. pp.

178-182

.

The pervasiveness of the Web and mobile computing technology in student life means that many educators see Web 2.0 as a driving force in enhancing student engagement by adopting collaborative Web 2.0 tools. This project has been aimed at developing a learning environment using Microsoft's SharePoint Server customized with web parts developed in C#, that Supports such novel teaching and learning strategies whilst also incorporating mechanisms for structuring and organizing learning materials, providing students with easy access to course documents, lecture notes, online courseware, assignments and communication tools.

Walczowski, L. and Elllis, M. (2008). A Novel Learning Management Portal to Support Engineering and Technology Education.

in:

2008 International Technology, Education and Development Conference

.

Walczowski, L. and Ellis, M. (2007). A Learning Management Portal for E-Learning 2.0: a Teacher's and Developer's Perspective.

in:

Proceedings of E-Learn 2007. World Conference on E-Learning in Corporate, Government, Healthcare, and Higher Education,

.

Chesapeake, VA

:

AACE

,

pp.

7424-7429

.

Available at

:

http://www.editlib.org/INDEX.CFM?fuseaction=Reader.ViewAbstract&paper_id=26954

.

This paper is concerned with the development of a new Learning Management Portal based on Web 2.0 technology. This portal is one of a new breed of composite tools that support novel teaching and learning strategies such as using RSS feeds, blogs and wikis as part of the E-Learning environment. The portal is based on Microsoft's SharePoint Server customized with web parts developed in C# which support integration with management databases.

Walczowski, L. and Nagy, A. (2002). Multimedia Engineering: A New Discipline for the Internet Era.

in:

3rd Global Congress on Engineering Education

. pp.

313-315

.

Casal-Gimenez, J. and Walczowski, L. (2001). Distributed Simulation of VHDL using Jini.

in:

the 8th IEEE International Conference on Electronics, Circuits and Systems, ICECS 2001

. pp.

733-736

.

Walczowski, L. and Deravi, F. (2001). Training in the use of Java smart cards for embedded applications.

in:

The 8th IEEE International Conference on Electronics, Circuits and Systems, 2001

.

EEE

,

pp.

729-732

.

Available at

:

http://doi.org/10.1109/ICECS.2001.957578

.

The practical work associated with our embedded systems teaching has been enhanced through the introduction of a series of embedded Java applications. In order to reflect real world developments, this practical work has been based on Java cards running applets and around the application area of biometric verification to allow secure access

Casal-Gimenez, J. and Walczowski, L. (2000). Towards a Java-Based Distributed VHDL Simulator.

in:

Proceedings of 2nd Conference on Postgraduate Research in Electronics and Photonics

. pp.

25-29

.

Casal-Gimenez, J., Walczowski, L. and Dimond, K. (2000). A Java-based Distributed VHDL Simulator Architecture.

in:

7th European Concurrent Engineering Conference

. pp.

86-89

.

Walczowski, L. and Waller, W. (1999). Java servlet technology for analogue module generation.

in:

Proceedings of 1999 IEEE International Conference on Electronics, Circuits, and Systems

. pp.

1717-1720

.

Available at

:

http://dx.doi.org/10.1109/ICECS.1999.814507

.

A World Wide Web (WWW) based client/server system has been developed which uses Java servlet technology. The system allows a server-side, process-independent layout generator servlet to generate active messages, which create design rule correct geometry of analogue components such as resistors, capacitors and transistors within a design system on the local workstation. This combination of server based servlets and active messages is a very powerful technique for developing remote applications which run in cooperation with a local design system, leading to real increases in system availability, functionality and performance

Walczowski, L., Dimond, K. and Waller, W. (1998). A digital engineering curriculum with integrated, Windows-based EDA tools.

in:

1998 IEEE International Conference on Electronics, Circuits, and Systems

. pp.

425-428

.

Available at

:

http://dx.doi.org/10.1109/ICECS.1998.814022

.

The move to the Windows NT operating system by the University Computing Service, was an excellent opportunity for the Electronic Engineering Department at Kent to develop a new digital engineering curriculum, which closely integrated EDA tools and multi-media courseware into the syllabus. This paper examines the development of the curriculum and describes the software that has been integrated including tools for schematic capture, logic simulation, VLSI design and high-level simulation. The advantages of closely integrating computer based teaching with conventional lecture based material are described

Nalbantis, D., Walczowski, L. and Waller, W. (1998). Multiple server WWW-based synthesis of VLSI circuits.

in:

Proceedings of 1998 IEEE International Conference on Electronics, Circuits, and Systems

. pp.

537-540

.

Available at

:

http://dx.doi.org/10.1109/ICECS.1998.813379

.

A three-tier client/server system for the synthesis of VLSI circuits has been developed. The design system uses the World Wide Web as a backbone communications medium, whilst the sub-components of the synthesis applications are organised as servers, accessed through client/server communications between a tool server and thin client applets. This paper describes the architecture of the system, and in particular examines the use of multi-threading and multiple servers for improving system performance

Nalbantis, D., Walczowski, L. and Waller, W. (1998). Client/Server Architectures for WWW-based Analogue VLSI Synthesis.

in:

5th European Concurrent Engineering Conference

. pp.

165-168

.

Moreira, D. and Walczowski, L. (1996). Using the Genetic Algorithm for Placement in Leaf Cells.

in:

Proc. of XI Congress of the Brazilian Microelectronics Society

. pp.

175-180

.

Walczowski, L. and Waller, W. (1996). A World Wide Web based System for VLSI Design Training.

in:

European Workshop on Microelectronics Education

. pp.

39-42

.

Walczowski, L., Waller, W. and Nalbantis, D. (1996). Rapid layout synthesis for analog VLSI.

in:

3rd IEEE International Conference on Electronics, Circuits, and Systems (ICECS 96)

.

IEEE

,

pp.

378-381

.

A technology independent synthesis system which rapidly generates the layout of analog VLSI circuits has been developed. Based on a specification of a circuit's required performance and the target process, design rule correct layout is generated. The complete system has been tested by synthesizing op-amps in the CMOS and bipolar domains. Comparison of the specification with results of simulating the circuit extracted from the synthesized layout, show that the system is accurate to within a few per cent for most parameters.

Nalbantis, D., Walczowski, L. and Waller, W. (1996). O-2 ADL: An object-oriented analog VLSI design language.

in:

Zhang, Q., Tang, T. -A. and Yu, H. eds.

2nd International Conference on ASIC

.

Shanghai Scientific & Technical Literature Publ

,

pp.

27-30

.

Object technology can be applied to analog VLSI design to exploit circuit compositional hierarchy, design process hierarchy and design module reuse. Conventional Object-Oriented programming languages are not suitable for such application due to the difficulties in describing VLSI circuit behaviour, modelling design technology/process hierarchy, implementing class name sharing and dynamically configuring design database. To overcome these difficulties, we have developed an Object-Oriented analog VLSI design language which provides a set of high-level constructs to conveniently describe and design VLSI circuits. A number of new concepts have been introduced in O(2)ADL and a Dynamic-and-Selective Inheritance algorithm has been developed to model the design technology/process, to reduce the size of the design database and to achieve code sharing and reusability.

Walczowski, L., Waller, W. and Nalbantis, D. (1996). VLSI design training with the help of the World Wide Web.

in:

IEE Colloquium on Learning at a distance: developments in media technologies

. pp.

8-8

.

Available at

:

http://dx.doi.org/10.1049/ic:19960881

.

Walczowski, L.

et al.

(1996). Technology Independent Compilation of Analogue VLSI Circuits.

in:

IT & CS' 96, Leeds University

.

Moreira, D. and Walczowski, L. (1996). Placement optimization using behavior based software agents and the genetic algorithm.

in:

Proceedings of 1996 IEEE International Conference on Electronics, Circuits, and Systems

. pp.

255-258

.

Available at

:

http://dx.doi.org/10.1109/ICECS.1996.582791

.

Agents are defined as software components that communicate with their peers by exchanging messages in a communication language. They are used in the placer server of the Agents system, a distributed, client-server system that generates mask level layout of full custom VLSI leaf cells. The system is formed from four server programs: the Placer, Router, Database and Broker. This paper describes the placer server which uses groups of these small software agents and the genetic algorithm to place optimally the components of a leaf cell

Nalbantis, D.

et al.

(1996). Analogue IC Layout Synthesis Using Symbolic Floorplans.

in:

3rd International Conference on Concurrent Engineering & Electronic Design Automation

. pp.

175-177

.

Moreira, D. and Walczowski, L. (1996). Agents: Um Sistema Distribuído para Geração de Layouts (Agents: A Distributed System for Layout Generation),.

in:

Brazilian Symposium on Integrated Circuits,

. pp.

175-185

.

Waller, W., Walczowski, L. and Nalbantis, D. (1996). A new bipolar op-amp IC synthesis approach.

in:

Zhang, Q., Tang, T. -A. and Yu, H. eds.

2nd International Conference on ASIC

.

Shanghai Scientific & Technical Literature Publ

,

pp.

57-60

.

Bipolar op-amp IC modules with a simple circuit structure are difficult to design for a wide range of design specifications, due to strong correlations between transistor parameters. As a result, bipolar op-amps are commonly designed resorting to complicated circuit structures which result in large chip area and high fabrication cost. We have developed a new synthesis approach which can generate bipolar op-amp IC modules for a wide range of design specifications with a simple structure. The approach incorporates two new methods which we have developed to predict Miller capacitance and to calculate transistor transconductance during transistor sizing. Differing from conventional methods, our methods consider the effect of device parasitics during the synthesis and hence are accurate. The approach has been implemented in our bipolar op-amp IC Synthesis package.

Moreira, D. and Walczowski, L. (1996). Aplicacao de agentes para geracao de layout (Using agents for layout generation).

in:

2nd IBERCHIP Workshop,

. pp.

219-228

.

Shi, K.

et al.

(1996). Object Technology For Analogue VLSI Design.

in:

3rd International Conference on Concurrent Engineering & Engineering & Electronic Design Automation

. pp.

178-181

.

Shi, K.

et al.

(1995). Multi-Mode Hierarchical Circuit Simulation Approach.

in:

7th European Simulation Symposium, ESS 95

. pp.

89-93

.

Walczowski, L. and Seatter, R. (1995). The Roles of a Support Group in a Large Consortium Developing Multimedia Courseware.

in:

Hypermedia in Sheffield

. pp.

142-149

.

Walczowski, L., Jastrzebski, A. and Barnaby, J. (1994). A Multi- Mode System for Gaas Circuis.

in:

1994 IEEE International Symposium on Circuits and Systems

.

I E E E

,

pp.

A427-A430

.

Dagless, E.

et al.

(1994). A Computer-Based Teaching System for Electronic Design Education.

in:

CAL Conference

.

Jastrzebski, A.

et al.

(1994). Recent Advances in Simulation and Modelling of Non-linear Monolithic Microwave Integrated Circuits.

in:

X Microwave Conference MIKON 94

.

Dagless, E.

et al.

(1993). A Computer-Based Teaching System for Electronic Design Education.

in:

4th Eurochip Workshop on VLSI Design

.

Walczowski, L.

et al.

(1993). C.S.L.: An Object Oriented Language for Process Independent V.L.S.I. Design.

in:

OOPSLA '93

.

Waller, W., Walczowski, L. and Wells, E. (1993). A Fast Track Approach to Teaching Full Custom VLSI Design.

in:

4th Eurochip Workshop on VLSI Design

.

Waller, W.

et al.

(1991). ODIN: A Software System for Synthesizing CMOS Op-amps.

in:

International Conference on Concurrent Engineering & Electronic Design Automation

. pp.

74-79

.

Smith, M.

et al.

(1991). A method for sizing transistors in CMOS op-amps.

in:

IEEE International Symposium on Circuits & Systems

. pp.

2016-2019

.

Available at

:

http://dx.doi.org/10.1109/ISCAS.1991.176061

.

The authors present a method for automatically calculating the size of the transistors and passive components in a CMOS op-amp given the specification and loading of the op-amp. The method is similar to that used in the OASYS program in that it uses no simulation. Like the OASYS method, the authors estimate the sizes and then calculate the parasitics. The parasitics calculated are then used to recalculate the sizes. This process continues until the parasitics change only little. Unlike OASYS, the authors separated the sizing method from the model of the transistor. This means one is able to use any transistor model to size the transistors, and, because the method does not use simulation and so makes less calls of the model equations, the model used can be more complicated than that used for simulation
Last updated