Mariam Yacoub writes about how her University engagement work led to a career as a television science producer with KMTV.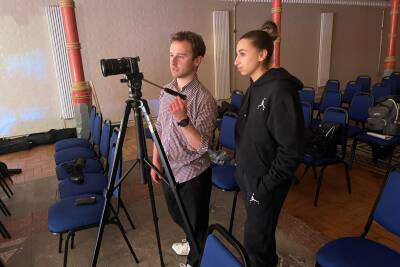 I left sixth form with a love of drama and English but a burning curiosity in biology and chemistry… my quarter life crisis if you will.
I decided to stick with the sciences enrolled onto Biomedical Sciences at the University of Kent. I got to study everything from the intricate pathways in human physiology, to the inner workings of the brain, to the infamous COVID-19. My itching creativity however, wouldn't leave me alone. I had to find a way to put it to use. During the pandemic I decided to start writing articles about the virus. Then I wrote about cancer, and then the climate crisis. I reached out to my University to ask if they had any need for some article writers. The stars aligned for me as they were just launching a new blog. I got stuck in writing for them about new research and events going on around campus.
One day over the summer of my second year, I was browsing my emails from the Employability Department (subscribe if you haven't!) and saw a vacancy for a Digital Marketing Assistant. This is someone who helps create videos, holds livestreams, makes posters for the University to reach prospective students etc. I was taken on with some, but little experience in video making. Thankfully my eagerness to learn and enthusiasm for my course and for the University was valued just as much. I started making videos on campus when and wherever I could.
Fast forward to the end of my third year, I'm frantically trying to figure out what I'm going to do when I finish. I didn't want to pursue my postgraduate studies so soon after graduating as I wanted to keep being creative. Again, I found myself scrolling through the emails from the Employability Department (seriously, please subscribe if you haven't). I came across a vacancy at KMTV for an Assistant Producer. Somewhat underqualified for not having studied journalism or filmmaking, I went for it.
By some miracle, KMTV was in the middle of producing a documentary series about genetics called Generation Genome, and I was given the chance to hop on as Assistant Producer. Over the last six months, I've written scripts, reviewed motion graphics, helped organise interviews and found contributors and venues for the documentary. I've somewhat found my way around a camera, although I still often embarrass myself struggling to unfold a tripod or trying to put the wrong battery into a light. I've grown so much as a content creator, and a scientist, and my journey is just beginning.
If you take anything from this story, I would encourage you to engage with the services around you, and to never give up on your passions.