Dr Yannis Galanakis' research on the Government Scheme began after walking along Canterbury High Street and engaging in debate with the public. Written by Evie Goodwin.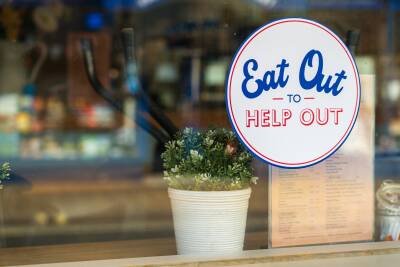 In July 2020, the government launched Eat Out to Help Out (EOTHO), a scheme which allowed participating establishments to offer customers a 50% discount. Yannis Galanakis, a postdoctoral research associate in the School of Economics at Kent, used data on EOTHO and the associated boost in footfall to come to a conclusion; EOTHO caused a 6.3% increase in new business creation during the time it took place.
We know that the scheme increased visitors to existing businesses. There were obvious benefits for hospitality outlets and many new job postings for restaurants and pubs. But what happened in terms of business creation? Yannis looked at why more customers eating out led to an increase in firm creation.
What led to you undertaking this research?
It was mostly my own experience. Walking along Canterbury High Street in July, I noticed how many people were out in bars and restaurants. I wanted to engage with the debate on whether this was good or bad; I wanted to explore whether this was actually a horrible thing, or if it had at least one benefit. What we are trying to claim is not that EOTHO is the best thing and to go and do it again, but that there were some positives in an economic sense.
Why did more customers lead to more new businesses?
If, for example, you go to the high street to have a meal, either before or after you will probably visit other shops. This is what we call geographic spillover. So, we assumed that EOTHO would help other businesses to grow, and this is actually what we found. In postcodes with businesses participating in the scheme there was an increase in visits to other services too. This was especially the case with beauty salons and hairdressers.
How was the research collected?
We used the Companies House data, a register of all active firms in the UK showing a precise incorporation date of each business. This is how we knew exactly when and where new businesses were created. We also used data from HMRC which showed registered participants to the scheme.
To make sure our findings were robust, we used Google trends to see what people were searching for; these trends showed an increase in people searching "how to set up a beauty salon" between July and August, and especially the day after the announcement of EOTHO.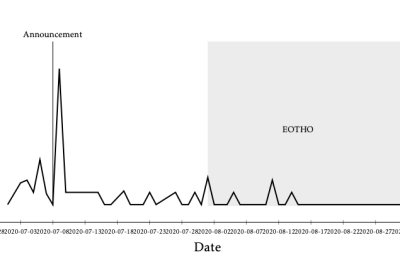 Who do you hope will gain something from your research?
Hopefully the government and policy-makers. They could have an idea of similar subsidy schemes in the future and how they may work, not only in helping hospitality but many other sectors. Another group I hope will benefit are local business unions that could have an idea of how subsidy in different sectors can affect them indirectly. And, given our methodology, the academic community, because of how we set up our data collection framework.