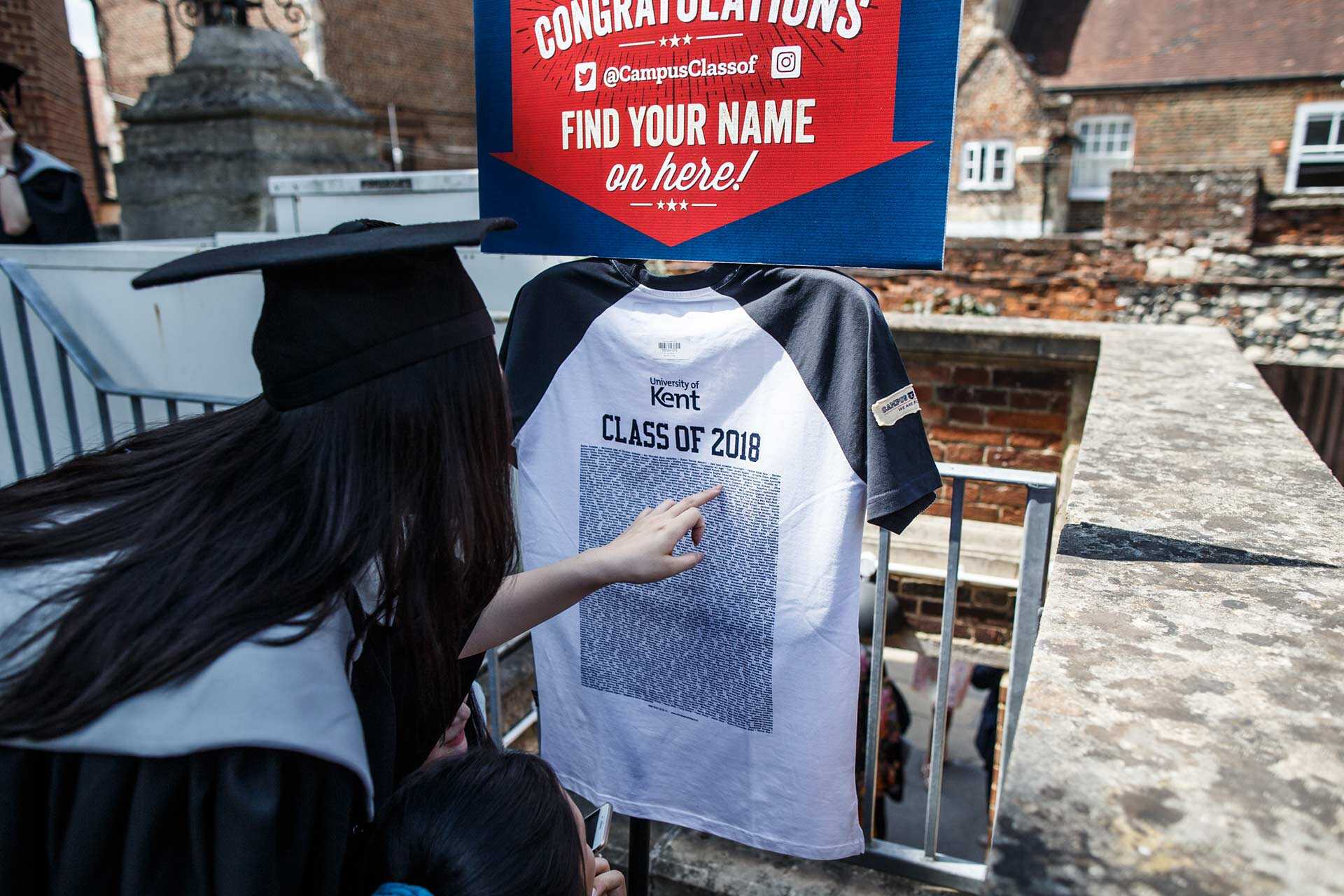 Merchandise will be available to purchase both on the day of your graduation ceremony, and online.
Campus Clothing - 'Class Of' merchandise
You've got the degree, now buy the t-shirt! We've teamed up with the brilliant Campus Clothing to offer you the chance to celebrate your graduation with a 'Class of 2023' hoodie or t-shirt. All garments already have your name and those of your fellow course mates printed on the back. You can even add bespoke personalisation to make your memento that extra bit special!

The friendly Campus Clothing staff will have a stall at your ceremony, but you can skip the queues by pre-ordering at campusclothing.com/Kent.
Ordering in advance also means that you can guarantee your chosen size and colour as these can sell out on the day.
Many Congratulations!
Fitzgerald Jewellers
Fitzgerald Jewellers are the official jewellery and graduation gifts supplier to the University of Kent.

A wide range of graduation rings and limited edition University of Kent memorabilia are available to purchase at your graduation ceremony - or can be bought in advance from Fitzgerald Jewellers in Canterbury

Visit our online shop now to see our wide range of classic and contemporary University of Kent Graduation Gifts
Contact us today to discuss any size or delivery questions you may have
University of Kent Online Store
The University's Online Store offer competitive prices on a range of clothing and gifts that can all be purchased online. The Online Store work with the Design & Print Unit here on campus to print, personalise and dispatch your purchases. Order before, during or after your ceremony has taken place, or visit again in the future if you want to increase your Kent goodies!
DVD recording of the ceremony
Your ceremony is professionally filmed by Red Shark, a London-based production company. The recording is then edited and produced into a professional DVD for students and guests to purchase. As a general rule, DVDs will be available 10 working days after the date of your ceremony. Purchasing of the DVDs is done via the University's online store.
Purchasers should be aware that DVD sales are managed by the University and not the production company.
Members of the congregation are asked not to move from their seats, take photographs or make video recordings during the ceremony. Only certain members of the University, journalists, the official photographers and a DVD company are authorised to do so. The photographs and video recordings may be used for publicity and marketing purposes to promote the University.