It's time to get competitive! Origins is your old-school campus bar with a gaming twist. From shuffleboard to interactive darts, Origins is an ideal 'student playground' perfect for societies and sports teams. Fuel up pre or postgame on loaded nachos, mac 'n' cheese, wings, and desserts.
Shuffleboard
It's time to get your shuffle on because Origins has two brand-new table shuffleboards!
Designed for 2-8 players, these boards are the perfect way to chill with friends whilst keeping it competitive and fun.
Not played shuffleboard before? Don't panic! Each player slides their weights down the table to earn points. The idea is, you want to slide your weight as far down the table as possible without it falling off the end! Weights which hang off the table are called 'hangers' and these are worth an extra point, so it's definitely worth that risky shot.
2 Teams | 2-8 Players
Cost: FREE!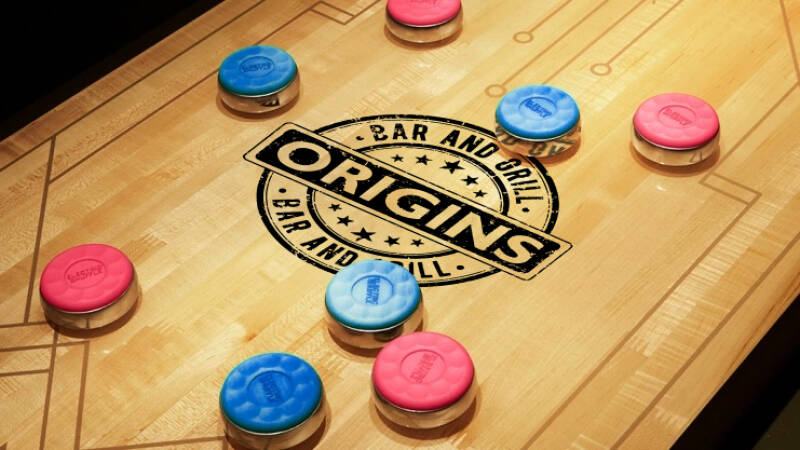 Interactive Darts
This game takes darts to a whole new level, incorporating traditional darts with interactive gameplay.
There are 8 games to choose from, including: Shanghai, Robin Hood, Killer, Hexa-Gone, Halve it, Blockbuster, Showtime, and Classic darts.
Using the interactive system, you'll be guided through the setup and rules of each game. The graphics will display who's throwing and whose turn it is to throw, and the magnetised darts sync with the board to display your score - so no more adding up!
You can also choose your difficulty level, so whether you're a die-hard dart champion or a total beginner, there's a level and game to suit you.
2-6 Players
Cost: FREE!
Opening hours

Monday - Saturday 16:00 - 23:30

Food served 16:00 - 21:30
Contact us
Telephone: +44 (0)1227 823943
Document list
Allergen information
What to look out for, what to do if you've been spiked and how to report it.