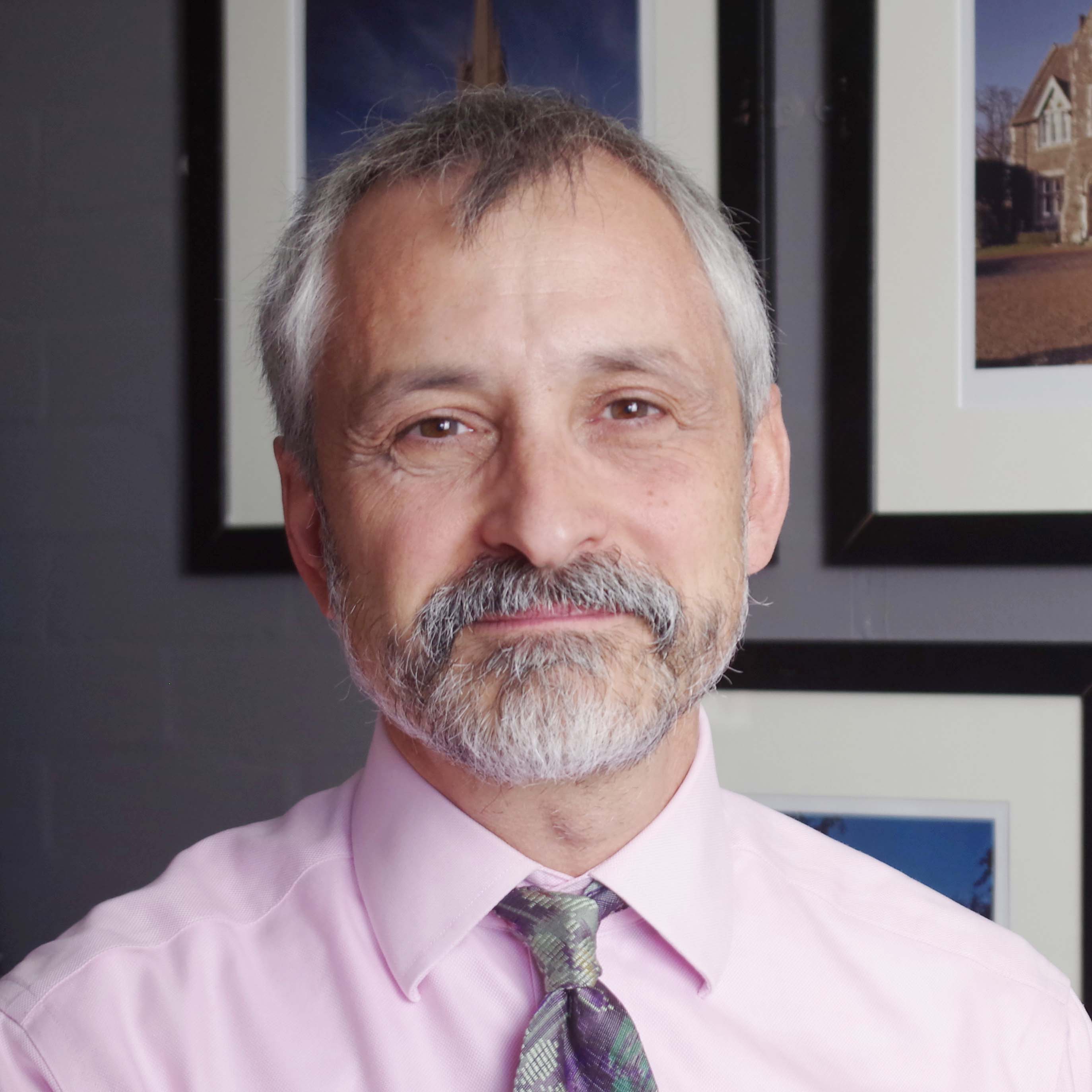 Dr Timothy Brittain-Catlin
Reader
Stage 2 Coordinator: BA (Hons) Architecture
Director for the Centre of Research in European Architecture (CREAte)
About

Qualifications: PhD, MA, Dip. Architecture, RIBA

Timothy Brittain-Catlin is an architect who has been writing about architectural history for many years, both for a general readership and for those with a particular interest in the revolutionary changes in architectural thinking in early nineteenth-century England.

He qualified as an architect in 1988 and has worked on a wide variety of design projects from conservation and restoration to masterplanning both in Britain and abroad. He joined the Kent School of Architecture and Planning and Planning from the Architectural Association in September 2007.

He specialises in early nineteenth-century and early twentieth English architecture and in particular in the work of A.W.N. Pugin, completing a doctorate on 'The English residential architecture of A.W.N. Pugin in its context' in 2004 under the supervision of Andrew Saint at the University of Cambridge. He is a regular contributor to the World of Interiors and the Architectural Review, and his publications include How to Read a Building (2007) and Churches (2008). His book The English Parsonage in the Early Nineteenth Century was published by Spire Books in association with English Heritage in July 2008. His latest book is Bleak Houses: Disappointment and Failure in Architecture, published in 2014 by The MIT Press, the podcast is available here.

In Summer 2018 he was appointed to Historic England's national Advisory Committee. He is the deputy chairman and publications chairman of the 20th Century Society and from this position he played a leading role in the Society's recent campaign to save postmodernist buildings, which resulted in a change in national policy and the listing of 17 postmodern structures across the country. He established and chairs Lund Humphries' new editorial board in the Architectural History of the British Isles, supported by the Society of Architectural Historians of Great Britain.
Research interests
The reputation of architects at times of change

For the last ten years I have been working on a series of projects that all fall within the overall category of 'the reputation of architects at times of change.' This began with my detailed investigation into the English architects whose careers were thrown off course by the success of the gothic revival from the 1840s. My book The English Parsonage in the Early Nineteenth Century, published by Spire Books in 2008, provides a richly illustrated depiction of the way in which the gothic revival and its protagonists swept across the country in a remarkably short period, in effect terminating or diverting the working lives of many of their predecessors. He is currently completing the first comprehensive, innovative overview of Edwardian domestic architecture since the 1970s, with the new photography by Robin Forster, and this will be published by Lund Humphries in Autumn 2020.


Between 2008 and 2012 I started to work on studies of architects whose contribution to architecture and the profession was not  matched by public acclaim or financial success. The reasons for this are varied: sometimes they did not have the drive to become commercially or socially successful; some narrowly failed to win competitions, or did win but the project remained unbuilt. Sometimes they worked in an unfashionable style; sometimes they were difficult characters with too many enemies. My first  detailed study was of the mainly Edwardian architect Horace Field,   
whose designs for Lloyds  Bank branches that resembled Restoration-era merchants' houses eventually  transformed the appearance of the 
interwar English high street, but whose  successful early career with high-profile clients, houses and offices seemed to  fizzle out rapidly after the First World War. I have also written about the 'architects' architect' Leonard  Manasseh, an influential and popular teacher at the Architectural  Association in the 1950s and architect of the National Motor Museum at Beaulieu and the former Rutherford School in Marylebone. 


In Spring 2014 The MIT Press published my book Bleak Houses:  Disappointment and Failure in Architecture, which provides many  examples of 'loser' architects, and which proposes   an explanation for why  certain types of architecture never receive the type of critique and appreciation  that they deserve. 


I have been writing for The World of Interiors for 25 years, and contribute to many other magazines and journals, and I often discuss these matters there.

Bibliography

Brittain-Catlin, Timothy (2014) Bleak Houses: Disappointment and Failure in  Architecture. The MIT Press, Cambridge, Mass and London, UK,  192 pp. ISBN 9780262026697.
Brittain-Catlin, Timothy (2011) 'Downward trajectory: towards a theory of failuer'. arq: Architectural Research Quarterly, 12 (02). pp. 139 - 147.
Brittain-Catlin, Timothy (2010) 'Horace Field and Lloyds Bank'. Architectural History, 53. pp. 271-294. ISSN 0066-622X.
Brittain-Catlin, Timothy (2010) Leonard Manasseh & Partners. 20th Century Architects. RIBA Publishing / English Heritage / The Twentieth Century Society, London, 162 pp. ISBN 9781859463680

He welcomes proposals from prospective PhD students in related areas.

Teaching


| Module Code | Module Title | Information |
| --- | --- | --- |
| AR551 | Nineteenth -Century Architecture | Module Convenor |
| AR545 | Architectural Design | Tutor |
Publications
Showing 50 of 392 total publications in the Kent Academic Repository. View all publications.
Article
Brittain-Catlin, T. (2019).

Outrage: Losers: history is on your side as a solid foundation for contemporary architecture

.

Architectural Review

[Online]

2019

:74-75

.

Available at

:

https://www.architectural-review.com/essays/campaigns/outrage

.

A critique of conventional modernist architectural education and a reminder of present-day practitioners who make use of historical themes

Brittain-Catlin, T. (2019).

Double Deutsch

.

The World of Interiors

[Online]

2019

:182-189

.

Available at

:

http://www.worldofinteriors.co.uk/

.

On Markus Winter's collection of German and central European expressionist and art deco furniture

Brittain-Catlin, T. (2018).

Mackintosh down to a tea

.

The World of Interiors

[Online]

2018

:32-36

.

Available at

:

http://www.worldofinteriors.co.uk/

.

A description of the recent restoration of the Willow Tea Rooms, Sauchiehall Street, Glasgow, under the direction of Celia Sinclair

Brittain-Catlin, T. (2018).

Mid-century modernised

.

The World of Interiors

[Online]

2018

:144-153

.

Available at

:

http://www.worldofinteriors.co.uk/

.

A description of the Sainsbury family house designed by Hugh Casson on the edge of Romney Marsh, recently refurbished by Maria Speake of Retrouvius

Brittain-Catlin, T. (2017).

Reach for the Stars

.

The World of Interiors

[Online]

2017

:112-121

.

Available at

:

http://www.worldofinteriors.co.uk/

.

On the Clock Tower at Cardiff Castle, designed for the Marquis of Bute by William Burges in 1868

Brittain-Catlin, T. (2017).

A Talent to A Mews

.

The World of Interiors

[Online]

2017

:146-153

.

Available at

:

http://www.worldofinteriors.co.uk/

.

On the shopkeeper Maureen Doherty's flat, by Jonathan Tuckey Design, and her collection

Brittain-Catlin, T. (2017).

Peter Blundell Jones

Lewis, D. ed.

True Principles: Journal of the Pugin Society

[True Principles: the journal of The Pugin Society, ISSN 1747-9371]

5

.

Available at

:

http://www.thepuginsociety.co.uk/true-principles.html

.

An obituary of Peter Blundell Jones

Brittain-Catlin, T. (2017).

City of London Police Station, Wood Street

.

Icon

[Online]

2017

:114-115

.

Available at

:

https://www.iconeye.com/

.

On the current threat to the City of London Police Station in Wood Street, by McMorran & Whitby

Brittain-Catlin, T. (2017).

Chandigarh: Furzedown College

.

C20

2017

:42-43

.

On Le Corbusier's influence on the design of Furzedown Teachers' Training College in Tooting, designed by Leonard Manasseh & Partners in 1960

Brittain-Catlin, T. (2017).

Sacred mysteries

.

The World of Interiors

2017

:96-103

.

On the church of Santo Domingo de Guzmán in Uayma, Mexico, and its recent restoration

Brittain-Catlin, T. (2017).

Outrage: 'The anti-ornament hysteria is thankfully now at the bottom of the dustbin'

.

Architectural Review

[Online]

2017

:66-67

.

Available at

:

https://www.architectural-review.com/rethink/campaigns/outrage/outrage-the-anti-ornament-hysteria-is-thankfully-now-at-the-bottom-of-the-dustbin/10022849.article?blocktitle=Outrage&contentID=19372

.

About the importance of teaching the design of elevations as part of architectural education

Brittain-Catlin, T. (2017).

Picking up the Thread

.

The World of Interiors

[Online]

2017

:94-103

.

Available at

:

http://www.worldofinteriors.co.uk/

.

On the fabric designer Tibor Reich, and Sam Reich's revival of his grandfather's textile company

Brittain-Catlin, T. (2017).

Leonard Manasseh obituary

.

The Guardian

[Online]

.

Available at

:

https://www.theguardian.com/artanddesign/2017/mar/20/leonard-manasseh-obituary

.

An obituary of the architect Leonard Manasseh RA, who has died at the age of 100
Book section
Brittain-Catlin, T. (2019). St Faith.

in:

Charlton, S., Harwood, E. and Price, C. eds.

100 Churches 100 Years

.

Pavilion Books

,

p.

.

Available at

:

https://www.pavilionbooks.com/book/100-churches-100-years/

.

On the church of St Faith, Lee-on-the-Solent, Hants, by Seely and Paget, 1933

Brittain-Catlin, T. (2019). Chesterton, Dame Elizabeth Ursula.

in:

Oxford Dictionary of National Biography

.

Oxford University Press

.

Available at

:

https://dx.doi.org/10.1093/odnb/9780198614128.013.77157

.

The Oxford Dictionary of National Biography entry for Dame Elizabeth Chesterton, architect and planner

Brittain-Catlin, T. (2019). St Andrew & St George.

in:

Charlton, S., Harwood, E. and Price, C. eds.

100 Churches 100 Years

.

Pavilion Books

,

p.

.

Available at

:

https://www.pavilionbooks.com/book/100-churches-100-years/

.

A description of the church of St Andrew & St George, St George until 1984, Stevenage, by Seely and Paget, 1960.

Brittain-Catlin, T. and Curl, J. (2018). Prolegemenon.

in:

Making Dystopia: the strange rise and survival of architectural barbarism

.

Oxford

:

Oxford University Press

,

p.

ix-xii

.

Available at

:

https://global.oup.com/academic/product/making-dystopia-9780198753698?cc=gb&lang=en&

.

An introductory section to James Stevens Curl's Making Dystopia: the strange rise and survival of architectural barbarism

Brittain-Catlin, T. (2017). 1959: 6 Bacon's Lane.

in:

Charlton, S. and Harwood, E. eds.

100 Houses 100 Years

.

London

:

Pavilion Books

,

pp.

91-92

.

Available at

:

http://www.pavilionbooks.com/book/100-houses-100-years/

.

On Leonard Manasseh's house for his family, at 6 Bacon's Lane, Highgate

Brittain-Catlin, T. (2017). Realism in Nineteenth-Century British Architecture.

in:

Mallgrave, H., Bressani, M. and Contandriopoulos, C. eds.

The Companions to the History of Architecture

.

Hoboken, USA

:

Wiley

,

pp.

174-191

.

Available at

:

http://dx.doi.org/10.1002/9781118887226

.

Functionalism in nineteenth-century Britain took a specific form: realism. This was an approach to design which emphasized the real, physical, nature of building materials and the practical function of a designed object from its smallest details to its overall form. Born from an early nineteenth-century interest in the practical aspects of horticulture and architecture pioneered by John Claudius Loudon, and in the newly scientific approach to architectural history of John Britton, realism took off from 1836 with the ascent of the architect and designer A. W. N. Pugin. Pugin's texts, especially The True Principles of 1841, presented a theory of a rational, comprehensive architecture derived from an intimate knowledge of medieval buildings. This strongly appealed to architects who were facing new professional challenges and were frustrated by low building standards. Architects directly inspired by Pugin, including George Gilbert Scott, George Edmund Street, and William Butterfield, established the revived Gothic style and created an unprecedented international reputation for British architecture. A younger generation, from the 1880s onward, revived Puginian ideas especially in their rich designs for houses and interiors, but realism was eventually defeated by its own obsessiveness and detachment from the motives that had inspired it.

Brittain-Catlin, T. (2017). 2008: Craddock Cottages.

in:

Charlton, S. and Harwood, E. eds.

100 Houses 100 Years

.

London

:

Pavilion Books

,

pp.

186-187

.

Available at

:

http://www.pavilionbooks.com/book/100-houses-100-years/

.

On Craddock Cottages, Gomshall, Surrey, by Stephen Taylor Architects

Brittain-Catlin, T. (2017). 1999: Winterbrook House.

in:

Charlton, S. and Harwood, E. eds.

100 Houses 100 Years

.

London

:

Pavilion Books

,

p.

.

Available at

:

http://www.pavilionbooks.com/book/100-houses-100-years/

.

On Ken Shuttleworth's Winterbrook House, in Lower Compton, Wiltshire
Conference or workshop item
Brittain-Catlin, T. (2019). Securing British Postmodern Heritage.

in:

PRP3, the third Presenting the Recent Past conference

.

.

Available at

:

https://www.prp3.org/

.

A description of how the Twentieth Century Society successfully campaigned for the protection of British postmodern building, presented to PRP3, the third Presenting the Recent Past conference, held in Los Angeles in March 2019

Brittain-Catlin, T. (2019). Reviving Tudor as the national style.

in:

The Institute of Conservation: Icon Historic Interiors Group conference 2019: Raphaelites to Arts and Crafts

.

.

Available at

:

https://icon.org.uk/events/icon-historic-interiors-group-conference-pre-raphaelites-to-arts-crafts

.

A paper given at the The Institute of Conservation: Icon Historic Interiors Group Conference: Pre-Raphaelites to Arts & Crafts, Cambridge on 12 April 2019, about the roots of Edwardian domestic architecture in Victorian realism, including pre-Raphaelite art

Brittain-Catlin, T. (2018). Architecture and the Edwardian Era.

in:

Gresham College free public lectures

.

.

Available at

:

https://www.gresham.ac.uk/lectures-and-events/architecture-and-the-edwardian-era

.

This lecture, given at Gresham College on 13 March 2018, presents a new theory of Edwardian domestic architecture based on the contemporary interest in remodelling old houses, and of designing new houses to look as if they have been remodelled. The lecture proposes adding three major houses to the canon of Edwardian domestic architecture: Kingsgate Castle, near Broadstairs; Daws Hill, High Wycombe; and Vann, Hambledon, Surrey. Video and audio recordings can be found on the website given here.

Brittain-Catlin, T. (2018). Pugin's House – a home for all Europe.

in:

European Year of Cultural Heritage, Lectures on Architecture

.

.

Available at

:

http://european-heritage.co.uk/tag/talks/

.

European Year of Cultural Heritage, Lectures on Architecture: 5

A lecture given at the European Commission Represetnation in the UK at Europe House, Smith Square on 15 February 2018 about the international character of British nineteenth-century domestic architecture from the Pugins to Voysey and Muthesius

Brittain-Catlin, T. (2017). Twentieth-Century Architecture: Postmodernism.

in:

Twentieth-Century Architecture: Postmodernism

.

This is a talk given at the Twentieth Century Society on 2 March 2017, the final lecture in a Society series on different architectural styles. Sir Terry Farrell and Carl Laubin attended the lecture.

Brittain-Catlin, T. (2017). The C20 house - Trends for the Future (23 November 2017).

in:

C20 Society 100 Houses 100 Years lecture series 2017

.

.

Available at

:

https://c20society.org.uk/

.

This lecture presents some recent private houses as examples of different historical styles.

From a series of lectures held to celebrate the publication by Batsford of the Twentieth Century Society's 100 Houses 100 Years

Brittain-Catlin, T. (2017). Voysey today: everywhere you look.

in:

Voysey Society social event and lecture, 3rd November 2017

.

.

Available at

:

https://www.voyseysociety.org/events/Nov17.html

.

This paper presents the work of Voysey as an example of the periodic reappearance of Jacobean motifs in English architecture. It was presented to the Voysey Society at their meeting in London of Friday 3rd November 2017
Edited book
Brittain-Catlin, T., de Maeyer, J. and Bressani, M. eds. (2017).

Gothic Revival Worldwide: A.W.N. Pugin's global infuence

.

[Online]

.

Leuven, Belgium

:

Leuven University Press

.

Available at

:

http://upers.kuleuven.be/en/book/9789462700918

.

Sixteen chapters and a historiographical introduction on the worldwide influence of A.W.N. Pugin, deriving from the 2012 University of Kent CREAte research centre conference 'New Directions in Gothic Revival Studies Worldwide'
Internet publication
Brittain-Catlin, T. (2017).

"Hallo Darkness!" Why Not All Buildings Need To Be Cheerful All Of The Time

[Internet publication]

.

Available at

:

http://www.archdaily.com/876737/hallo-darkness-why-not-all-buildings-need-to-be-cheerful-all-of-the-time

.

On the value of depressing, tragic, mysterious and sad themes in architecture

Brittain-Catlin, T. (2017).

From Pastel Pink to Pastel Blue: Why Colorful Architecture is Nothing New

[Internet publication]

.

Available at

:

http://www.archdaily.com/870665/from-pastel-pink-to-pastel-blue-why-colorful-architecture-is-nothing-new

.

On the use of colour in architecture with reference to Victorian and Edwardian examples

Brittain-Catlin, T. (2017).

Feelings are a better way to discuss architecture than concepts

[Internet publication]

.

Available at

:

https://aeon.co/ideas/feelings-are-a-better-way-to-discuss-architecture-than-concepts

.

About the weaknesses of conventional methods of architectural criticism

Brittain-Catlin, T. (2017).

Understanding British Postmodernism (Hint: It's Not What You Thought)

[Internet publication]

.

Available at

:

http://www.archdaily.com/867972/understanding-british-postmodernism-not-what-you-thought

.

British postmodernism in 1980s architecture was distinct from the American version. This article indicates how architects, in particular John Melvin, drew directly on Edwardian precedents when designing their buildings.

Brittain-Catlin, T. (2017).

Architecture Is Moving Into a Realm Where History Plays as Much a Part as Medium

[Internet publication]

.

Available at

:

https://www.archdaily.com/883570/space-popular-architecture-is-moving-into-a-realm-where-history-plays-as-much-a-part-as-medium

.

On the recent work of Space Popular (the architects Fredrik Hellberg and Laura Lesmes) and the relationship of virtual reality to history and experience
Review
Brittain-Catlin, T. (2019).

Book review: Drawing Architecture

.

The World of Interiors

[Online]

2019

:76

.

Available at

:

http://www.worldofinteriors.co.uk/

.

A review of Drawing Architecture, by Helen Thomas

Brittain-Catlin, T. (2019).

Book Review

.

The Journal of Architecture

[Online]

24

:114-118

.

Available at

:

https://www.tandfonline.com/doi/full/10.1080/13602365.2019.1569386

.

A review of Baroque between the wars: alternative style in the
arts, 1918–1939 (Oxford: OUP, 2018) by Jane Stevenson

Brittain-Catlin, T. (2019).

Timothy Brittain-Catlin on John Ruskin and the Fabric of Architecture

.

Architectural Research Quarterly

[Online]

23

:87-89

.

Available at

:

https://www.cambridge.org/core/journals/arq-architectural-research-quarterly

.

A review of John Ruskin and the Fabric of Architecture, by Anuradha Chatterjee.

Brittain-Catlin, T. (2018).

'Chapels of England' [book review]

.

Victorian

[Online]

:24

.

Available at

:

https://www.victoriansociety.org.uk/publications/category/the-victorian

.

A review of 'Chapels of England: buildings of protestant nonconformity', by Christopher Wakeling

Brittain-Catlin, T. (2018).

Cottages Ornes: the charms of the simple life [book review]

.

The World of Interiors

2018

:82

.

A review of Cottages Ornes: the charms of the simple life, by Roger White

Brittain-Catlin, T. (2018).

Sir Edwin Lutyens: the arts and crafts houses [book review]

.

The World of Interiors

[Online]

2018

:33

.

Available at

:

http://www.worldofinteriors.co.uk/

.

a review of Sir Edwin Lutyens: the arts and crafts houses, by David Cole

Brittain-Catlin, T. (2018).

Cream of Devon: How Buckfast Abbey was reborn

.

The Tablet

[Online]

272

:22

.

Available at

:

http://www.thetablet.co.uk/books/10/12260/cream-of-devon-how-buckfast-abbey-was-reborn

.

A review of Buckfast Abbey: history, art and architecture, edited by Peter Beacham

Brittain-Catlin, T. (2018).

Abbey Natural

.

Architecture today

[Online]

2018

:40-46

.

Available at

:

http://www.architecturetoday.co.uk/abbey-natural/

.

A review of the Weston Tower (by Ptolemy Dean) and the Triforium Galleries (by MUMA) at Westminster Abbey

Brittain-Catlin, T. (2018).

The Architectural Works of A. W. N. Pugin (book review)

Kerr-Peterson, M. ed.

Innes Review

[Online]

69

:214-214

.

Available at

:

https://www.euppublishing.com/toc/inr/69/2

.

A review of The Architectural Works of A. W. N. Pugin, by G. J. Hyland, Innes Review 69(2), pp. 214–216

Brittain-Catlin, T. (2017).

'The Experience of Architecture' [book review]

.

The World of Interiors

[Online]

2017

:85

.

Available at

:

http://www.worldofinteriors.co.uk/

.

A review of 'The Experience of Architecture', by Henry Plummer

Brittain-Catlin, T. (2017).

Book review: 'Ornament is Crime: modernist architecture'

.

The World of Interiors

[Online]

2017

:105

.

Available at

:

http://www.worldofinteriors.co.uk/

.

a review of 'Ornament is Crime: modernist architecture', by Matt Gibberd and Albert Hill

Brittain-Catlin, T. (2017).

'Building Community: new apartment architecture' [book review]

.

World of Interiors

2017

:45

.

A review of 'Building Community: new apartment architecture', by Michael Webb

Brittain-Catlin, T. (2017).

'The New Old House: Historic & Modern Architecture Combined' [book review]

.

The World of Interiors

[Online]

2017

:41

.

Available at

:

http://www.worldofinteriors.co.uk/

.

A review of The New Old House: Historic & Modern Architecture Combined, by Marc Kristal

Brittain-Catlin, T. (2017).

'African Modernism: the architecture of independence' [book review]

.

The World of Interiors

[Online]

2017

:43

.

Available at

:

http://www.worldofinteriors.co.uk/

.

A review of 'African Modernism: the architecture of independence', by Manuel Herz et al

Brittain-Catlin, T. (2017).

Book review: One Poultry Speaks

Croft, C. ed.

C20

[Online]

2017

:65

.

Available at

:

https://c20society.org.uk/publications/

.

a review of One Poultry Speaks, by Marco Iuliano
Forthcoming
Brittain-Catlin, T. (2019). Year Zero: 1906.

in:

Year Zero: 1906

.

.

Available at

:

https://www.soane.org/whats-on/talks/year-zero-1906-timothy-brittain-catlin

.

A talk by Timothy Brittain-Catlin at Sir John Soane's Museum, 13 February 2019, to mark the publication by Machine Books in association with the Museum of Year Zero: 1906, one in a series of talks to mark watershed years in architectural history
Last updated